New Ford Mustang 2015 review
All-American Ford Mustang muscle car set for UK in right hand drive - we test new four-cylinder version
The new Mustang will deliver fun in right-hand-drive form by the bucket load with a surprisingly capable chassis, great style and tremendous value. But it's far from perfect with an annoying ride and noisy engine, plus some horrible plastics inside. That said, we're delighted it's coming to the UK at last – but what a shame it's still a year away.
It's taken a while – over fifty years to be precise – but just after the iconic Ford Mustang has celebrated its half-century, it'll go on sale in the UK as a right-hand-drive model and across the world for the very first time.
This is the ninth-generation Mustang – more advanced and sleeker than ever, but still aiming to provide plenty of bang for your buck, or for your Pound as of autumn next year. When the car eventually arrives in the UK you'll be able to buy a right-hand drive Mustang from around £30,000 for the fastback version or £34,000 for the convertible.
That seems like good value for a car that looks as good as this latest model – designed by Brit and new Ford design chief Moray Callum – with over 300bhp and 407Nm of torque from its 2.3-litre four-cylinder engine.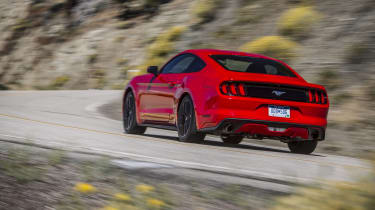 Hang on, did we say four-cylinder engine? Yes, this all-American muscle car has downsized its engine to a new unit from Ford's acclaimed EcoBoost family. Sure, you can still get a brawny 5.0-litre V8 with 420bhp for an extra £4,000, but Ford reckons that once the purists have got used to this new breed of Mustang, they'll lap up the twin-turbo EcoBoost-powered car.
It's a big car – at 4784mm, it's 158mm longer than an Audi A5 coupe and 146mm longer than a BMW 4 Series. It's wider, too, but although our test drive was in the Mustang's homeland of Los Angeles, it shouldn't feel too big for British streets.
It hides its size well, too, with sharp creases along the flanks, a neatly sloping coupé roofline and raked rear end with tri-bar tail lamps, muscular haunches and that familiar Mustang shark bite grille at the front. As Callum told us, "We didn't want any excess on the bodywork."
It is a heavy car, though, weighing 94kg more than a similarly priced BMW 420i, but then the BMW gets a miserly 182bhp engine with 270NM of torque. The extra power the Ford has should mean it'll get from 0-60mph in around 5.4 seconds – the best part of two seconds ahead of the BMW.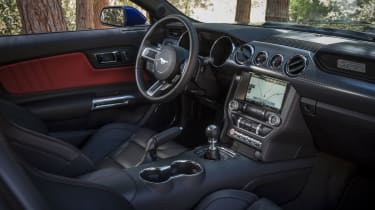 The new EcoBoost makes a good fist of replacing the more usual six- or eight-cylinder units under the Mustang's bonnet. It doesn't sound as exciting as the V8, obviously, but it does have an appealing rawness under full acceleration. It's just a shame that doesn't disappear when you're driving in a less spirited fashion – at times it sounds a bit rough. The power delivery is a bit peaky, too, although the short-shift six-speed box is fun to use – an auto option with automatic rev matching on downshifts (blipping the throttle to you and me) and paddle shifters costs an extra £1500.
Don't expect much in the way of economy, either – there are no UK mpg figures yet, but by way of comparison, a 2.3-litre Mustang does 33mpg in the American highway test, while a 2.0-litre 238bhp BMW 428i does 42mpg in the same US test. Company car drivers will wince at CO2 figures we'd expect to be around the 200g/km mark, too, and there won't be a diesel Mustang, either – that's simply a step too far.
As is the vogue these days, there are electronically controlled driving modes to choose from: Normal, Sport, Track and Wet/Snow. These adjust the steering, stability control and throttle settings (and shift pattern in auto cars), but in reality only slightly heavier steering made a difference between Normal, Sport and Track modes.
And although Ford says owners will take their Mustangs on track days, this is a GT first and sports car second – hence the steering. It's meaty enough, but the amount of movement away from the straight ahead before the wheels begin to react clearly nods towards relaxed motorway cruising – where the car is nicely refined and rides okay, too.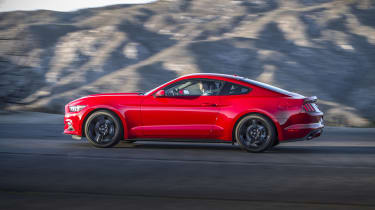 When you push, there's more weight than feel through the wheel, although the amount of grip on offer gives you plenty of confidence when you power hard through bends. There's a nice balance to the chassis, too – it feels far more playful than the car's size and weight might suggest. Not BMW playful, but great fun nonetheless. So it's a shame the seats don't hold you better while you're enjoying yourself.
All UK cars will come with the Mustang Performance Pack fitted as standard, with stiffer suspension and bigger brakes. However, this is a mixed bag: the low-speed ride is just plain poor – never settling and becoming tiresome after a while. It does, however, tie the car down better – a non Performance Pack car we tried felt a bit bouncy at the rear end.
The cosy cabin (the rear seats are best described as occasional) features traditional Mustang styling cues like eyeball vents and a high-set, squared-off dash. There's Ford's very latest SYNC touchscreen infotainment, too, complete with standard nav and a bass-heavy audio system.
Quality is a mixed bag, though – good in most places, but cheap and a bit nasty in others. And that just about sums up the new Mustang – in certain respects, it's brilliant: the chassis, the style and the value. But there are still areas like the rowdy engine, iffy interior quality and tiresome low speed ride that lack the sophistication of some rivals.
That won't matter a jot to Mustang enthusiasts or those looking for a coupé that's way different from the norm. In those respects, a right-hand drive Mustang in the UK will be a breath of fresh air.