Lamborghini Huracan Performante - best supercars
The Huracan Performante is nearly twice the price of the Porsche 911 GT3, but it delivers a sense of occasion like no other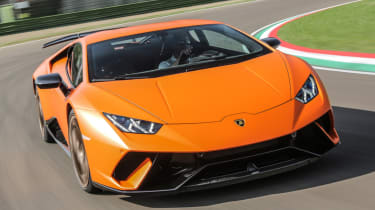 The Huracan Performante may look like a relative of the standard car, but get behind the wheel of both of them and you'll immediately be able to tell them apart.
It has more power, greater stiffness, less mass and oodles more downforce, all coming together in a ferociously quick package which is very physical to drive. The naturally aspirated V10 not only delights those who are dismayed by the tidal wave of turbochargers plaguing modern cars, but it also produces 631bhp and 600Nm of torque. Once more, the noise it makes is more akin to the Huracan GT3 racer than that of the standard car.
What helps make the Performante so incredible is the point at which the torque is available. From as low as 1,000rpm, 70 per cent (420Nm) of the torque is on tap, making rapid acceleration but a foot twitch away...
Top 10 best supercars 2019
Lamborghini Huracan Performante