Land Rover Defender (2012-2016) review
The Land Rover Defender was hugely capable off-road, but its dated design meant it trailed far behind modern 4x4s on the road
The Land Rover Defender was the perennial workhorse of the British firm's range. While other models have come and gone, the Defender plugged away, fulfilling a need as a commercial vehicle, farm tool and all-round off-road workhorse that was all but unstoppable when the going got tough.
It was old, with over 60 years in production, but it remained on Land Rover's order books for good reason: because it was unbelievably capable off-road. No modern car has been capable of emulating its off-road prowess, although if you've driven one, you'll know about the huge sacrifices you have to make if you want to drive a Defender daily. It's massively outclassed by modern SUVs, and all of the 4x4 ability in the world can't mask the fact the Defender is incredibly uncomfortable on tarmac, as well as very noisy.
The on-road ride is bouncy, thanks to the off-road biased suspension, and the Defender's 2.2-litre diesel is old and noisy, too. The engine is from the Ford Transit, and while the last version was the smoothest and most powerful engine seen in the Defender, it was hardly on a par with more modern rivals. You'll be lucky to get any more than about 28mpg out of it, while emissions range from 266g/km-295g/km, making the Defender expensive to tax.
• New Land Rover Defender Works V8 2018 review
All Defender models are basic – to the extent that airbags aren't available, even as an option – but that does mean there's very little to go wrong, and it's likely to be easily repairable. This means a Defender should be able to go on forever, and thanks to the car's strong demand from urban and country types alike, most models hold their value well.
The Land Rover Defender was sold in a wide range of styles. The most popular, and most SUV-like, were the 90 and 110 models. Their names related to their respective wheelbases in inches, and the former had a three-door body, while the latter was a five-door. There was also a Defender van, a 130 double cab pick-up truck, as well as a raft of commercial variants.
One special edition worth mentioning is the Defender X-Tech. This got a chunky body kit, plus special edition alloy wheels and a range of colours. On the inside, it also featured air-conditioning, a heated windscreen and electric windows. While that might not sound like much when compared to other SUVs, it's positively luxurious for a Defender.
The best models of all were the trio of special editions Land Rover sold to celebrate the end of Defender production. The Heritage, Autobiography and Adventure models were built in limited numbers, and had three distinct characters. The Heritage was coloured pale green and had beige cloth trim, in reference to the very first Defender, known affectionately as Huey.
The Autobiography featured plush Range Rover seats, two-tone paint, LED headlights and a thumping stereo, and was the most luxurious Defender ever made, at a staggering £60,000. The Adventure featured a raft of off-road options, including a roof rack and rear ladder, but again was fitted with leather and a decent stereo inside.
The Heritage and Adventure came in 90 and 110 body styles, while the Autobiography was in 90 guise only. There were 400 Heritage models built, while 600 Adventure models were made, and only 100 of the Autobiography models were built.
Arguably the ultimate Land Rover Defender is the Works V8, which was unveiled after production officially stopped. Built to celebrate the 70th birthday of the Defender, Land Rover shoe horned a 400bhp V8 under the bonnet which produced 515Nm of torque. It was available in 90 or 110 guise, but prices started at an incredible £150,000.
After a run of more than 60 years, the Land Rover Defender finally stopped production on 29 January 2016. It marked the end of a true British motoring legend, and only the original Mini can challenge the Defender's place in the hearts of the British population. However, it's fair to say that the Mini could never compete with the Defender's versatility, off-road ability, and rugged appeal.
The Land Rover Defender is a car that has evolved over its lifetime, although it sticks closely to the formula of the 1940s original and is thoroughly utilitarian when compared to even the most basic versions of the current Land Rover line-up.
That old-school philosophy means it's pretty archaic inside and is noisy and uncomfortable to drive, but if you're thinking of buying a Defender, you'll probably be happy to overlook its shortcomings and revel in its sheer character.
Engines, performance and drive
It's amazing off-road, but it's slow, bumpy and a handful to drive on tarmac
What the Land Rover Defender lacked in refinement and on-road enjoyment, it more than made up for off-road, where hardly any other rival could touch it. 
It has an incredibly solid chassis, high ground clearance, amazing axle articulation and four-wheel drive with low range gearing. This means it can cope with almost anything the elements throw at it.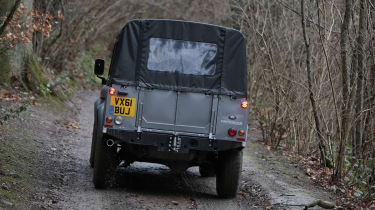 However, it's a totally different story on the road. The steering is very heavy and isn't very responsive. There are lots of turns lock-to-lock, but the turning circle is huge, and cornering is best done slowly. It also bounces around over rough tarmac.
The last versions of the Land Rover Defender were powered by a 2.2-litre diesel engine borrowed from the Ford Transit. It's isn't very environmentally friendly, but it has a strong towing capacity of up to 3,500kg and is reasonably flexible. The limited edition Autobiography model had a power boost to 150bhp, which gave some added shove, but it was still very noisy and unrefined – so not ideal for long towing journeys.
MPG, CO2 and Running Costs
Old technology and no stop-start means you pay through the nose for tax and fuel
As it was largely unchanged for 60 years, the Land Rover Defender is very simple and easy to mantain.
However, while this low-tech running gear means it's pretty sturdy, it also means it doesn't benefit from much fuel efficiency technology.
The short-wheelbase Defender 90 models returned 28mpg, while the long-wheelbase 110 managed 25mpg. However, emissions were high (266g/km of CO2 for the 90 and 295g/km for the 110) which means the Land Rover Defender very expensive to tax.
Interior, design and technology
A classic shape means he Defender looks distinctive, but driving position is cramped
Unlike many modern off-roaders, the Land Rover Defender is a no-nonsense looking thing with its boxy shape, sturdy silhouette and wide panel gaps adding to its character.
The two-door, short-wheelbase 90 model is less practical than the four-door, long-wheelbase 110, but the smaller Defender is certainly the better looking of the two.
Step inside the Land Rover Defender, and 'utilitarian' is a polite term to describe its interior. The driving position is cramped - only the seats are adjustable - and you keep bashing your elbow against the driver's door when steering. In terms of interior space and layout, even the Jeep Wrangler is better.
Thankfully, the dash is simple to use, but that's because there's not much on it. It's all scratchy, hard black plastic, so don't expect any luxuries, but it is durable.
Land Rover gives most Defenders electric windows, a CD player and remote central locking. Alloy wheels, extra speakers and sat-nav are also available as options, but if you came here for class and luxury, you're in the wrong place.
Practicality, comfort and boot space
It's hard to get into and cramped up front, but there's plenty of space in the back
The Defender was a true Multi-Purpose Vehicle, although not in the user-friendly sense that we associate with modern MPVs. The three wheelbases (the short-wheelbase 90, the long-wheelbase 110 and the 130 pick-up truck) were available with a range of 14 body styles, which also included (strangely) a convertible.
Defender buyers could choose from two to seven seats, and all models featured a huge amount of boot space, while the more utilitarian versions featured a hose-down floor. While it's not glamorous, the Defender is incredibly useful if you needed a workhorse, which is really what the Defender is all about.
Reliability and Safety
Basic running gear should keep things easy to maintain
As the Defender wasn't too different from the sixty-year old original Land Rover, there aren't many hi-tech toys that could go wrong.
The car doesn't even feature airbags or stability control, but ABS and traction control were available on higher spec models. In the Defender's defence, its solid chassis construction means it could take a whack or 10 and still keep going.
As for construction, as the Land Rover is so simple, it's very easy to fix if things go wrong and is very popular with farmers and the military beacuse of its ease of repair and maintainence. 
• Get 3 issues of Land Rover Monthly magazine for just £1 - plus a free gift!
Next Steps
Which Is Best
Cheapest
Name

2.0 D200 90 3dr Auto

Gearbox type

Auto

Price

£38,100
Most Economical
Name

2.0 P400e X-Dynamic S 110 5dr Auto

Gearbox type

Auto

Price

£65,845
Fastest
Name

5.0 P525 90 3dr Auto

Gearbox type

Auto

Price

£96,275