McLaren Senna - Best track day cars
If you name a car after one of the greatest racing drivers that ever lived, it had better be good. And the Senna is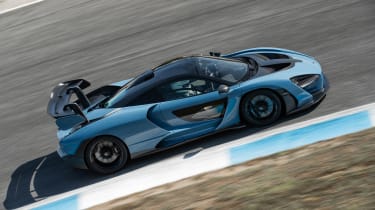 Price: £750,000 
Ayrton Senna was arguably one of the greatest Formula One drives of all time, let alone his generation. So if you're going to name a car after him, it had better deliver the kind of track driving experience that would do the name justice. Thankfully, because it's the McLaren Senna, it delivers exactly that.
McLaren calls it the fastest road-legal track car in existence, and while the looks are devisive, they're designed to allow the Senna to cleave through the air and create downforce at high speeds. Combine this with a mid-mounted 789bhp twin-turbo V8 and carbon fibre construction that helps keep the kerbweight down to just over a tonne, and it's no surprise that the Senna is one of the fastest cars around a race track.
The £750k price tag means only a very lucky few will be able to experience the Senna first-hand, but those that will are in for a treat. It's as  focused as a track car can get, and yet it's not intimidating to drive. Yes, it's an intense experience and it'll be a challenge to drive at the limit, but it still astonishes and amazes with its performance even when you're not at the limit.
Best track day cars 2019
McLaren Senna