"Mercedes has risen to the top of the global automotive tree in 2015"
A World Car of the Year hat-trick is a big win for Mercedes, says columnist Mike Rutherford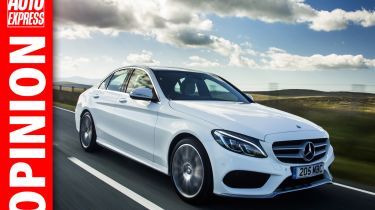 Dieter Zetsche suffered an upsetting incident in 1966. Aged just 13, he watched Geoff Hurst score a hat-trick in the football World Cup for England to snatch the Jules Rimet trophy from Germany's grasp.
Fifty years on, he's finally got around to exacting revenge, by scoring an equally controversial World Car hat-trick that allowed the Germans to take the World Performance Car, World Luxury Car and the coveted World Car of the Year (WCOTY) trophies from England and, er, all other vehicle-producing countries.
By picking up this trio of gongs for his AMG GT, S-Class Coupé and C-Class, the Mercedes chairman, his company, product range and country have effectively risen to the top of the global automotive tree in 2015. I know – the truth hurts.
Rival premium car makers and wannabe firms are furious. Some CEOs, corporations and countries are already taking decisive action to knock Mercedes off its perch this time next year. Others moan that the victorious AMG GT and S-Class Coupé are circa £100,000 apiece, and therefore irrelevant to real-world motorists.
Japan hints that it's bouncing back with impressive models such as the all-new and very affordable Mazda MX-5, which is preparing to hit UK showrooms and assume its position as clear favourite to win WCOTY next April. The Koreans are also on a roll, but they're still a long way from building the most desirable/best-value cars in the class, aren't they?
Closer to home, can Brit-based manufacturers really beat the Germans at their own premium/luxury game? And during the next decade, might an underdog such as China or India do the unthinkable by hitting the spot with a quirky little car that's desperately cheap to build, buy and run?
The jury is well and truly out on the identities of WCA and WCOTY champions of the future, but what's clear is that the VW Group was the undisputed champ between 2005 and 2015, when it secured trophies for its up!, Polo, two generations of the Golf, plus A3 and A6 Audis.
Over the same decade, BMW picked up one WCOTY gong (3 Series), as did Mercedes (C-Class), Lexus (LS 460), Mazda (MX-5) and Nissan (Leaf). Put another way, Germany and, to a lesser extent, Japan have made the best of the best cars on the planet over the past decade or so. Haven't they?
See the full report on this year's WCOTY here.