Mercedes GLS (2015-2019) review
A huge cabin and pillowy ride are the highlights of this car, but a dated dash and high price dent the appeal
The new Mercedes GLS – previously called the GL-Class – is the German brand's flagship SUV and a rival for the likes of the Audi Q7, Volvo XC90 and Range Rover.
Mercedes is so confident in its abilities it calls the GLS 'the S-Class of SUVs' – something that is now reflected in its new name. It's hugely spacious, comes as standard with seven seats and has an upmarket cabin but there's a high price-tag to match. This new facelifted model gets some reshaped front and rear bumpers, more efficient engines and a new nine-speed gearbox.
However, the minimal changes reflect the fact that this car meets the needs of its customers – who are usually based in the US or Middle East - extremely well. Like its predecessor, it's built in America where it's been the most popular seven-seat SUV for many years.
The GLS remains extremely comfortable, thanks to its air suspension and incredible refinement. The diesel entry-level 255bhp 350d CDI is smooth and powerful enough, while the high-performance 580bhp GL63 AMG model boasts performance that no car this big should be capable of.
Prices start under £70,000 and rise to over £100,000, making the GLS considerably more costly than any of its closets rivals – all of which also offer seven seats.
The Mercedes GLS is be one of the largest and most practical SUVs on the market, but you need to have more than just sheer size on your side to be competitive in this sector.
As relaxing and comfortable transport for seven people the GLS matches its closest rivals from Audi and Volvo. The 3.0-litre V6 diesel engine is smooth and powerful, while air suspension gives a pillowy ride quality.
Unfortunately, up against the Q7 and XC90 the Mercedes' flaws are highlighted. A dated looking cabin and inflated price tag count against it. Both the Audi and Volvo can seat seven people too, and at fraction of the cost.
Engines, performance and drive
Majors on refinement and composure, but still handles neatly for a large SUV
Mercedes offers the GLS with a choice of two engines – a 3.0-litre V6 diesel in the GL350 and a twin-turbo 5.5-litre V8 petrol in the Mercedes-AMG GLS63. The latter boasts incredible performance for such a large car, despite the fact that it weighs a formidable 2,580kg. The GL350 CDI is the sensible choice for its 37.2mpg fuel economy, yet it's still a refined and strong performer with a claimed 0-62mph time of 7.8 seconds.
Fitted with Mercedes' excellent Airmatic suspension as standard, the GLS is not only refined, but has a very relaxing ride. Even more impressive for a vehicle that weighs nearly two-and-a-half-tonnes is the body control. It feels solid and stable, and the air suspension maintains great composure in corners.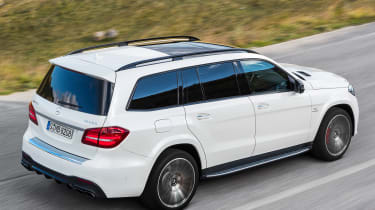 The steering is smooth and progressive but not exactly geared towards sports car handling, even on the AMG model. However, given its vast dimensions, the GLS boasts remarkably neat and tidy handling.
The new nine-speed gearbox is also very impressive and a perfect match for the 3.0-litre V6 diesel. Changes are super smooth and well-timed, making it a very relaxing car to drive. You'll also never have any worries off-road, with four-wheel drive as standard and two optional off-road driving modes.
Engines
Only two engines are on offer in the GLS. The entry 350d is powered by a 255bhp 3.0-litre V6 diesel, while the range topping GLS63 AMG uses a 580bhp 5.5-litre twin-turbo V8. Mercedes predicts of the 1,000 models to be sold in the UK each year, around 90 per cent of buyers will opt for the sensible diesel model.
MPG, CO2 and Running Costs
Tweaked engines make the GLS slightly more cost efficient to own, but expect very high running costs
The diesel 350 CDI is definitely the one to go for if you're keeping an eye on running costs. But that's a relative statement, as the GLS isn't going to be a cheap car to run. Even the diesel will result in you digging deep in your pockets, as claimed returns are 37.2mpg and it emits 199g/km of CO2.
For the petrol-powered GLS63 fuel economy worsens to 23mpg and CO2 emissions are 288g/km. And with a 100-litre fuel tank, fill-ups will always be a very expensive affair.
Depreciation
Both versions of the GLS should hold onto around 40 percent of their new value after three years, although that's not as good as the Land Rover Discovery, which will retain nearly 60 percent of its value.
Insurance groups
Nothing has been confirmed but given the price of the vehicle expect insurance groups of 45 and above for both versions of the GLS.
Interior, design and technology
Big and boxy, with a cabin starting to show its age against more modern opposition
The rather brash, blocky design of the GLS is more in keeping with North American and Middle Eastern tastes, but it still looks quite classy. AMG Line trim for the 350d adds beefier bumpers and larger alloy wheels, while a new Designo trim adds a more luxurious feel inside with plusher leather seats but costs a further £9,000.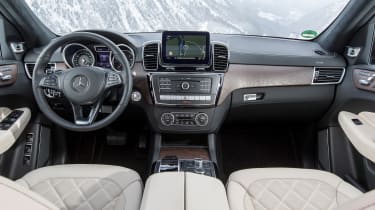 The high performance GLS63 AMG is identified by its sports exhaust, upgraded brakes and discreet 'V8 BITURBO' badges on the front wings. The cabin design feels upmarket but it can feel a little dated compared to the new slick Audi Q7 and Volvo XC90 which set the standard in the luxury SUV class. As you'd expect from Mercedes, build quality is excellent and top-notch materials are used throughout.
Sat-nav, stereo and infotainment
The GLS features Mercedes' latest-generation COMMAND infotainment system which is operated through an eight-inch colour display and touchpad controller. It's a very intuitive system and easy to operate, with clear graphics and simple navigation menus.
Practicality, comfort and boot space
One of the most spacious cars on the market, practicality is where the GLS excels
The Mercedes GL is such a huge car – 110mm longer than a Range Rover – that it boasts a really spacious cabin. It's a seven-seater as standard, but even with all those seats in place there's still a usable 295-litre boot.
Both of the rearmost seats fold flat electrically, making the process of increasing the load area a breeze. If you fold down the second row of seats there's a van-like 2,300-litre boot. The problem with having such a large car is that it is difficult to negotiate tight city streets, and there are very few UK parking spaces that are both long enough and wide enough to fit into. At least all versions of the GLS come with parking sensors as standard, which help take the strain out of slotting the big Mercedes into tight spaces.
Size
There's no escaping the sheer size of the GLS. The 350 CDI measures 5,141mm long, 1,982mm wide and 1,850mm high - making it bigger than both the Range Rover and Audi Q7.
Leg room, head room & passenger space
There's certainly no shortage of space inside the GLS, with even 6ft adults able to sit in the third row of seating. There aren't many vehicles that can seat seven adults in comfort but this is certainly one of them.
Boot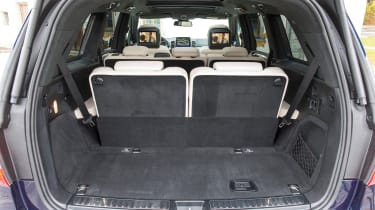 With all seven-seats in place the GLS still has a 295-litre boot, which increases to 680 litres with the third row folded. In van mode there's an enormous 2,300 litres of boot space.
Reliability and Safety
Big and imposing with a raft of safety kit, but no Euro NCAP crash test scoring yet
Euro NCAP hasn't tested the GLS yet but the Mercedes SUV comes with a whole host of safety systems and airbags that would most likely lead to it receiving a five-star rating. What's more, the GLS is so big, it's likely to intimidate most other road users out of the way.
Pre-Safe, ABS and ESP will all help keep you out of trouble while driver, passenger and side airbags will all minimise injuries in an accident. Reliability has been pretty solid since the old GL was introduced in 2006 so buyers should have a pretty hassle-free ownership experience. Once more, Mercedes finished 20th out of 26 manufacturers in our 2018 Driver Power satisfaction survey.
Warranty
Every new Mercedes comes with a three-year/unlimited mileage warranty. Three years is fairly standard across the industry but the unlimited mileage is a little better than we might expect.
Servicing
Mercedes GLS buyers can make a one-off payment to cover a list of service items. Service plans are available from 12 months right up to 48 months.
Which Is Best
Cheapest
Name

GLS 400d 4Matic AMG Line Premium 5dr 9G-Tronic

Gearbox type

Semi-auto

Price

£74,465
Most Economical
Name

GLS 400d 4Matic AMG Line Premium 5dr 9G-Tronic

Gearbox type

Semi-auto

Price

£74,465
Fastest
Name

GLS 400d 4Matic AMG Line Premium 5dr 9G-Tronic

Gearbox type

Semi-auto

Price

£74,465