MINI Cooper D (diesel) 5-door review
Diesel MINI Cooper D offers driving thrills, high fuel economy and now a practical body style as well
It's easy to see why the MINI Cooper D will be the best-selling 5-door model. It drives with almost as much verve as the Cooper but returns incredible fuel economy (with a gentle right foot). It does cost £1,150 more than the Cooper though, so you'll have to factor in your annual mileage to make sure you can recoup the cost in fuel savings.
The Cooper D is set to be the big seller in the MINI 5-door range, and you don't need to cast your eye too far down the spec sheet to find out why. With economy and emissions of 78.5mpg and 97g/km (74.3mpg and 99g/km for the auto) it's exempt from road tax and should cost pennies to run.
What's remarkable though is that low fuel consumption hasn't come at the expense of fun. The new 1.5-litre three-cylinder turbodiesel under the bonnet produces 114bhp and 270Nm of torque – enough to cover 0-62mph in 9.4 seconds and hit 126mph, but in practice it feels even faster than that.
Plant your right foot and the after the briefest of pauses, the engine responds with a surge of acceleration that pins you back in your seat. But it's the velvety power delivery that really impresses – it stays smooth right up to the rev limiter. You don't get the harder-edged exhaust note of the MINI Cooper, but in all other respects its just as much fun.
The front end feels pointy and the front tyres dig in hard to slingshot you around bends, or takes things easy and the engines settles to a background hum, while you cruise around quietly and comfortably in top gear.
Our test car was fitted with the standard 16-inch alloys, which we'd recommend you give a go before defaulting to bigger rims. Not only do they take the edge of sharp jolts, order them in black and they blend into the tyres and don't get drowned in the wheel arches.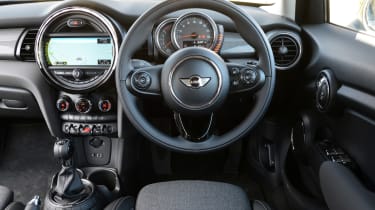 The design won't be to everyone's taste, but overall, MINI has done well to gently stretch the MINI and squeeze in an extra pair of doors. We prefer the softer front end on the Cooper and Cooper D models, to the squarer-jaw grafted onto the Cooper S and Cooper SD, but if it's maximum aggression you're after a Sport Pack will be offered from November so you can get the look without the fuel bills.