Mitsubishi Outlander vs Hyundai Santa Fe vs Kia Sorento
We see if the updated diesel Mitsubishi Outlander is a better all-rounder than the Hyundai Santa Fe and Kia Sorento
If you need a car with seven seats, there are two avenues to explore: a conventional MPV or a seven-seat SUV, such as the facelifted Mitsubishi Outlander.
While there are more expensive off-roaders, the new road tax rules that arrived on 1 April mean buyers spending over £40,000 on a new car now have to pay a £310 tax supplement every year. Big 4x4s that slip in under this threshold, offering space and premium features, are going to prove very popular.
Mitsubishi has added more kit and improved the Outlander's specification, so you get a lot for your money with the top-spec 4 version we're testing, yet it still undercuts the rivals it's up against in this test.
• Best 4x4s and SUVs on sale right now
The Hyundai Santa Fe has also been updated, with a few design tweaks to sharpen up the looks and the addition of extra safety kit on some models.
It still shares much of its mechanical make-up with the Kia Sorento, though. The Kia hasn't been upgraded and it's the most expensive choice. However, it offers the most space on paper and plenty of luxury. The question is, which family SUV should your money go on?
Mitsubishi Outlander
| | |
| --- | --- |
| Model: | Mitsubishi 2.2 DI-D Outlander 4 Automatic |
| Price: | £33,379 |
| Engine: | 2.2-litre 4cyl turbodiesel, 148bhp |
| 0-60mph: | 9.5 seconds |
| Test economy: | 43.6mpg/9.6mpl |
| CO2: | 154g/km |
| Annual road tax: | £185 |
To bring specifications into line with the popular Outlander PHEV plug-in hybrid, and give a more luxurious feel, Mitsubishi has tweaked the regular Outlander diesel range and added more equipment. We're testing the top-spec Outlander 4 2.2-litre diesel automatic, which costs £33,739.
While the Outlander's chassis is far from perfect, the extra focus Mitsubishi has placed on comfort as part of this update seems to have worked to a degree.
It's the lightest car on test at 1,610kg, but there's enough mass that the damping is acceptably fluid on smoother roads and motorways. Coupled with the relatively hushed diesel engine, the Outlander is quiet enough. However, bumpy surfaces highlight the deficiencies of the chassis, and there's still a lack of stability – particularly from the rear through bends. Bumps send a thump through the back axle and some kickback through the steering.
Rev the engine and refinement also takes a hit as the unit gets noisier. Part of the problem is the six-speed automatic box; it's slow to respond and gearchanges are sluggish. There's not much point using the steering wheel shift paddles as a result.
The reluctant transmission also hampers performance. Although the Outlander's 148bhp 2.2-litre turbodiesel trails its competitors, the 360Nm of torque is made very low down from just 1,500rpm, and the near-400kg weight saving over the Hyundai means that there's adequate pace on offer. However, in the sprint from 0-60mph the gearbox's slow shifts held the car back; it took 9.5 seconds at the track.
We found it better to drive smoothly and keep a lid on speed; here the Outlander feels more at home. And at least that strong low-down torque and slow steering make it a decent tow car.
Testers' notes: "Cars like these will likely be used for towing. All three have a 2,000kg towing limit, while the trio also offer features such as trailer assist to help with stability when pulling."
Hyundai Santa Fe
| | |
| --- | --- |
| Model: | Hyundai Santa Fe Premium 7 seat 2.2 CRDi Auto |
| Price: | £35,745 |
| Engine: | 2.2-litre 4cyl turbodiesel, 197bhp |
| 0-60mph: | 9.1 seconds |
| Test economy: | 35.8mpg/7.9mpl |
| CO2: | 174g/km |
| Annual road tax: | £210 |
If you want an automatic seven-seat SUV, Hyundai's Santa Fe (updated last year) looks fairly pricey in comparison with the Mitsubishi, with the cheapest version starting from £35,745.
But this nets you a Premium model, which counters its more expensive list price by offering even more kit than the Outlander. That's the version we test to find out if it's worth the extra – although the car in our pictures is a top-spec Premium SE.
The Santa Fe is the heaviest car on test, and it feels it from behind the wheel. While it's comfortable enough cruising around, the body rolls a lot in bends, and the drawback of this extra weight is that the engine's performance isn't as strong.
The 2.2-litre diesel produces 197bhp and 440Nm of torque, but it needs it to get the Hyundai's bulk moving. As a result, at our test track the Santa Fe sprinted from 0-60mph in 9.1 seconds – only four tenths faster than the less powerful Mitsubishi.
However, the weight means the car rides pretty well, with a relaxed motion to the way it deals with bumps and ridges in the road. Just don't ask the Santa Fe to carry too much speed through a corner, because you'll find it quickly loses its composure.
In normal conditions there's an acceptable level of poise. Engine refinement is similar to the Outlander's, but the Santa Fe's gearbox is more responsive. It's not comparable with something like a Skoda Kodiaq's dual-clutch automatic, but it's less hesitant than the Mitsubishi's transmission, and this helps with performance.
Testers' notes: "The styling tweaks for the latest Santa Fe are subtle. The biggest change was under the skin, with the addition of new safety kit. It's just a pity it's only available on top-spec cars."
Kia Sorento
| | |
| --- | --- |
| Model: | Kia Sorento KX-3 2.2 CRDi Auto |
| Price: | £37,550 |
| Engine: | 2.2-litre 4cyl turbodiesel, 197bhp |
| 0-60mph: | 9.0 seconds |
| Test economy: | 35.6mpg/7.8mpl |
| CO2: | 174g/km |
| Annual road tax: | £210 |
At £37,550, the Kia Sorento KX-3 automatic is the most expensive choice here (although our pictures show a top-spec KX-4 model). We know there are plenty of positives about the car, but are they enough to look past the price tag as it lines up against the new Mitsubishi and its Hyundai cousin?
Despite its larger dimensions, the Kia is actually 50kg lighter than the Hyundai. This meant it was the fastest car on test from 0-60mph, taking 9.0 seconds.
With 197bhp and 441Nm of torque available, it was also the quickest between 50 and 70mph, posting a time of 9.7 seconds. This was one second faster than the Mitsubishi and 1.2 seconds up on the Hyundai. However, the Kia was marginally slower than the Santa Fe in our other performance tests, even though it had the edge over the Outlander.
For many buyers, speed won't be as important as comfort, and here the Kia offers exactly what you want from a large family SUV. The raised ride height means there's a good level of suspension travel, and when this is combined with the forgiving damping, the Sorento rides all but the worst bumps with a nice level of poise.
The trade-off is that it's not the most nimble car, but at least the light steering provides a sense of agility you don't get from the heavier steering in the Hyundai.
Refinement is also good, and at 70mph on the motorway, there's not much road, wind or engine noise. If you do rev the motor harder, you get a diesel grumble from under the bonnet, but it's not too bad. The gearbox is similar to the Santa Fe's in that there's not much point in using the manual mode. It's not the swiftest-shifting unit, either, but around town it slips changes through smoothly.
Testers' notes: "Kia's models have become more expensive, but even though the gulf in list price seems large, the Sorento feels worth the extra. It's easily the most upmarket car here."
Verdict
First place: Kia Sorento
You have to pay for it in this company, but the Kia takes victory, thanks to its quality, flexibility and ease of use. It resists depreciation well, which helps offset the higher price, and for those buying on finance, the monthly cost is worthit. The Sorento isn't as efficient as the Outlander, but it has its rivals beaten in every other respect. It's just a pity its infotainment unit isn't more modern.
Second place: Hyundai Santa Fe
The seven-seat Santa Fe is still a competitive SUV and offers a good balance of equipment and refinement. However, it's not as well finished as the Sorento nor as practical as the Outlander. It feels heavy and lethargic to drive, plus it doesn't offer a running costs advantage over the Kia, which is why it gets beaten by its sister model here.
Third place: Mitsubishi Outlander
It will be the cheapest car to buy and run, but that's only half the story for the new Outlander. While it delivers acceptable performance and practicality, despite the updates to the range to bring it into line with the PHEV plug-in hybrid, there's still a big quality gap to the Hyundai and Kia especially. The car doesn't drive as nicely and isn't quite as refined as its Korean rivals, either.
Other options for similar money...
New: Skoda Kodiaq SE L 2.0 TDI 190 DSG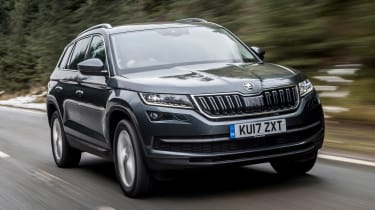 Price: £32,795Engine: 2.0-litre 4cyl, 187bhp
The Skoda Kodiaq makes all three of our test cars look expensive. In seven-seat SE L DSG auto 4x4 trim it offers a higher-quality cabin, stronger efficiency, plenty of space and is even better to drive. It's our favourite large family SUV.
Used: Land Rover Discovery Sport TD4 auto HSE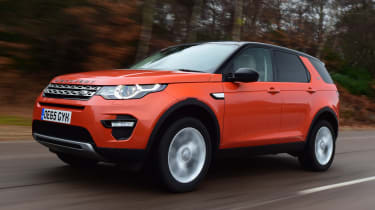 Price: £35,000Engine: 2.0-litre 4cyl, 178bhp
A budget of £35,000 will get you a nearly new Discovery Sport with the later Ingenium diesel in well equipped HSE trim. It may not be as spacious in the third row as this trio, but it offers better quality, more off-road ability and badge appeal.
Figures
| | | | |
| --- | --- | --- | --- |
| | Kia Sorento KX-3 2.2 CRDi auto | Hyundai Santa Fe Premium 7 seat 2.2 CRDi auto | Mitsubishi Outlander 42.2 DI-D Auto |
| On-the-road price/total as tested | £37,550/£38,145 | £35,745/£36,435 | £33,739/£34,289 |
| Residual value (after 3yrs/30,000) | £17,874/47.6% | £17,050/47.7% | £14,876/44.1% |
| Depreciation | £19,676 | £18,695 | £18,863 |
| Annual tax liability std/higher rate | £2,529/£5,059 | £2,407/£4,813 | £2,010/£4,020 |
| Annual fuel cost (12k/20k miles) | £1,871/£3,119 | £1,861/£3,101 | £1,528/£2,547 |
| Ins. group/quote/road tax band/cost | 26/£1,043/H/£210 | 27/£1,090/H/£210 | 27/£979/G/£185 |
| Servicing costs | £349 (3yrs) | £499 (3yrs) | £700 (3yrs) |
| | | | |
| Length/wheelbase | 4,780/2,780mm | 4,700/2,700mm | 4,695/2,670mm |
| Height/width | 1,685/1,890mm | 1,675/1,880mm | 1,710/1,810mm |
| Engine | 4cyl in-line/2,199cc | 4cyl in-line/2,199cc | 4cyl in-line/2,268cc |
| Peak power | 197/3,800 bhp/rpm | 197/3,800 bhp/rpm | 148/3,500 bhp/rpm |
| Peak torque | 441/1,750 Nm/rpm | 440/1,750 Nm/rpm | 360/1,500 Nm/rpm |
| Transmission | 6-spd auto/4wd | 6-spd auto/4wd | 6-spd auto/4wd |
| Fuel tank capacity/spare wheel | 71 litres/repair kit | 64 litres/full size | 60 litres/space saver |
| Boot capacity (seats up/down) | 142/605/1,662 litres | N/A/516/1,615 litres | 128/591/1,608 litres |
| Kerbweight/payload/towing weight | 1,953/667/2,000kg | 2,003/597/2,000kg | 1,610/650/2,000kg |
| Turning circle | 11.1 metres | 10.9 metres | 10.6 metres |
| Basic warranty (miles)/recovery | 7yrs (100,000)/1yr | 5yrs (unlimited)/5yrs | 5yrs (62,500)/3yrs |
| Service intervals/UK dealers | 20,000 miles (1yr)/187 | 10,000 miles (1yr)/173 | 12,500 miles (1yr)/125 |
| Driver Power manufacturer/dealer pos. | 14th/9th | 30th/23rd | 31st/30th |
| NCAP: Adult/child/ped./assist/stars | 90/83/67/71/5 (2014) | 96/89/71/86/5 (2012) | 94/83/64/100/5 (2012) |
| | | | |
| 0-60/30-70mph | 9.0/9.5 secs | 9.1/8.6 secs | 9.5/9.1 secs |
| 30-50mph in 3rd/4th | 3.7/5.0 secs | 3.4/4.5 secs | 3.6/5.0 secs |
| 50-70mph in 5th/6th | 7.5/9.7 secs | 7.1/10.9 secs | 7.8/10.7 secs |
| Top speed/rpm at 70mph | 124mph/2,000rpm | 126mph/2,000rpm | 118mph/1,900rpm |
| Braking 70-0/60-0/30-0mph | 48.4/34.8/8.9m | 52.5/36.8/11.4m | 54.6/36.2/10.8m |
| Noise levels outside/idle/30/70mph | 67/45/62/70dB | 67/55/63/70dB | 74/53/64/73dB |
| Auto Express econ (mpg/mpl)/range | 35.6/7.8/556 miles | 35.8/7.9/504 miles | 43.6/9.6/575 miles |
| Govt urban/extra-urban/combined | 36.2/47.9/42.8mpg | 36.2/47.9/42.8mpg | 40.9/54.3/48.7mpg |
| Govt urban/extra-urban/combined | 8.0/10.5/9.4mpl | 8.0/10.5/9.4mpl | 9.0/11.9/10.7mpl |
| Actual/claimed CO2/tax bracket | 213/174g/km/34% | 211/174g/km/34% | 174/154g/km/30% |
| | | | |
| Airbags/Isofix/ park sensors/camera | Six/yes/yes/yes | Seven/yes/yes/yes | Seven/yes/yes/yes |
| Auto box/stability/cruise control/AEB | Yes/yes/yes/no | Yes/yes/yes/no | Yes/yes/yes/yes |
| Climate control/leather/heated seats | Yes/yes/yes | Yes/yes/yes | Yes/yes/yes |
| Metallic paint/LED lights/keyless go | £595/xenons/yes | £690/no/no | £550/yes/yes |
| Sat-nav/USB/DAB radio/Bluetooth | Yes/yes/yes/yes | Yes/yes/yes/yes | Yes/yes/yes/yes |