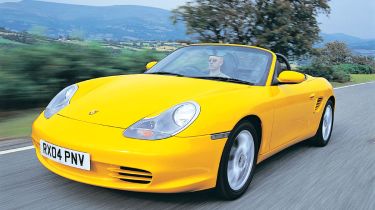 Overall Average Rating - 86.67%Position in the Top 100 cars - 29th
WINNER OF CATEGORY - Handling
Few firms can make a car handle quite like Porsche. The Boxster's mid-engined layout gives perfect weight balance and cornering ability to put many more costly rivals to shame. Try a track day to explore the limits of its abilities and marvel at the steering feedback and chassis' ability to cope with exceptionally high cornering speeds. A new Boxster is now well established and is expected to chart next year, but will it match your review of its predecessor's handling?
Ratings
Position in the Top 100 carsReliability: 19thBuild Quality: 18thRunning Costs: 92ndPerformance: 4thBraking: 9thRide Quality: 35thHandling: 1stPracticality: 93rdComfort: 59thEase of Driving: 56th
Your Quotes
"The Boxster S is superb. It offers comfortable motoring in city centres and heavy traffic, but is also a thrilling drive on the open road. This car is a total joy!"
Mr David Hurley - Conwy
"Best car I've ever owned. Only problem was a discharged battery, caused by alarm going off unchecked for a weekend while I was away!"
Mr Paul Cox - Reading
"The most exhilarating and surefooted drive I've experienced."
Mr Tim Greenwood - West Yorkshire
"Fantastic car. Great handling, steering, brakes, performance and build quality. Reasonable running costs for the engine capacity."
Mr Craig McKinlay - Scotland
"Excellent and good fun to drive."
Mr Neil Warwick - Newcastle
"I have really enjoyed my Boxster and plan to keep it for some time yet. It is a joy to drive and very practical with good luggage capacity for a couple on holiday. It is now serviced by a local specialist garage who are very good and reasonable in price. They use genuine Porsche parts. My only crib is that rear tyres only last around 6-7000 miles."
Mr Stuart Admans - Peterborough
Manufacturer Verdict (Position - 4th)
Consistency is the key to long-lasting success for any firm, and Porsche has retained its excellent fourth place rating. Coming top in three separate categories, the company wipes the floor with the competition in the performance, handling and braking ranks. But it comes near the bottom of the running costs chart. With the firm set to expand into the luxury four-door market, the future looks bright.