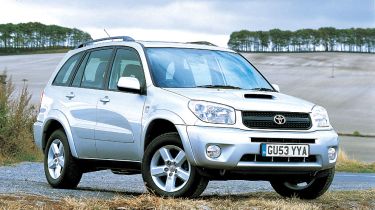 Overall Average Rating - 87.85%Position in the Top 100 cars - 17th
With its unburstable build quality and affordable running costs, Toyota''s line-up should have everything it takes to satisfy owners – and the RAV4 doesn''t disappoint. While the new model is yet to make a big enough impression to be included in the survey this year, its predecessor is still a great all-rounder. Despite being available from only £5,000 on the used market, it nets eighth place for reliability and ninth for build quality. And no less than 98 per cent of owners say it''s lived up to expectations.
Ratings
Position in the Top 100 carsReliability: 8thBuild Quality: 9thRunning Costs: 34thPerformance: 45thBraking: 53rdRide Quality: 22ndHandling: 28thPracticality: 55thComfort: 32ndEase of Driving: 14th
Your Quotes
"The finest car I have ever owned. It's disappointing that the three door is out of production, as I would have bought another - although probably a diesel."
Sarah Birkin - London
"The vehicle is robust, practical and fairly economical. The RAV certainly does the job superbly without any drama but is let down in one or two areas such as poor radio and speakers and minor irritants such as lack of illuminated window switches. However taken as a whole it's a car that I'm proud to own and enjoy using."
Mr Gary Druce - Bucks
"I used to have a small MPV and up-sized as the family was growing up. I chose the RAV for its reliability and styling compared to the more 'boxy' looking rivals and despite one or two little niggles in over three yrs of ownership, I have been more than satisfied with my choice"
Mr Marvin Angel - Essex
"One of the nicest cars we've owned. Being oldies we appreciate the high driving position and comfortable front seating. We have trouble getting in/out of our children's Mercs, BMWs and Audis because their seating is so low to the ground. The only problem with the Rav is the lack of luggage space. The electrics problem was due to a company misfitting a replacement windscreen causing water to leak over various electronic sensors which rendered the car undriveable. This and the 200-mile trip home was met by our club Toyota membership."
Mr Alec Blandford - Essex
"Perhaps not as green as it could be! However it is proving to be very comfortable, relatively economical (about 40mpg) and being 'up in the air' seating wise suits my OAP lack of flexibility well. My wife 5'1" likes the extra vision over her car. Previous car was a petrol RAV4 - service by local Toyota agents has proved good - after lousy experience with local Ford garage."
Mr Michael Creek - Wilts
"Best car I have ever had, Pleasure to drive if you're not a boy racer."
Mr Iain Stormount – Isle of Skye
Manufacturer Verdict (Position - 8th)
Having celebrated the success of the flagship Lexus brand, Toyota bosses will also feel fairly smug about where their mainstream marque has charted. Firmly established in the top 10, Toyota has achieved above average ratings in each judging category. As the new Yaris and Auris models begin to make up the bulk of Toyota''s UK sales, we will be keen to see if the firm can continue to scale the chart.