Volkswagen T-Roc vs Audi Q2 vs MINI Countryman
The new Volkswagen T-Roc aims to see off the Audi Q2 and MINI Countryman to claim the premium small SUV crown
The rise of the small SUV continues unabated, as seen by the recent crop of mainstream models from Citroen, Hyundai, Kia and SEAT. However, the cars we're testing here are a little different, because they all trade on their slightly more upmarket images thanks to the badges they wear.
The newest is the Volkswagen T-Roc, which shares many components with the mainstream Golf hatchback. Still, VW's more premium image means the T-Roc has to face some stiff competition in the form of the Audi Q2 and MINI Countryman crossovers here.
• Best crossovers and small SUVs
All three are powered by downsized three-cylinder turbocharged petrol engines, as is rapidly becoming the norm for cars like this in order to boost economy as diesel continues to attract bad press. Yet these supermini-based SUVs will have to do more than just slash your running costs – they need to offer comfort, cutting-edge tech, practicality and performance, all at an affordable price. So which carves out a clear win in this rapidly growing sector?
Volkswagen T-Roc
| | |
| --- | --- |
| Model: | Volkswagen T-Roc 1.0 TSI Design |
| Price: | £21,125 |
| Engine: | 1.0-litre 3cyl turbo, 113bhp |
| 0-60mph: | 10.4 seconds |
| Test economy: | 41.9mpg/9.2mpl |
| CO2: | 117g/km |
| Annual road tax: | £140 |
The T-Roc is Volkswagen's first attempt at an SUV to sit below its larger Tiguan. With sharp, typically VW styling, decent practicality and an efficient 1.0-litre TSI petrol turbo engine, in £21,125 Design trim we're testing here, is it a contender?
The VW's MQB underpinnings are instantly recognisable from behind the wheel, which is a good thing. The car rides well, steers sweetly, offers plenty of grip for an SUV, and real composure from the chassis, plus a good level of refinement.
It's still not as good to drive as the MINI, though. The steering is precise but lifeless, while the chassis set-up doesn't give a particularly strong connection to what's going on at the front wheels.
Comfort is arguably more important, however, given that this is a small SUV that will be used as a family car. Here, the VW scores well. You don't really need to spend the extra on adaptive dampers because the standard set-up on our car's 17-inch wheels is composed and compliant over most roads. As bumps become more severe, intrusions are felt more sharply, but it's still never horrendously harsh.
This refinement extends to the powertrain, because the 113bhp 1.0-litre turbo pulls smoothly with little in the way of audible histrionics. It was the slowest car of the three on test from 0-60mph, taking 10.4 seconds, but this was only half a second behind the Audi and six tenths down on the MINI, so is more than acceptable. It made up for this deficit with comparable in-gear performance. Between 50 and 70mph in fifth it was one second faster than the more powerful MINI, taking 9.0 seconds (just one tenth slower than the Audi), plus it matched the Q2 in the lower gears and was able to extend its advantage over the Countryman.
While it's punchy, it's definitely neither as alert nor as responsive as the MINI, and the Audi feels slightly sharper too. Nevertheless, the VW's blend of unobtrusive performance, comfort and refinement ensures it nails the brief for this class of car.
Testers' notes: "If you want four-wheel drive or an automatic box, you'll have to go for a top-spec T-Roc SEL; the 2.0 TSI 4MOTION petrol gets a seven-speed DSG, while the 2.0 TDI 4MOTION is manual."
Audi Q2
| | |
| --- | --- |
| Model: | Audi Q2 1.0 TFSI SE |
| Price: | £21,660 |
| Engine: | 1.0-litre 3cyl turbo, 114bhp |
| 0-60mph: | 9.9 seconds |
| Test economy: | 39.4mpg/8.7mpl |
| CO2: | 117g/km |
| Annual road tax: | £140 |
Audi's quest to pursue as many SUV markets as possible was bolstered by the Q2. It's a compact crossover that's at its best when fitted with the firm's 1.0-litre TFSI petrol turbo engine, which is the model we're testing here. In SE trim (our images show a mid-spec Sport) it costs from £21,660.
the Audi pretty much matched the VW for performance at the track, although the newer T-Roc's tighter engine had only a few hundred miles on the clock, which may partly explain the half-second 0-60mph deficit.
At 9.9 seconds for this benchmark sprint, the Audi was just one tenth behind the MINI, yet its in-gear performance was stronger.
There was little to separate the Audi and VW in the in-gear acceleration tests; the Q2 was five tenths faster from 50 to 70mph in sixth, posting a time of 12.0 seconds. The MINI took 12.2 seconds.
The 1.0 TFSI unit revs cleanly, just as it does in the VW, but it's marginally gruffer. Still, this doesn't impact refinement too much.
With 'dynamic suspension' as standard the Audi feels slightly sharper than the VW, but the steering has a similar level of precision, as well as a similar shortage of feel through the wheel rim. The damping feels tauter and the body control more rigid, which means that while the level of comfort on the motorway or over broken surfaces might not be quite as good as in the VW (it trails only slightly), you gain some composure when driving faster.
It's still neither as involving nor as fun as the MINI, but the Audi treads a nice line between comfort and performance, only a little more focused on the latter. The VW errs towards the former.
Testers' notes: "The Q2 gets Audi's Virtual Cockpit as an option here. It's a great hi-tech upgrade that really lifts the feel of the cabin. It's also versatile and functional."
MINI Countryman
| | |
| --- | --- |
| Model: | MINI Countryman Cooper |
| Price: | £23,035 |
| Engine: | 1.5-litre 3cyl turbo, 134bhp |
| 0-60mph: | 9.8 seconds |
| Test economy: | 41.1mpg/9.0mpl |
| CO2: | 126g/km |
| Annual road tax: | £140 |
Purists might not like it, but the modern MINI brand has spawned a host of models underpinning its future beyond the regular hatch – and this Countryman is one of the most popular. It's a great compact SUV that, in entry-level £23,035 Cooper guise, will give the VW a challenge.
The extra 500cc under the bonnet means more power and torque, at 134bhp and 220Nm respectively. Yet the larger, heavier 1,365kg Countryman was unable to translate this into an overall performance advantage.
It's by no means slow, and delivers decent speed plus a likeable gruff thrum. At our track it covered 0-60mph in 9.8 seconds, making it the fastest model over this test, but it trailed the other cars for in-gear flexibility. Between 30 and 50mph in third it was around a second slower than both rivals, while this deficit was roughly the same from 50-70mph in fifth. But if you work the six-speed manual box from 30 to 70mph the MINI matches the Q2, taking 9.4 seconds.
On the road, the Countryman's strongest point is its involving handling. The steering is accurate and offers the nicest weight and responses.
The suspension set-up is also firmer, so at lower speed the MINI might be less forgiving, but as you start to move faster the plush damping has a lovely ability to smother the initial harshness of cracks and crevices in the road surface. It feels more subtly adjustable and fun as a result, but there's still a good deal of comfort and refinement on offer. The balance of ride quality between the front and rear feels the best-matched here thanks to that sophisticated suspension layout and high-quality damping.
It's a thoroughly usable SUV that'll bring a smile to your face when you want it to, and it won't cause you to grimace the rest of the time.
Testers' notes: "As with the VW and Audi, adaptive dampers are available on the MINI for £450. These broaden its ability and improve comfort in the softer setting, but also give it more focus in sportier modes."
Verdict
First place: MINI Countryman
For not much more a month than either rival, the MINI offers more kit, more space and more fun without sacrificing too much comfort. The brand's DNA is tangible in the Countryman, and it boosts these traits with a big boot and a roomy cabin. Standard sat-nav helps, too. You might have to budget a bit more to run it (especially as a business buyer), but we think the extra outlay is worth it.
Second place: Volkswagen T-Roc
The T-Roc is a solid entry into this SUV class. It offers what buyers want, with decent practicality, strong performance and refinement, and good smartphone connectivity at an affordable price. However, it's not quite as spacious as the MINI, and it trails on quality, too. Running costs are low, but it doesn't feel as rounded as the Countryman.
Third place: Audi Q2
While the Q2 feels a bit more upmarket than the T-Roc, the class has moved on and its older standard infotainment lets it down. It's also less usable, even though the mechanical components are identical. Performance is good and it handles well, but you lose some comfort as a result. On top of all that, it's pricier and more costly to run than the VW. The shortage of boot space seals its fate.
Is it worth waiting for this model?
DS 3 Crossback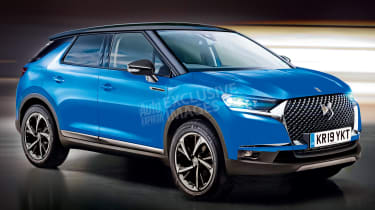 Due: 2019 Price: £20k (est.)Engine: 1.2-litre 3cyl, 118bhp
The DS 3 Crossback will join this class next year with an all-new chassis. Previewed by our exclusive images, the car is set to offer a smart interior and should use the familiar 128bhp 1.2-litre turbo.
Figures
| | | | |
| --- | --- | --- | --- |
| | MINI Countryman Cooper | Volkswagen T-Roc 1.0 TSI Design | Audi 1.0 TFSI SE |
| On the road price/total as tested | £23,035/£29,875 | £21,125/£24,385 | £21,660/£21,660 |
| Residual value (after 3yrs/36,000) | £11,025/47.9% | £10,949/51.8% | £10,395/48.0% |
| Depreciation | £12,010 | £10,176 | £11,265 |
| Annual tax liability std/higher rate | £1,095/£2,191 | £920/£1,840 | £944/£1,887 |
| Annual fuel cost (12k/20k miles) | £1,621/£2,701 | £1,590/£2,649 | £1,691/£2,818 |
| Ins. group/quote/road tax cost | 18/£439/£140 | 11/£463/£140 | 13/£361/£140 |
| Servicing costs | £299 (3yrs) | £288 (2 services) | TBC |
| | | | |
| Length/wheelbase | 4,299/2,670mm | 4,234/2,590mm | 4,191/2,601mm |
| Height/width | 1,557/1,822mm | 1,573/1,819mm | 1,508/1,794mm |
| Engine | 3cyl in-line/1,499cc | 3cyl in-line/999cc | 3cyl in-line/999cc |
| Peak power/revs | 134/4,400 bhp/rpm | 113/5,000 bhp/rpm | 114/5,000 bhp/rpm |
| Peak torque/revs | 220/1,400 Nm/rpm | 200/2,000 Nm/rpm | 200/2,000 Nm/rpm |
| Transmission | 6-spd man/fwd | 6-spd man/fwd | 6-spd man/fwd |
| Fuel tank capacity/spare wheel | 51 litres/£120 | 50 litres/space saver | 50 litres/£100 |
| Boot capacity (seats up/down) | 450/1,390 litres | 445/1,290 litres | 405/1,050 litres |
| Kerbweight/payload/towing weight | 1,365/585/1,500kg | 1,270/585/1,300kg | 1,205/560/1,500kg |
| Turning circle | 11.4 metres | 11.1 metres | 11.1 metres |
| Basic warranty (miles)/recovery | 3yrs (60,000)/3yrs | 3yrs (60,000)/1yr | 3yrs (60,000)/3yrs |
| Driver Power manufacturer/dealer pos | 8th/8th | 14th/20th | 18th/15th |
| NCAP: Adult/child/ped./assist/stars | 90/80/64/51/5 | 96/87/79/71/5 | 93/86/70/60/5 |
| | | | |
| 0-60/30-70mph | 9.8/9.4 secs | 10.4/9.7 secs | 9.9/9.4 secs |
| 30-50mph in 3rd/4th | 5.4/6.8 secs | 4.5/6.2 secs | 4.5/6.3 secs |
| 50-70mph in 5th/6th | 10.0/12.2 secs | 9.0/12.5 secs | 8.9/12.0 secs |
| Top speed/rpm at 70mph | 126mph/2,500rpm | 116mph/2,500rpm | 122mph/2,500rpm |
| Braking 70-0/60-0/30-0mph | 52.6/40.0/10.4m | 53.2/41.3/10.1m | 50.1/39.6/9.3m |
| Noise outside/idle/30/70mph | 70/44/62/70dB | 68/42/60/70dB | 70/43/61/71dB |
| Auto Express econ (mpg/mpl)/range | 41.1/9.0/461 miles | 41.9/9.2/461 miles | 39.4/8.7/433 miles |
| Govt urban/extra-urban/combined | 41.5/58.9/51.4mpg | 46.3/62.8/55.4mpg | 45.6/62.8/55.4mpg |
| Govt urban/extra-urban/combined | 9.1/13.0/11.3mpl | 10.2/13.8/12.2mpl | 10.0/13.8/12.2mpl |
| Actual/claimed CO2/tax bracket | 159/126g/km/24% | 156/117g/km/22% | 166/117g/km/22% |
| | | | |
| Airbags/Isofix/park sensors/camera | Eight/yes/yes/£310 | Six/yes/yes/£175 | Six/yes/yes/£350 |
| Auto box/stability/cruise control/AEB | £1,495/yes/yes/yes | No/yes/adaptive/yes | No/yes/yes/yes |
| Climate control/leather/heated seats | £460/£900/£270 | Yes/£2,200/£285* | £525/no/£300 |
| Metallic paint/LED lights/keyless go | £550/£1,100/£350 | £575/£880/no | £550/£975/£350 |
| Sat-nav/USB/DAB radio/Bluetooth | Yes/yes/yes/yes | £1,130/yes/yes/yes | £600/yes/yes/yes |
| W'less charging/CarPlay/Android Auto | £1,100*/£1,100*/no | £380/yes/yes | £325/yes/yes |