Alfa Romeo's new BMW 5 Series rival revealed
Alfa Romeo Giulia's bigger brother set to go on sale by 2018 and will take on the BMW 5 Series and Mercedes E-Class
Alfa Romeo is planning a new executive saloon to rival the BMW 5 Series, Auto Express can reveal – and our exclusive images show how it's likely to look.
The new model will feature a range of powertrains, including a plug-in hybrid and the company's first-ever six-cylinder diesel. As it will be based on the same rear-wheel-drive platform as the recently launched Giulia saloon, it should share the engine range, including the four-cylinder diesel and petrol units, too.
• Best executive cars on sale right now
"We owe our investors a constant stream of new, fresh global products that can be sold," Fiat Chrysler chief technology officer Harald Wester told Auto Express. "It will be a relatively fast sequence of relevant and saleable products like saloons and SUVs."
The Giulia uses a 2.2-litre diesel with either 148bhp or 178bhp and a 2.0-litre petrol with 197bhp – and both are likely to appear in the larger saloon. Wester told us that the petrol engine has plenty of tuning potential, so it could even get a power boost to improve performance in the larger model.
Alfa's tech chief also hinted that the Giulia Quadrifoglio's 503bhp twin-turbo V6 engine could make an appearance, alongside the company's first-ever six-cylinder diesel. These additions would help it compete with the likes of the Mercedes E-Class and 5 Series.
As with the Giulia, it's likely to get an eight-speed automatic gearbox and a six-speed manual, although the UK-market version will be auto only. It'll be priced in line with rivals, kicking off from around £35,000 for an entry-level diesel. The 5 Series rival is expected to follow the upcoming Stelvio SUV, as part of the brand's rebirth over the next four years.
The platform is brand new and is able to support many applications, which means the new model will also get a plug-in hybrid version. Alfa Romeo Europe boss Fabrizio Curci told us we'll start to see electrification around 2018. "The platform is built to support whatever kind of electrification we do," he said. "It can support everything from plug-in hybrid to full electric." The platform also supports four-wheel drive, and even semi-autonomous driving, which is set to appear on the large saloon.
The 5 Series rival will be a core part of Alfa Romeo's plan for a new model range by 2020 (see below). We're unlikely to see the new big saloon until around 2018, as the next car from the brand will be the Stelvio SUV. That car will also get the same range of engines as the Giulia, which could even include the hot 503bhp V6.
Wester told us that "speciality models have to be part of the plan, as they are what made Alfa Romeo iconic. It's possible for the Quadrifoglio engine to fit into the SUV. There is a market for it, but it's very small."
Alfa bosses are tightlipped on what other speciality models are on the way, but Curci is interested in developing the 4C. He said: "We are thinking of how to do a special version, but not a Cloverleaf. We are thinking of what to do, but it won't change the DNA – a different look and feel, maybe.
The future of Alfa: How saloon fits in to firm's masterplan
New: Alfa Romeo Giulia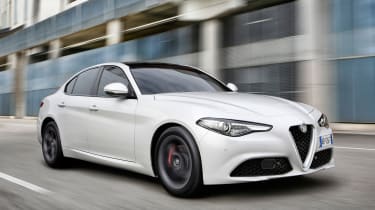 On sale: Now
We've already tried the Giulia in Italy and found it's great to drive, stylish and matches its rivals for economy, too. It forms the first pillar of Alfa's extensive rebrand.
New: Alfa Romeo Stelvio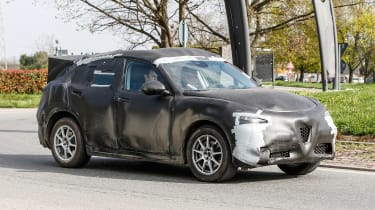 On sale: 2017
Alfa's first-ever SUV will be revealed at the end of this year, using the same engines and running gear as the Giulia. There are plans for another, smaller SUV as well.
New: Alfa Romeo Giulietta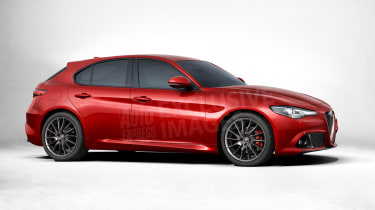 On sale: Late 2017
The current Giulietta is a front-wheel-drive hatch, but the next model is likely to be rear-wheel drive. This will help it to compete with the fun-to-drive BMW 1 Series.
New: Alfa Romeo Giulia Coupe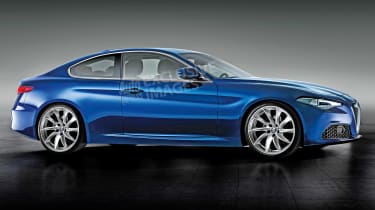 On sale: 2018
The focus will be on big-selling models first, but Alfa won't forget its heritage as a sporty brand, with a Coupe version of the Giulia joining the range, too.
Would you buy an Alfa Romeo instead of a BMW 5 Series? Let us know below...