Sporty Audi A7 Competition special edition model revealed
Ultimate diesel A7 revealed with 322bhp 3.0 TDI, promises 62mph in 5.1 seconds and 46.3mpg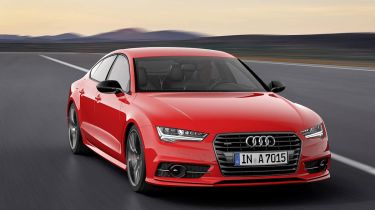 Audi has fitted an upgraded version of its potent V6 BiTurbo diesel into the facelifted A7 four-door coupe to create the A7 TDI Competition. Dreamt up to celebrate 25 years of turbodiesel Audis, the boosted A7 develops 322bhp and 650Nm – 7bhp more than a standard 3.0 TDI BiTurbo unit.
That's not the full story of how this all-wheel drive bruiser hits 62mph in 5.1 seconds and 155mph however. Under full throttle, an overboost function ramps up power by an extra 20bhp, thanks to revisions to the camshafts and turbos.
Of course, Audi already offers very fast A7s: the petrol V8 S7 has 444bhp and the RS7 delivers 552bhp. The A7 Competition's trump card is the diesel's relative fuel efficiency. Audi claims the BiTurbo oil-burner will achieve 46.3mpg, and coughs out only 162g/km of CO2.
A7 Competition: UK release not confirmed
Available in red, blue or two shades of grey, the A7 Competition wears the S-line bodykit as standard, along with black 20-inch alloys, red-painted brake calipers and a 20mm reduction in ride height versus a regular A7 diesel.
Inside, the top-spec S-line trim brings leather seats with 's-line' logos picked out across the A7 Competition's upholstery. Aluminium trim pieces match the metal paddles behind the flat-bottomed steering wheel, which control the eight-speed automatic gearbox's manual mode.
Currently, Audi is considering whether to offer the Europe-friendly A7 Competition in the UK. Its price of the continental mainland is a chunky €72,000, pointing to a UK tag, should Audi decide to sell the car here, of around £60,000.