Best used luxury cars
The Mercedes S-Class is the best used luxury car in our Used Car Awards 2020
Best used luxury car: Mercedes S-Class
Our pick: Mercedes S-Class S 350 d L AMG Line (2016/16, 59k mil es, £21,999)
The S-Class is hands-down our favourite new luxury car, so it should be no surprise to see that it's our number one used luxury bargain, too.
Once again, pre-facelift versions of the current S-Class stand out as the best choice, with the silky-smooth, 254bhp S 350 d V6 diesel model representing a fabulous all-rounder. It offers performance, refinement and what could even be considered decent running costs, when you bear in mind that this is a market where whatever you buy will inevitably cost more than average to run.
The S-Class is a car that passengers will find astonishingly comfortable, thanks to a combination of brilliant body control and amazing ride quality. However, for those behind the wheel it's also a highly convincing proposition. Allied to the strong diesel power of the S 350 d is the car's composure. Don't expect the S-Class to be as strong as a BMW 7 Series dynamically, but nothing beats it as a cruiser.
Standard and long-wheelbase versions of the S-Class are in abundant supply on the used market, and we'd opt for the latter: you won't pay much more for one, but the additional space for your rear-seat passengers will allow those in the back to stretch out with limousine-rivalling rear legroom.
AMG Line cars are common on the used market, injecting one or two sporty styling touches into the otherwise vast saloon body. Many examples are high-mileage as former chauffeur and private hire vehicles, but some less-travelled cars from private sellers can be found around the same price bracket, such as the S 350 d L AMG Line we spotted, with 59,000 miles, for £21,999. However, if you want V8 petrol power, you'll have to budget more.
Finance options
Luxury costs, but that's not necessarily the case with the S-Class, which could come in at £380 per month with a £2,500 deposit on BuyaCar.co.uk. The secret? As with several other cars here, it's desirable, and is worth so much when you hand it back – £13,619 in this case – that it shrinks your monthly payments. That's because PCP instalments cover the difference between the car's initial price and its predicted value at the end of the contract.
Commended
Range Rover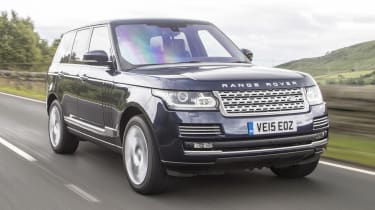 The fourth-generation Range Rover will be replaced soon, but early examples of the current model come a close second to the S-Class. And if you're looking for a luxury SUV, there's simply no competition. We spotted a clean 63-plate TDV6 Vogue with just 35,000 miles for £29,640.
Left-field choice
Aston Martin Rapide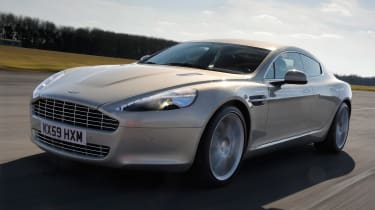 If neither the S-Class nor Range Rover tickle your fancy, you could try an Aston Martin instead. Prices for the four-door Rapide have bottomed out, with pre-facelift cars now hitting £32k. Space for four is a little snug, but everyone onboard will be mesmerised by the rich V12 soundtrack