BMW 5 Series vs Mercedes E-Class vs Jaguar XF
Can the new Mk7 BMW 5 Series regain the class crown from Mercedes and Jaguar?
The pace is hot at the top of the executive saloon sector. BMW knows it, which is why it's gone to town with the development of its all-new, seventh-generation 5 Series.
A glut of new premium saloons arrived last year, including the Mercedes E-Class, which hit the market with a range of advanced technology, autonomous driver aids, more space than ever and a slick cabin. It's our current executive champion, and the car BMW will have to beat.
However, the 5 Series has traditionally offered a dynamic edge over its rivals, too, so while it will face some stiff competition from the E-Class on everyday issues such as versatility, safety and tech, if it wants to reign as the best-handling saloon in the sector, it will have to outpace the agile Jaguar XF.
Here we test the three cars at the centre of the class, all in efficient 2.0-litre diesel form and sportier trim levels, to determine which is the greatest all-rounder in what will undoubtedly be one of the hardest fought and most important road tests of 2017.
BMW 5 Series
| | |
| --- | --- |
| Model: | BMW 520d xDrive M Sport |
| Price: | £41,025 |
| Engine: | 2.0-litre 4cyl turbodiesel, 187bhp |
| 0-60mph: | 7.4 seconds |
| Test economy: | 52.9mpg/11.6mpl |
| CO2: | 124g/km |
| Annual road tax: | £110 |
The executive saloon sector is fiercely competitive, with cars such as the Volvo S90 and Mercedes E-Class changing the game recently. It's the latter car this new 5 Series will have to beat. BMW now offers it with four-wheel drive for the first time on right-hand-drive models, and here we test the £41,025 520d xDrive M Sport.
BMW has fitted the 520d with the 187bhp 2.0-litre turbodiesel engine that features across much of its range. On test it offered truly impressive performance, sprinting from 0-60mph in 7.4 seconds and delivering pace to rival out-and-out sports cars such as the Mazda MX-5 and Toyota GT86.
Its speed off the line was helped by its xDrive four-wheel-drive system, which offers great traction. However, giving away some power to the Mercedes, it was one tenth slower over the benchmark sprint.
With 400Nm of torque, it was on par with the lighter, 430Nm XF for in-gear acceleration, while its superior traction and sharper-shifting gearbox meant it was faster than the Jaguar through the gears.
The transmission locks up quicker so the BMW gets off the line better than either of its rivals, and the engine is also the most refined of the three.
This refinement extends to the ride. While you do feel a few pattering motions over the worst surfaces, riding on optional 19-inch wheels (with 18-inch rims as standard) bumps don't send a quiver through the chassis like in the E-Class. In Comfort the 5 Series works with the road rather than reacting to it.
In Sport mode, the damping doesn't feel too much firmer until you enter a corner. Then you notice the tauter body control and greater resistance to roll, with the 5 Series staying fairly flat. Our car was fitted with the £985 Variable Damper Control, which is well worth the extra outlay. The steering is nicely weighted and the rate of response judged just-so, meaning the BMW rarely loses its composed feel.
Testers' notes: "The £2,000 xDrive system adds security in slippery conditions, but the two-wheel-drive version is more efficient, matching its rivals' Benefit in Kind rates of 22 per cent."
Mercedes E-Class
| | |
| --- | --- |
| Model: | Mercedes E 220 d AMG Line |
| Price: | £39,170 |
| Engine: | 2.0-litre 4cyl turbodiesel, 191bhp |
| 0-60mph: | 7.3 seconds |
| Test economy: | 50.0mpg/11.0mpl |
| CO2: | 112g/km |
| Annual road tax: | £30 |
The Mercedes E-Class is our current class favourite, thanks to its blend of upmarket appeal and wallet-friendly running costs. It comes in just two trim levels and features a nine-speed auto gearbox. Here, we test the sporty AMG Line version in popular E 220 d guise, which costs £39,170.
With 191bhp, the Mercedes' 2.0-litre diesel is fractionally the most powerful engine here, but its 400Nm torque output trails the Jaguar's by 30Nm. Still, despite similar on-paper figures, the E-Class held a narrow advantage in the 0-60mph sprint; its time of 7.3 seconds was a tenth faster than the 520d's.
The tables were turned during our in-gear assessments, where the E 220 d was consistently slower than both its competitors in this test – although admittedly the margins were small.
As a result, in the real world the differences are negligible, with all three cars feeling surprisingly responsive for such big machines powered by such relatively small engines. The Mercedes is refined, too. Work the four-cylinder hard and you still hear a diesel grumble from under the bonnet, but it's not as gruff as the Jaguar's.
On the motorway the nine-speed auto makes for low cruising revs of just 1,300rpm, but the trade-off is constant downchanges after even light throttle applications. On the plus side, the slippery shape also means there's virtually no wind noise in the cabin.
Our car was fitted with the standard coil springs and adaptive damper suspension, which does a better job of soaking up bumps than the firmer Jaguar, but trails the BMW for ultimate comfort. While it deals with big bumps well, broken tarmac and potholes send the occasional shake and shudder through the floor of the cabin.
The E-Class isn't as agile as its rivals here, and its quick steering lacks feedback, but you can't fault its grip and composure. Sport+ mode sharpens the throttle and adds weight to the steering, but the car is at its best while cruising in its normal setting.
Testers' notes: "There are lots of personalisation options, including alloy wheels, paint finishes and trim – although the £645 black and pinstripe panels on our car won't be to all tastes."
Jaguar XF
| | |
| --- | --- |
| Model: | Jaguar XF R-Sport 2.0d 180 auto |
| Price: | £36,850 |
| Engine: | 2.0-litre 4cyl turbodiesel, 178bhp |
| 0-60mph: | 9.3 seconds |
| Test economy: | 47.1mpg/10.4mpl |
| CO2: | 114g/km |
| Annual road tax: | £30 |
For a brief period, Jaguar's XF reigned supreme at the top of the executive saloon sector. Then the E-Class came along and knocked it off its perch last year. So can it still hold its own, or have Jaguar's rivals moved the game on and out of the XF's reach? To find out, we test the £36,850 R-Sport 2.0d auto, although our pictures show a Portfolio model.
Given the poor conditions during our performance tests, it was no surprise that the rear-drive Jag couldn't match the four-wheel-drive 5 Series' 0-60mph time, taking 9.3 seconds. However, its in-gear performance was on par due to the XF's superior 430Nm of torque and lower 1,595kg kerbweight.
The eight-speed Jaguar was actually faster than the more powerful BMW from 50 to 70mph in top, taking 15 seconds exactly, while there were only a few tenths' difference in the other gears.
However, when you use the transmission you'll find it isn't as slick as the BMW's eight-speed auto. The two cars share the same ZF-sourced gearbox, with bespoke programming for each model.
The Jaguar doesn't pull away quite as urgently as the BMW and feels more lethargic as a result. While its changes are nicely managed, in manual mode they're not as snappy or as smooth as in the 5 Series.
It's a similar story when it comes to the ride. Our test car was fitted with the £1,020 optional Adaptive Dynamics system that alters parameters such as suspension damping and throttle response.
Even in Normal mode it can't match the 5 Series or E-Class for comfort, with more vertical body movement over rougher roads. In Sport it's firmer still, but at least the Jaguar feels agile.
Its steering is very fast, which can give it a nervous feel at first. The suspension sometimes struggles to keep up with the speed of direction changes and control the car's mass, but it's direct and, once you get used to it, feels alert. However, it does have a tendency to follow cambers and ruts in the road.
While the engine is strong, despite a power deficit to its rivals, it's also noisy – especially when revved right out – so together with the choppier ride it loses out to both the 5 Series and E-Class when it comes to refinement and comfort.
Testers' notes: "While adaptive cruise with queue assist is available for £1,430, you still have to steer to stay in your lane. Both the BMW and Mercedes offer more advanced systems."
Verdict
First place: BMW 5 Series
It's five stars for the 5 Series. BMW's new exec saloon is comfortably the sharpest car to drive, the most comfortable, and matches its rivals for practicality. While it's more expensive with xDrive 4WD, it was still the most efficient choice; a rear-driven 520d is competitively priced and will be even more cost-effective. Strong residuals round off a convincing win for one of the most complete cars on sale.
Second place: Mercedes E-Class
The E-Class is still a great saloon car with an impressive level of tech available. However, its ride is choppier, while expensive options mean you'll pay more to match the 5 Series' kit. It's efficient, spacious and offers good performance, but this isn't enough to offset the Mercedes' poorer residuals, high servicing costs and dynamic shortfall compared with the BMW.
Third place: Jaguar XF
In this company, the XF feels a generation behind the curve. There's no denying it has a strong engine and an agile chassis, but it isn't as comfortable or as refined as its German rivals. There isn't as much tech, either, and despite having a big boot it feels more cramped inside. Still, the XF is attractively priced for cash buyers, even though it depreciates at a similar rate to the Mercedes.
Also consider...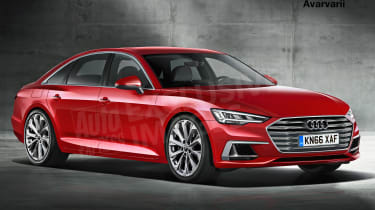 Audi A6 2.0 TDI S lineDue: 2018 Price: £40,000 (est)Engine: 2.0-litre 4cyl, 187bhp
Audi's next-generation A6 will be based on an all-new platform, and promises a step up in space and tech, with more of an individual design. A revised version of the brand's 2.0 TDI should deliver strong performance.
Facts and figures
| | | | |
| --- | --- | --- | --- |
| | BMW 520d xDrive M Sport | Mercedes E 220d AMG Line | Jaguar XF R-Sport 2.0 d 180 auto |
| On the road price/total as tested | £41,025/£50,555 | £39,170/£48,525 | £36,850/£36,850 |
| Residual value (after 3yrs/36,000) | £20,800/50.7% | £16,436/42.0% | £15,901/43.2% |
| Depreciation | £20,225 | £22,734 | £20,949 |
| Annual tax liability std/higher rate | £1,967/£3,933 | £1,714/£3,428 | £16,19/£3,238 |
| Annual fuel cost (12k/20k miles) | £1,261/£2,101 | £1,334/£2,223 | £1,416/£2,360 |
| Ins. group/quote/road tax band/cost | 31/£890/D/£110 | 31/£873/C/£30 | 28/£789/C/£30 |
| Cost of 1st/2nd/3rd service | £399 (3yrs/36,000) | £37pm (3 services/3yrs) | £525 (5yrs/50,000) |
| | | | |
| Length/wheelbase | 4,936/2,975mm | 4,923/2,939mm | 4,954/2,960mm |
| Height/width | 1,479/1,868mm | 1,468/1,852mm | 1,457/1,880mm |
| Engine | 4cyl in-line/1,995cc | 4cyl in-line/1,950cc | 4cyl in-line/1,999cc |
| Peak power/revs | 187/4,000 bhp/rpm | 191/3,800 bhp/rpm | 178/4,000 bhp/rpm |
| Peak torque/revs | 400/1,750 Nm/rpm | 400/1,600 Nm/rpm | 430/1,750 Nm/rpm |
| Transmission | 8-spd auto/4wd | 9-spd auto/rwd | 8-spd auto/rwd |
| Fuel tank capacity/spare wheel | 66 litres/run-flats | 66 litres/run-flats | 66 litres/£185 |
| Boot capacity (seats up/down) | 530 litres/N/A | 540 litres/N/A | 540/963 litres |
| Kerbweight/payload/towing weight | 1,620/705/2,000kg | 1,680/640/2,100kg | 1,595/655/2,000kg |
| Turning circle/drag coefficient | 12.2 metres/0.24Cd | 11.6 metres/0.23Cd | 11.6 metres/0.26Cd |
| Basic warranty (miles)/recovery | 3yrs (unlimited)/3yrs | 3yrs (unlimited)/4yrs | 3yrs (unlimited)/3yrs |
| Service intervals/UK dealers | Variable (2yrs)/192 | 15,500 miles (1yr)/147 | 21,000 miles (2yrs)/84 |
| Driver Power manufacturer/dealer pos. | 15th/24th | 12th/20th | 6th/13th |
| NCAP: Adult/child/ped./assist/stars | N/A | 95/90/77/62/5 | 92/84/80/83/5 |
| | | | |
| 0-60/30-70mph | 7.4/7.4 secs | 7.3/6.7 secs | 9.3/8.6 secs |
| 30-50mph in 3rd/4th | 3.0/3.4 secs | 3.0/4.0 secs | 3.1/3.6 secs |
| 50-70mph in 5th/6th/7th/8th | 5.0/6.3/8.3/15.6 secs | 6.0/7.3/9.6 secs/N/A | 5.1/6.4/8.2/15.0 secs |
| Top speed/rpm at 70mph | 144mph/1,600rpm | 149mph/1,300rpm | 136mph/1,500rpm |
| Braking 70-0/60-0/30-0mph | 45.5/32.2/8.2m | 49.5/33.0/9.5m | 67.4/45.7/10.7m* |
| Noise outside/idle/30/70mph | 68/52/63/69dB | 71/54/64/71dB | 75/52/63/69dB |
| Auto Express econ (mpg/mpl)/range | 52.9/11.6/768 miles | 50.0/11.0/726 miles | 47.1/10.4/684 miles |
| Govt urban/extra-urban/combined | 54.3/64.2/60.1mpg | 65.7/78.5/72.4mpg | 54.3/74.3/65.7mpg |
| Govt urban/extra-urban/combined | 11.9/14.1/13.2mpl | 14.5/17.3/15.9mpl | 11.9/16.3/14.5mpl |
| Actual/claimed CO2/tax bracket | 143/124g/km/24% | 151/112g/km/22% | 161/114g/km/22% |
| | | | |
| Airbags/Isofix/park sensors/camera | Six/yes/yes/£375 | Seven/yes/yes/yes | Six/yes/yes/£365 |
| Auto box/stability/cruise control/AEB | Yes/yes/yes/yes | Yes/yes/yes/yes | Yes/yes/yes/yes |
| Climate control/leather/heated seats | Yes/yes/yes | Yes/£1,595/yes | Yes/yes/yes |
| Metallic paint/LED lights/keyless go | £675/yes/ £695 | £645/yes/£2,795** | £690/£1,250/£510 |
| Sat-nav/USB/DAB radio/Bluetooth | Yes/yes/yes/yes | Yes/yes/yes/yes | Yes/yes/yes/yes |