New BMW X4 2014 review
New BMW X4 is great to drive, but it's a big compromise compared to its X3 sibling
Far from missing out by not being offered petrol X4s, the UK's diesel only BMW X4 line-up is far more appropriate, thanks to a solid blend of on-tap performance and respectable economy. If you really must have an X4, this 30d surely has all the grunt you could need, but the £3600 cheaper X3 remains the better buy for us.
The BMW X4, a coupe-styled version of the X3, has been welcomed to the UK with the kind of polarising opinions that greeted the X6 back in 2008. Putting the controversial styling to one side, though, we've got our first chance to try a UK drivetrain – specifically the 30d. Last time we tried it in mainland Europe, it was powered by a six-cylinder petrol engine that's not destined for our shores.
With 255bhp, the six-cylinder diesel is 54bhp down on the range-topping 35d model but not actually much more efficient. In fact, its 47.9mpg figure is only 0.8mpg better and you'll save a single gramme of CO2 per kilometre driven by choosing this version. Be prepared to sacrifice six-tenths from the 0-62mph time, though, and you'll pocket £4,100 by opting for the 30d over the 35d.
As a result, this middle of the range X4 is potentially the sweet spot. It'll account for 35 per cent of UK sales, BMW predicts, and never feels like it needs more performance. The in-gear shove is fantastic for quick overtakes, making light of the X4's 1900kg kerbweight. BMW's ZF-developed eight-speed automatic gearbox is standard-fit here, and it's found yet another happy application, delivering unruffled automatic shifts and obedient manual changes – it's exactly what you'd expect of a £50,000 premium SUV.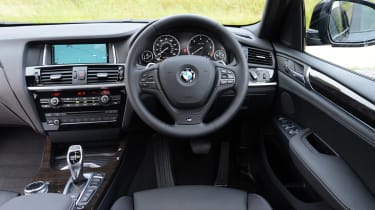 Does the extra weight of a diesel in the nose upset the X4? Based on our test drive, the answer is no. The car's overall weight is so vast, and the grip from the 19-inch M Sport tyres so impressive, that the effect of lumping a slightly heavier motor behind the X4's flared nostrils is barely noticeable.
As for the handling itself, the steering is lacking the weight and feel we'd like – especially when the recent M4 was so good in this regard – but it still doesn't detract from the X4's abilities. It barely ever gets flustered, feeling as though it is worthy of its billing as a sporty X3 after all.
The brakes – which lost their bite after hard use during our initial drive in Europe – still don't inspire confidence. BMW argues you can upgrade them - along with just about any cosmetic component inside or out – by delving into the M Performance accessories brochure. Fine, but when you've sacrificed 44mm of rear headroom and 50 litres of boot space for a more sporty look (the penalty is 200 litres with the rear seats stowed), wouldn't you expect the rest of the X4 to have been upgraded to cope with the sportier brief, too?
Whether you're attacking a B-road or simply breezing down Bond Street, the X4's anchors only offer squidgy pedal response, and a lack of overall bite that suggests the X4 has been calibrated for people more interested in looking fashionable than looking through the windscreen.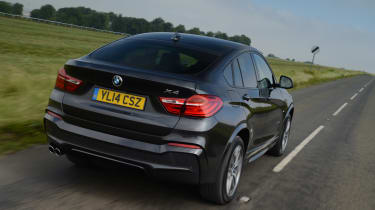 So, what else do you get for your £44,890? For this M Sport model, you'll need an extra £3000 straight away, which is a price an astonishing 55 per cent of UK buyers are going to stump up, says BMW. Going for this most dynamic-looking trim level adds 19-inch alloys, an extended bodykit and plenty of dummy air intakes up front.
The X4 certainly isn't playing jokers in terms of its cabin spec, though. Helping offset the X4's wince-inducing £3600 premium over an X3 is £2180 of extra standard equipment, including xenon headlights, a 40:20:40 split folding rear seat arrangement, and Variable Sport Steering. The system alters the steering ratio as you accelerate, supposedly making for more agile car at low speeds, and a less nervous one when cruising quickly.
Heated seats, climate control and a thicker steering wheel feature inside the X4's tightly-finished cabin, but there's a pervading sense of 1/3/5 Series familiarity about it that underwhelms compared to the Porsche 911-aping Macan's cockpit.