BMW X6 vs rivals
BMW is the latest manufacturer to head in a bold new direction with its radical 'off-road coupe', the X6. But is it a route worth following or a dead end? We pitch it against three other fashionable vehicles to see how it fares.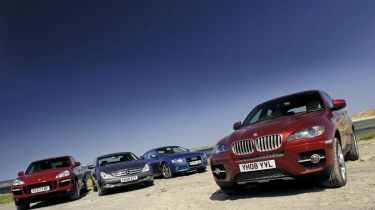 The problem with standing out from the crowd is that everyone is doing it these days. Increased choice means as soon as you buy a car that sets you apart from the neighbours, within weeks the couple two doors down will have an identical model.
So what do buyers seeking the unusual do? The trick, it seems, is taking a gamble and being prepared to trade up the moment your unique car becomes the default sector choice. Not easy – and not cheap.
We've brought together four models which, for now at least, will let others know that you're anything but predictable. If you like your cars big and bold, they don't come any more striking than BMW's new X6.
Best described as a four-door, four-seater coupé, it's aimed at SUV customers who value style over all else. But while BMW claims to be the first to offer an off-road coupé, it has Mercedes to thank for levering open the demand. The CLS has proved there's a market for large executive cars which say something about their owner's taste – and not just the size of their wallets. Here we drive the latest evolution: the 350 CGI, which has the new 288bhp petrol V6.
No test of unconventional luxury cars would be complete without a Porsche Cayenne. Love it or loathe it, the German SUV has unquestionable presence. We try the GTS version to see how the original high-performance off-roader shapes up to its newest rival.
Finally, we have the Audi A5. With two doors and two back seats, it's arguably the most focused and uncompromised car here. If BMW and Mercedes are going to hijack the coupé concept, they will have to see off one of the best models in the class first.
Verdict
Creating niche products doesn't always guarantee you success – but we can't help feeling the X6 has 'hit' stamped all the way through it. While the looks will put many buyers off, that conversely is certain to attract others.
The drivetrain, chassis and build quality are first rate, and although the cabin is a triumph of style over substance, the X6 is thoroughly competent.
So is the Audi A5. There's a strong argument for choosing it over all of its rivals, as it's uncompromised by being part-this or part-that – plus it's great value. Third is the CLS – a fantastic car hobbled by its second-rate suspension. The new engine is a strong performer and the design is still stunning, though.
With no diesel option, the Cayenne GTS is becoming an eccentric choice. It's great fun, but for even the most enthusiastic of drivers, its running costs and over-the-top styling might be a step too far.