Panda vs Panda
Fiat Panda 4x4 Cross vs Fiat Panda 4x4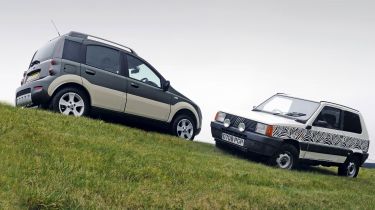 With all the fuss surrounding the new 500, it's easy to forget that one of its ancestors spent a staggering 23 years propping up Fiat's small car range.
The Panda, which first hit the UK in 1980, proved a stalwart for the firm. But although sales were strong in the UK for a number of years, it enjoyed most success in its native Italy, where it was the default small model for a large chunk of its production run. In 2003, the original Panda was still Italy's third best-selling car. A chief reason for this ongoing popularity was Fiat's decision to introduce a four-wheel-drive version in 1983. Designed to help rural farmers in its native Italy, the 4x4 was a surprise hit. Such was its following that when Fiat introduced the second-generation Panda in 2004, another 4WD variant was a must, joining the range a year later.
The original Panda 4x4 certainly feels built to work. Our version, owned by land manager Thierry van Elst from Debenham, Suffolk, is a typical example of the breed. Battered, bruised but bulletproof, it goes where the most capable 4WDs fear to tread.
Climb aboard and you won't find too many creature comforts on display. Yet the bits that matter – namely the 4x4 system, developed by Austrian firm Steyr-Puch – are staggeringly resilient.
Wind the clock forward and the 4x4 Cross version has an electronic differential lock which gives it even greater off-road ability. The system is also fully automatic – unlike the earlier car, which features a manual switch.
When a manufacturer says that its car is unique in the market, it's usually stretching the truth. However, with the Panda 4x4 – in both new and old forms – that claim is fully justified.
The latest version adds style and sophistication, but underneath the coloured trim and gadgets, it still has the heart and soul of the original.
Facts and figures
Fiat Panda 4x4 Cross vs Fiat Panda 4x4
Price new: £11,744 / £4,872 (1986) Engine: 1,248cc 4cyl / 999cc Transmission: Five-speed manual, four-wheel drive / Four-speed manual, four-wheel drive Power: 70bhp / 49bhp Length/width/height: 3,581/1,611/1,643mm / 3,410/1,500/1,485mm