It's Kia's Meriva beater
Supermini-MPV gunning for top of the class.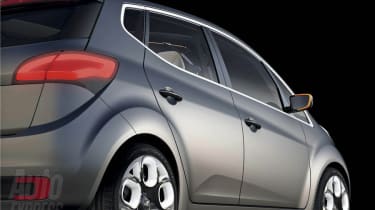 Kia is appealing to the peoplewith a new MPV! The Korean company is preparing to unveil this all-newpeople carrier at next month's Geneva Motor Show. This official teaserpicture shows the firm is moving upmarket with the Vauxhall Merivarival. And it's the first Kia penned from scratch by design chief PeterSchreyer. Bosses hope its solid build and stylish looks will changeperceptions of the brand.
Features such as its full-lengthpanoramic glass roof and pronounced body creases should help. Kiaclaims that, despite its diminutive size, the new car will have lots ofspace as it gets ready to tackle the Meriva and Citroen's new C3Picasso.
As with the successful Cee'd family car range, thenewcomer will be aimed squarely at European buyers. Underpinnings willbe shared with the company's Soul urban crossover, which goes on sale next month. Kia says the supermini-MPV is production-ready, so it could be added to the line-up any time soon.