Jaguar SS1 Airline
Built between: 1934-1936, Number sold: 624, cool cat rating: 4/5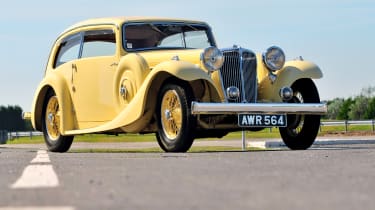 Jaguar's heritage stretches back to 1922, and the birth of the Swallow Sidecar Company. Amazingly, it took less than a decade for this rapidly expanding firm to grow from humble beginnings to launch a breakthrough car.
Having wowed the crowds at its debut at the Mayfair Hotel in London in 1931, the SS1 established itself as a vehicle to rival the best that Alvis and Bentley could offer. With its sweeping wingline and high-class cabin, it was a fine effort.
It debuted as a coupé, but several different bodystyles were quickly added to the SS1 line-up – the most famous being the SS100 sports car below. But it was the saloon, which we've pictured here, that really kept the order books busy. The stunning example in our pictures is the Airline model. Its covered spare wheels and streamlined form reflected the art deco style of the day, and it was produced from 1934 to 1936, during which time only 624 were made.
Jaguar founder Sir William Lyons wasn't a fan of this model's looks and the Airline was attributed to the influence of William Walmsley – Lyon's original partner, who would soon leave the firm. Nonetheless, it's now regarded as the most striking of all the SS1 bodystyles.
By the outbreak of World War II, SS had sold 20,000 cars, and it emerged from the conflict in good health. By then, the unsavoury connections of the company's SS initials required a change – and in February 1945, it became Jaguar Cars.
Details
WHY: Saloon set blueprint for firm.