Honda Civic review - Reliability and safety
The old Civic had a solid reliability record, and the latest model comes loaded to the rafters with safety kit
The Honda Civic had a solid 39th place finish in the 2020 Driver Power customer satisfaction survey. It would have finished higher if it didn't have such a woeful score for its exterior - owners really aren't impressed with how the Civic looks. The interior earned a middling score, as did the ease of use of the infotainment system. But, elsewhere there were high scores for the Civic's running costs and its safety features, while practicality, ride and handling and the car's engines and gearboxes also earned high praise.
As a manufacturer, Honda's overall finishing position is consistently in the top half of the leaderboard, and ahead of makers such as Ford, Audi, Mercedes and Vauxhall. Customers haven't changed their minds over the past year, as Honda placed a creditable seventh place in the best brands poll.
Honda's SENSING safety systems are standard across the range, meaning all cars get lane departure warning, automatic emergency braking, adaptive cruise control and rear cross-traffic assist. The Civic was originally awarded just four stars in its Euro NCAP crash assessment, largely because of poor child protection. Following factory modifications to the side curtain airbag, the car was retested and it performed much better, receiving the full five-star rating. There were scores of 92%, 67% and 75% recorded in the adult, child and pedestrian safety categories respectively, while safety-assist tech protection scored an impressive 88%.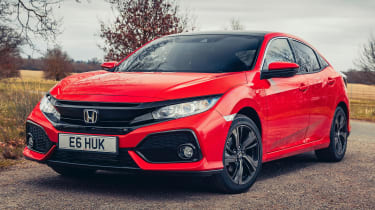 Warranty
All new Hondas come with a three-year/90,000-mile warranty, which is about on par with rival manufacturers. Hyundai and Toyota do offer five-year guarantees, however, while Kia pips the lot with seven years of peace of mind. Civic buyers can extend their warranty for an additional cost.
Servicing
Honda dealers offer a fixed price service package for the Civic – costing around £200. That's for only one service, however, with additional check-ups costing £265 and £245 respectively. A SEAT Leon's first service is less, for example.