Jaguar XJ review - Engines, performance and drive
Sharp steering and agile chassis makes XJ the best limo to drive, but that also means it's firmer on the road than rivals
Find your Jaguar XJ
Offers from our trusted partners on this car and its predecessors...
Or are you looking to sell your car?
Advertisement
There's no luxury car that handles quite like the Jaguar XJ. Aluminium construction - similar to that of the Audi A8 - helps here, so it feels nimble on the move, turns into corners swiftly and, thanks to adaptive dampers, stays taut and adjustable even when cornering hard. If you want a luxury car that you'll want to drive as much as be driven in, then nothing short of a Porsche Panamera can provide driving fun like an XJ.
It's still a heavy car, though, weighing in at around 2.4 tonnes. But that's a margin less than the A8 or S-Class, which come in at around 2.7 tonnes. The BMW 7 Series is a similar weight, thanks to carbon fibre in its construction.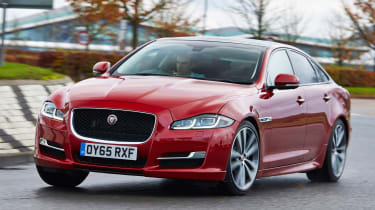 The steering on the Jaguar XJ is light and precise, and it helps to create a car that seems to shrink around you in a way its rivals can't. However, the pay-off can be a jittery ride over poor surfaces and the rear visibility is poor because of the steeply raked rear window.
Engines
For most Jaguar XJ buyers in the UK, the fact that you can now only get the 296bhp 3.0-litre V6 diesel is no hardship, as it's the pick of the bunch for its mix of performance and economy. There's a 0-60mph time of 5.9 seconds for all models, both long and short wheelbase, and there's an electronically limited top speed of 155mph. However fast you're going, the engine is a smooth performer that hardly makes its presence felt unless you're accelerating hard. Together with hushed road noise, it means the XJ dispenses with long distances with ease.
Of the engines that have been available in the past, the 335bhp 3.0-litre supercharged V6 petrol is from the F-Type, and it's rapid and makes a great noise, but fuel economy takes a hit.
The 567bhp supercharged V8 in the XJR 575 makes it the most powerful production XJ ever, helping it yield supercar performance and creating an opulent guilty pleasure. The XJR 575 also benefits from 30 per cent stiffer spring rates and optimised adaptive damping, while its SWB-only layout shows that it's more about driving than being driven in.