Kia Ceed SW vs Renault Megane Sport Tourer vs Skoda Octavia Estate
Family estate buyers have never had it so good. We test the Kia Ceed SW against the Renault Megane Sport Tourer and Skoda Octavia Estate
It sounds like stating the obvious that an affordable estate car needs to offer value for money and plenty of space. But even with the rise of the SUV, this kind of relatively low-priced family wagon has continued to develop to a point where, today, your choice is broader than ever.
We've assembled three great examples: the new Kia Ceed Sportswagon, the Renault Mégane Sport Tourer and the Skoda Octavia Estate. We've previously tested the Ceed in hatchback form, so we know how good this platform is, and now it's the turn of the practical Ceed estate to earn its stripes. We're testing it in popular mid-spec '3' turbo petrol form. In fact, all three of these cars are covered by just £760, so they're very closely matched on price.
The Mégane Sport Tourer certainly has the style to challenge the Ceed – as well as a new engine, with the TCe 140 unit we're testing to match the Kia.
However, both will have to overcome the talents of the Skoda Octavia Estate. It's fresh from yet another win at our Auto Express New Car Awards and boasts plenty of ability in all areas. This will be a tough test.
Kia Ceed SW
| | |
| --- | --- |
| Model: | Kia Ceed Sportswagon 1.4 T-GDi 3 |
| Price: | £22,810 |
| Engine: | 1.4-litre 4cyl turbo, 138bhp |
| 0-60mph: | 8.8 seconds |
| Test economy: | 36.4mpg/8.0mpl |
| CO2: | 132g/km |
| Annual road tax: | £145 |
The Ceed has proved to be yet another big evolutionary step for Kia, and this Sportswagon estate promises to add competitive practicality in this affordable, small estate class.
Design & engineering
The first-generation Ceed made Kia mainstream, the second-generation model proved Kia could cut it and beat its rivals, and now this third generation promises to add yet more upmarket appeal, even at this car's affordable price.
That's because in £22,810 3 trim you get a good level of equipment. While the Kia is the most expensive car on test, it's only £760 more than the Renault, yet you get more kit in 3 trim (our pictures show a First Edition, with the only differences down to equipment).
This includes parking sensors and a rear camera, standard autonomous braking, climate and cruise control, as well as nav, both Apple CarPlay and Android Auto as part of Kia's larger eight-inch infotainment set-up. Some of this kit is optional on the Renault, which would take its price to over £23,000 and therefore more than the Kia, so the Ceed SW is actually good value.
Quality is acceptable, too. None of these three cars gets leather, even as an option, but the plastics are the same throughout. As a result, there are some soft areas in the Kia, but also harder areas lower down. The main touch points are good, though.
All versions of the third-generation Ceed are based on Kia's latest K2 platform, which means that there's MacPherson strut suspension at the front and a multi-link set-up at the back – which is a more sophisticated arrangement than either the Renault or the Skoda offers.
The 1.4-litre turbo petrol engine here is a known quantity, too. It's not the sweetest, but produces 138bhp and a maximum of 242Nm of torque, so in a package that weighs 1,352kg – splitting the lighter Skoda and heavier Renault – it should prove to be competitive in terms of performance.
The six-speed manual gearbox sends drive to the front wheels, but the big technical aspect to factor in here is the growth in body size over the previous Ceed estate. It's 95mm longer, which doesn't sound like a lot, but it's generated much more luggage space, while the improved packaging – as in the hatchback – has made it a more usable car, too.
Driving
All three cars were similarly matched for performance. The Kia just trailed the Skoda from 0-60mph, taking 8.8 seconds, but it recorded identical in-gear figures in all but our sixth-gear 50-70mph test, where it trailed the Octavia by 0.4 seconds. It shows that there's a good level of pull, which will be beneficial when the Sportswagon is loaded up.
Of course, the Kia doesn't feel all that fast and the engine doesn't seem quite as eager as the Skoda's, but refinement is okay and it cruises well, which makes the deficiencies with the ride all the more noticeable.
It never seems to settle down, jiggling gently on country roads. It's better on the motorway, but still not quite as comfortable as either rival, and ride quality will be more important, given that these cars aren't exactly about performance. The steering is acceptable, as is the grip, and while the manual gearchange is fine, it's a notchy shift.
Practicality
That growth in size means the Sportswagon actually trumps the Octavia for boot space with the seats up by 15 litres. The Octavia Estate is already one of the biggest cars in its class, so this is a big plus for the Ceed SW, with a total of 625 litres of luggage room.
It doesn't come at the expense of legroom in the rear, either, because while the Kia can't quite match the Skoda in this respect, it still offers more than enough. Both the Ceed and the Octavia have roomier cabins in the rear than the Renault.
Functionality is key to an estate, and the Kia succeeds, having decent cabin storage on top of the foundations laid by the big boot. Two cup-holders, a tray in front of the gearlever, good door bins and the central cubby aren't quite a match for the Skoda (which bolsters its ability with its thoughtful Simply Clever touches), but they're good enough.
Ownership
With a seven-year/100,000-mile warranty on all its cars, it's no surprise that Kia scored highly in our ownership satisfaction survey, finishing third in Driver Power 2019 – two above Skoda and 16 ahead of Renault.
Safety is strong, too. The Ceed earned a five-star Euro NCAP safety rating, and in 3 trim it comes with autonomous braking, lane-keep assist and auto high beam as standard. However, you can't add the extra safety tech that comes as standard on higher trim levels, such as blind-spot warning or cross-traffic alert, as an option, which is a shame.
Running costs
The Kia emits only 1g/km CO2 more than the Renault, at 132g/km, but both sit in the 30 per cent Benefit in Kind company car tax band. The Ceed is slightly pricier, so it'll be the costlier company car: lower-rate earners will pay £1,353 a year, while it's £1,307 on the Renault.
The Skoda emits much less, at 124g/km CO2, so comes in two BiK groups lower, rated at 28 per cent. As a result the same driver will only have to shell out £1,262 a year to run the Octavia Estate.
However, the Kia counters this by being cheapest for our sample driver to insure (partly due to its standard autonomous emergency braking), at £412 a year. The Mégane will cost £430, while 12 months' cover on the Skoda is far steeper, at £723.
Testers' notes: "The apostrophe was dropped from the Ceed name by Kia to improve internet search results, but would you buy a car online? Let us know on one of our social media channels."
Renault Megane Sport Tourer
| | |
| --- | --- |
| Model: | Renault Mégane Sport Tourer TCe 140 GT Line |
| Price: | £22,050 |
| Engine: | 1.3-litre 4cyl turbo, 138bhp |
| 0-60mph: | 9.2 seconds |
| Test economy: | 36.2mpg/8.0mpl |
| CO2: | 131g/km |
| Annual road tax: | £145 |
Renault's practical Mégane Sport Tourer gets a new turbo petrol engine to improve its appeal in a tough class. Here, we test the £22,050 GT Line model to see what it's like.
Design & engineering
While the Mégane has been around for more than four years now, it still looks slick. So Renault hasn't altered the styling but has addressed one of the areas where it wasn't so strong: the petrol engine line-up.
The diesel range is good, but with a swing towards petrol, this new TCe 140 engine should help inject some fresh appeal into the French estate.
It's a Renault-Nissan unit that appears in the updated Nissan Qashqai SUV. We enjoyed the improvements there, so are hoping for similar gains in a lighter car like the Mégane Sport Tourer.
The 1.3-litre four-cylinder turbo unit makes 138bhp – exactly the same as the Kia – and 240Nm of torque, so is only 2Nm down on its Korean rival. However, the Mégane is 67kg heavier.
The rest of the package is familiar mechanically, with a six-speed manual gearbox. All three cars are available with auto boxes, but we wouldn't recommend spending the extra £1,000-plus.
There haven't been any changes to the Mégane's CMF-C/D platform, which is again shared with Nissan. That's no bad thing, because the packaging is okay, thanks to the rear suspension layout used in the Renault. This isn't quite as sophisticated as the multi-link set-up in the Kia, though. The trio here all use MacPherson struts at the front, which is conventional.
Like its exterior, the Mégane's interior was a big step for Renault, but while the outside still looks great, some areas inside are showing their age.
Quality is acceptable though; there are a few more areas of hard plastic than in either the Skoda or the Kia, such as the glovebox lid, but then the Renault is the cheapest car and still gets a good level of kit.
GT Line trim sits towards the top of the Mégane range, whereas its rivals in the trims we're testing sit nearer the middle of their respective line-ups.
The Renault gets an 8.7-inch portrait touchscreen tablet system with nav, Apple CarPlay and Android Auto. You get sports seats, 18-inch alloys, lane departure warning and a seven-inch digital dash panel – but this doesn't display the sat-nav map.
Driving
Despite having similar power and torque figures, the Renault was slower than its rivals in many of our in-gear tests. It was half a second behind the Octavia from 0-60mph, taking 9.2 seconds, but was quicker than both rivals from 30-50mph in third, at 3.9 seconds.
The TCe 140 engine is definitely an improvement, because despite the slight performance disadvantage it's smooth and refined, so it clips along at motorway speeds well. There's good torque for overtaking, too. However, the six-speed box's shift is the most vague, with a less precise feeling to how it goes into gear.
Even in GT Line spec on 18-inch alloys the Renault rides well. It has a similar level of fluidity to the Skoda in how it deals with bumps, and the steering offers just a little more in the way of communication, too – not that it's particularly important here.
However, body control is looser than in either the Kia or the Skoda, so as you increase the pace, the Renault just starts to lose control and wallow around a little on undulating roads. But we still think the benefit in ride quality due to this set-up is worth it.
Practicality
While we wouldn't say the Renault's 521 litres of boot space is inadequate, it's the only car in this trio that doesn't break the 600-litre mark with its rear seats in place, so it loses points for practicality on sheer space compared with its rivals. At least the rear of the cabin is roomy enough and comfortable, which is helped by the ride.
There aren't quite as many clever touches when it comes to storage, either. But it does have the usual trays, cup-holders and bins so there's plenty of space to store items. The main downside is the rearward visibility, because the Sport Tourer's shallow rear window hampers your view out of the back. Headroom is a little tighter than in the Skoda too, due to the raked roofline at the rear.
Ownership
Renault's performance in the eyes of owners is pretty poor compared to the two brands it faces here. It took 19th place overall, while its dealer network finished considerably lower, in 27th – that's 16 and 20 places behind Kia in each sector.
Modern Renaults have been known for safety, but while the Mégane received a five-star rating when it was tested by Euro NCAP in 2015, autonomous braking is part of a £400 pack that also adds adaptive cruise and distance warning. Lane-departure warning and six airbags are standard.
Running costs
None of these models is particularly strong when it comes to their resistance to depreciation, but neither will they shed too much. Even so, for cash buyers the Mégane will be the most costly proposition.
That's because our experts predict it will retain 40.7 per cent of its value, which equates to depreciation of £13,076 over three years or 36,000 miles. It'll therefore be worth £8,974 after this period.
The Kia is a few percentage points higher, at a predicted 41.8 per cent, which means depreciation of £13,285 and a residual value of £9,525. But it's the Skoda that'll resist this best, with a claimed residual value of 43.4 per cent (£9,882), so will lose £12,883.
Testers' notes: "The interior ambient lighting in the Renault means the cabin looks cool at night, but we'd trade that for LED lights or autonomous braking as standard in a family-oriented machine like this."
Skoda Octavia Estate
| | |
| --- | --- |
| Model: | Skoda Octavia Estate 1.5 TSI 150 SE Drive |
| Price: | £22,765 |
| Engine: | 1.5-litre 4cyl turbo, 148bhp |
| 0-60mph: | 8.7 seconds |
| Test economy: | 37.8mpg/8.3mpl |
| CO2: | 124g/km |
| Annual road tax: | £145 |
After yet another win at our New Car Awards, the Skoda Octavia is our Estate Car of the Year. We're testing the 1.5 TSI manual in mid-spec SE Drive trim (our pictures show Sportline), which costs £22,765, so is competitively priced.
Design & engineering
One of the most interesting but imperceptible technological features of the Skoda Octavia Estate centres around the 1.5-litre four-cylinder turbocharged petrol engine that we're testing here.
There's nothing unusual about its output of 148bhp and 250Nm of torque. These figures are similar to its rivals – the latter more than either, while the Octavia weighs less, at 1,227kg.
Instead the tech focuses on the Active Cylinder Technology (ACT) system that shuts down two of four cylinders when you're only lightly on the accelerator between 1,400 and 4,000rpm, which helps boost economy. The switch between two and four-cylinder mode isn't noticeable, so doesn't affect refinement.
This is a shared VW Group engine, and in some situations when mated to a DSG gearbox it can even switch the engine off when coasting. Here the Skoda uses a six-speed manual though, while its MQB chassis is also a common VW Group product.
Inside, the Octavia has a more upright feel than even the Renault's cabin and its portrait-oriented centre console, but quality is good. The Skoda's interior feels solid and practical, but without harming quality; the Octavia gives the best impression.
SE Drive trim gets a good level of kit. It doesn't quite match the Kia with items like a reversing camera (£380) or AEB (£320), but it does get parking sensors, climate and cruise control, sat-nav, Apple CarPlay and Android Auto, so it has a base level of equipment that you don't really need to add to.
There are more safety and convenience features you can specify to make the Octavia easier to live with, but extras such as leather and a digital dash aren't available – the latter does come as an option on some trim levels, but not here on SE Drive.
Driving
The Octavia offers the best balance of performance, handling and ride comfort of these three. It was the quickest from 0-60mph, at 8.7 seconds, which is plenty fast enough for this kind of car, while it backed this up with good flexibility thanks to its highest torque output.
It balances comfort and compliance with body control and composure, too, so it serves up the most relaxed ride as well as the most grip, which is a great combination.
The steering is also the most precise due to that grip, so it inspires more confidence if you need or want to drive a series of bends that bit quicker.
The 1.5 TSI engine is refined – you don't notice it cutting out in ACT mode, and it revs smoothly on full throttle. It's a bit noisier at higher revs, but certainly no worse than its rivals because the percussion from under the bonnet is fairly well suppressed.
It also has the nicest manual gearbox, although we have reported on juddering issues with this engine/and gearbox (Issue 1,586). It's light and easy in town, helped by the car's fine visibility. Of the three, it gives the best balance of the attributes a car like this needs.
Practicality
The Octavia's boot is 15 litres down on the Kia's, but the squarer tailgate means it's just as usable; we don't think you'll notice that extra space with the seats up in 99.9 per cent of cases. With the seats down, the Skoda offers more total space, at 1,740 litres compared with 1,694 litres in the Kia. The Renault lags behind, with 521 and 1,433 litres with the seats up and down respectively.
Given that these cars will have to cope with family life, there's more to practicality than just sheer boot space. The Octavia offers masses of legroom in the rear, too, and plenty of headroom. But there are also some very clever touches and options – little features such as a built-in ice scraper in the filler flap.
Storage is great in the front so the cabin is practical, with a more spacious feel and plenty of trinket areas. This is why it equals the Kia here.
Ownership
As with Kia, Skoda is a company that usually puts in a great performance in our Driver Power owner satisfaction survey, but it couldn't quite match the Korean brand in our most recent study.
It took fifth overall, and eighth in the dealer section, with Skoda ranked second for boot space and practicality by owners, plus fourth for reliability and build quality. Kia came third in both of these categories by way of comparison, while Renault ranked just 25th and 24th respectively, highlighting its much poorer result.
The Skoda doesn't get as much standard safety tech as the Kia though, with autonomous braking only available as a £320 option. You can also add lane-keep assist for £460. Still, the Octavia scored a full five-star Euro NCAP rating.
Running costs
The Skoda, Kia and Renault returned 37.8, 36.4 and 36.2mpg respectively, which means an annual fuel cost over 12,000 miles of £1,859, £1,930 and £1,941, so there won't be much between all three at the pumps.
Skoda's £342 two-year servicing package works out at £171 a year in maintenance, while the Renault's annual servicing costs come in at £150. However, it's the Kia's £429 three-year up-front maintenance package that works out cheapest, at £143 per year.
Testers' notes: "It's a shame the Virtual Cockpit is only an option on SE L trim and above. Some extras we'd consider are heated seats (£255) and adaptive dampers; they're pricey, at £880, but improve comfort."
Verdict
First place: Skoda Octavia Estate
Practicality is a given in the Octavia Estate; the boot and interior space are well matched and the cabin feels high in quality. But the level of comfort on offer is great, too, and when you add the slick infotainment system into the mix, then the Skoda is the most comprehensive and well rounded of the three machines here. That it'll hold on to the most money and be cheaper to run than its rivals is a bonus.
Second place: Kia Ceed SW
The Kia's extra boot space doesn't translate into all that much more practicality, while the Ceed SW isn't as quick, not as refined, and not as comfortable as the Skoda. The infotainment system and level of standard kit on offer are great, and boosted by the extra standard safety tech when compared with the Skoda. It's still a very capable family estate car – but in nearly every area it just trails the Czech model.
Third place: Renault Megane Sport Tourer
Adding the TCe 140 engine means the Mégane Sport Tourer is much improved. It's comfortable, too: a commodity that's valuable in any family estate. However, it lacks the most important one: space. Even though the car looks great, it's not as versatile as its two rivals. GT Line gets a good level of kit and should be economical to run, but in a few vital areas the Mégane can't match either the Ceed or the Octavia.
Other options in this category...
Ford Focus Estate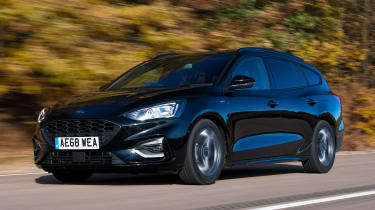 Model: Ford Focus Estate 1.0T 140 ST-LinePrice: £22,915Engine: 1.0-litre 3cyl, 138bhp
With 575 litres in its load bay, the Focus Estate offers more boot space than the Mégane ST, even if it trails the other two cars here. But the Focus is the most fun car to drive, so keen drivers should check it out. Sporty ST-Line gets good kit, too.
Volkswagen Golf Estate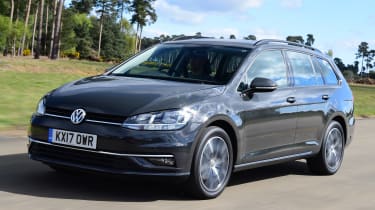 Model: VW Golf Estate 1.0 TSI 115 MatchPrice: £22,925Engine: 1.0-litre 3cyl, 113bhp
If you go for a VW Golf Estate, a similar budget to our test trio buys an Estate in Match trim. This gets a decent level of equipment, but you'll have to sacrifice power; at this price it's the smaller 1.0 TSI 115 engine. At least the 605-litre boot is big enough.
Figures
| | | | |
| --- | --- | --- | --- |
| | Skoda Octavia Estate 1.5 TSI 150 SE Drive | Kia Ceed Sportswagon 1.4 T-GDi 3 | Renault Mégane Sport Tourer TCe 140 GT Line |
| On the road price/total as tested | £22,765/£22,765 | £22,810/£22,810 | £22,050/£25,650 |
| Residual value (after 3yrs/36,000) | £9,882/43.4% | £9,525/41.8% | £8,974/40.7% |
| Depreciation | £12,883 | £13,285 | £13,076 |
| Annual tax liability std/higher rate | £1,262/£2,525 | £1,353/£2,705 | £1,307/£2,614 |
| Annual fuel cost (12k/20k miles) | £1,859/£3,098 | £1,930/£3,217 | £1,941/£3,235 |
| Ins. group/quote/VED | 20/£723/£145 | 15/£412/£145 | 19/£430/£145 |
| Cost of 1st/2nd/3rd service | £342 (2yrs) | £429 (3yrs) | £449 (3yrs) |
| | | | |
| Length/wheelbase | 4,667/2,686mm | 4,600/2,650mm | 4,626/2,712mm |
| Height/width | 1,465/1,814mm | 1,465/1,800mm | 1,457/1,814mm |
| Engine | 4cyl in-line/1,498cc | 4-cyl in-line/1,353cc | 4cyl in-line/1,332cc |
| Peak power/revs | 148/5,000 bhp/rpm | 138/6,000 bhp/rpm | 138/5,000 bhp/rpm |
| Peak torque/revs | 250/1,500 Nm/rpm | 242/1,500 Nm/rpm | 240/1,600 Nm/rpm |
| Transmission | 6-spd man/fwd | 6-spd man/fwd | 6-spd man/fwd |
| Fuel tank capacity/spare wheel | 50 litres/£150 | 50 litres/space saver | 50 litres/£150 |
| Boot capacity (seats up/down) | 610/1,740 litres | 625/1,694 litres | 521/1,433 litres |
| Kerbweight/payload/towing weight | 1,227/645/1,700kg | 1,352/498/1,000kg | 1,419/462/1,700kg |
| Turning circle/drag coefficient | 10.4 metres | N/A | 11.4 metres |
| Basic warranty (miles)/recovery | 3yrs (60,000)/3yrs | 7yrs (100k)/1yr | 3yrs (60,000)/3yrs |
| Driver Power manufacturer/dealer pos | 5th/8th | 3rd/7th | 19th/27th |
| NCAP: Adult/child/ped./assist/stars | 93/86/66/66/5 ('13) | 88/85/68/73/5 ('19) | 88/87/71/71/5 ('15) |
| | | | |
| 0-60/30-70mph | 8.7/8.2 secs | 8.8/8.5 secs | 9.2/8.2 secs |
| 30-50mph in 3rd/4th | 4.1/5.5 secs | 4.1/5.5 secs | 3.9/5.7 secs |
| 50-70mph in 5th/6th | 7.4/9.2 secs | 7.4/9.6 secs | 8.1/10.3 secs |
| Top speed/rpm at 70mph | 134mph/2,500rpm | 130mph/2,500rpm | 127mph/2,400rpm |
| Braking 70-0/60-0/30-0mph | 48.1/35.4/9.3m | 46.6/33.9/9.5m | 51.4/37.2/9.7m |
| Auto Express economy/range | 37.8/416 miles | 36.4/400 miles | 36.2/398 miles |
| WLTP economy min-max | 40.4-44.8mpg | 45.6mpg | 42.8-45.6mpg |
| WLTP economy min-max | 8.9-9.9mpl | 10.0mpl | 9.4-10.0mpl |
| Actual/claimed CO2/tax bracket | 173/124g/km/28% | 179/132g/km/30% | 180/131g/km/30% |
| | | | |
| Airbags/Isofix/park sensors/camera | Seven/yes/yes/£380 | Six/yes/yes/yes | Six/yes/yes/£400* |
| Auto box/lane keep/blindspot/AEB | £1,250/£460/no/£320 | £1,100/yes/no/yes | £1,360/n/£500*/£400* |
| Climate/cruise/leather/heated seats | Yes/yes/no/£255 | Yes/yes/no/no | Yes/yes/no/no |
| Metallic/LEDs/keyless go/pwr tailgate | £595/no/£410/£410 | £570/no/no/no | £550/£500/yes/no |
| Sat-nav/digi dash/DAB/connect serv | Yes/no/yes/yes | Yes/no/yes/yes | Yes/no/yes/yes |
| Wireless charge/CarPlay/Android Auto | No/yes/yes | No/yes/yes | No/yes/yes |