Range Rover P400e - best plug-in hybrid cars
The Range Rover P400e turns out to be a successful first attempt at a plug-in hybrid from Land Rover.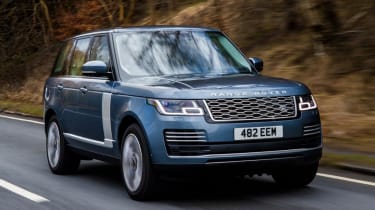 Traditionally, if you were in the market for a Range Rover, fuel efficiency and company car tax wouldn't have been at the top of your agenda. 
The P400e's claimed 90mpg is astounding on paper, given the Range Rover's historical 'gas-guzzling' tag. Whether or not you'll get close to reaching those sorts of heady, fuel-efficient heights is another matter - but it's still twice as economical as the V6 diesel Range Rover and will emit just 72g/km, placing the P400e in the 19% bracket for BIK tax. 
You can run the P400e on just its electric motor for up to 31 miles for added eco-points and it's also congestion charge exempt. Switch back into hybrid mode and you'll get 398bhp and a 0-60mph time of 6.4 seconds, while this is undoubtedly impressive the P400e is better suited to relaxed cruising, making most of the refined ride and near-silent powertrain. 
The interior has been updated with switchgear lifted from the Velar. There's thicker windows and noise-cancelling technology to help keep the cabin insulated from unwanted exterior sounds. The sumptuous mix of wood and leather is of a standard we've come to expect from Range Rover and the overall quality of materials is superb. 
The purchase price of roughly £100,000 is obviously a lot, but the P400e shows that hybridisation and efficiency can now come in the form of an ultra-luxurious SUV.
Top 10 best plug-in hybrids to buy now