Detroit Motor Show 2014: exclusive videos
All of our exclusive video coverage of the Detroit Motor Show 2014 in one place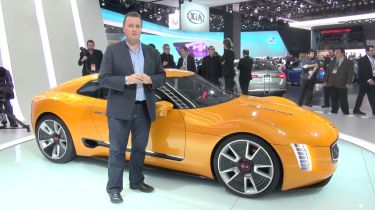 The Detroit Motor Show 2014 saw a wide range of new models and concepts make their debuts, and we were there with our video cameras - ready to show you all the most important new cars.
We got the chance to get up close to some incredible new concept cars - like the Toyota FT-1 and Kia GT4 Stinger concept coupes - as well as take a look inside some confirmed new models like the Subaru Impreza WRX STi and BMW M4 coupe.
You can see all of the videos we shot while at the Detroit Motor Show in the playlist below, or scroll down the page to find the specific video you're looking for. Alternatively, you can read about everything that happened in Detroit this year in our motor show round-up:
• Detroit Motor Show 2014 round-up
Detroit Motor Show 2014: the key cars
Toyota FT-1 concept - Toyota has revealed a stunning concept version of its Supra replacement at Detroit 2014 Mercedes C-Class - the all-new Mercedes C-Class compact exec made its world debut at Detroit with BMW's 3 Series in its sights.Kia GT4 Stinger concept -  Kia comes over unexpectedly sporty with the muscular 311bhp GT4 Stinger coupe concept in Detroit Ford Mustang - the new Ford Mustang takes a bow in production form at Detroit and this one will be sold in the UK.BMW M3 saloon and M4 coupe - the latest instalment in BMW's M3 dynasty is here but now the coupe version's called M4.   Audi Crossover concept - Audi's crossover design study hints at the look of future road carsLexus RC-F coupe - Lexus hopes to eclipse the BMW M3 with this coupe concept car packing a V8. Volvo XC Concept - the XC concept car from Volvo tells us a lot about the design of the new XC90 SUV.Subaru Impreza WRX STi - the hot Impreza is reborn, expect the usual all-wheel-drive madness and turbocharged boxer engine.
Toyota FT-1 - Detroit Motor Show video:
Kia GT4 Stinger - Detroit Motor Show video:
Subaru WRX STi - Detroit Motor Show video:
BMW M3 & M4 - Detroit Motor Show video:
Mercedes GLA 45 AMG - Detroit Motor Show video:
Lexus RC F - Detroit Motor Show video:
Volvo XC Coupe - Detroit Motor Show video:
Audi Allroad Shooting Brake - Detroit Motor Show video:
VW Beetle Dune concept - Detroit Motor Show video: