"If real-world fuel consumption is your major concern, buy a French car"
Auto Express' Mike Rutherford believes the French have unlocked the secret to high real-world fuel economy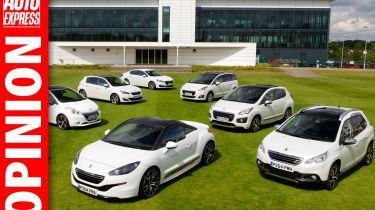 I've tried – and failed – to get along with France in the past. Its cars just weren't my cup of tea. Apart from a handful of notable exceptions like the Citroen Berlingo Multispace, Peugeot 205 GTi and Renault 4, I've always preferred more 'durable' or 'reliable' products from Germany or Japan.
But note my very deliberate use of the past tense here. After making a point of driving French cars for much of the summer, they're finally starting to float my boat.
The latest Renault Clio looks better than any supermini rival from Europe or Asia, whose designs seem tired by comparison. The 'little' Clio has grown up, and cleverly sits in the 4.0-4.4 metre league along with the likes of the considerably more expensive VW Golf, Nissan Qashqai and Range Rover Evoque.
But it's Renault's sister firms – Peugeot and Citroen – that should take most of the credit for converting me from a sceptic to a fan of French cars in 2014. Citroen's C4 Cactus has successfully rewritten the design rule book, while the C1 is perfectly placed to challenge the Skoda Citigo as the best sub-£8k city car.
Peugeot's 308 hatch may be a little too understated for my liking, but the SW model is a car that looks far classier than it has a right to, given its circa-£16k entry-level price tag. For that money it's the estate of the year.
The colossal 508 1.6 HDi, which is nearly five metres long, is another bargain at just £20k – not to mention it'll do 70mpg-plus. For a few hundred pounds more the RCZ is a steal against the Audi TT, which now starts at a whisker under £30k. The TT's price premium doesn't make it prettier or more desirable than the hugely underrated RCZ.
The best part of all for motorists paying their own fuel bills is that every French 1.5, 1.6 or 2.0-litre diesel I drove this summer returned a minimum of 60mpg and in some cases peaked at more than 80mpg with a mix of town driving, twisty country roads and motorway runs.
On this evidence, none of the other major manufacturers from around the globe can better the French for real-world fuel consumption. They really are the new world champions of fuel frugality and they've certainly converted me along the way, too.
Do you own a French-built diesel car? What kind of fuel economy do you manage in it? Let us know in the comments below, on Twitter or on Facebook.