SEAT Leon wins Auto Express Car of the Year 2013
SEAT wins its first Auto Express Car of the Year; Range Rover wins reader poll for best design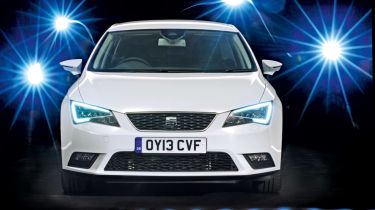 The SEAT Leon was named Car of the Year 2013 at the annual Auto Express New Car Awards.
This is the first time the Spanish brand has won the Auto Express Car of the Year Award, while the Leon also drove off with the Best Compact Family Car Award. There was further Spanish glory as the SEAT Alhambra was named Best MPV for the third year running.
Auto Express editor-in-chief, Steve Fowler, commented: "The new Leon is a brilliant all-rounder offering space, quality, economy and plenty of style. You've only got to look at the cars the Leon beat to see just how good it is."
Ford walked away with four Awards, including the first ever Auto Express Van of the Year title for the new Transit Custom. The Fiesta was named Best Supermini, while the Fiesta ST was Best Hot Hatch and the B-MAX Best Five-Seat MPV.
British success was led by Land Rover with its all-new Range Rover named Design of the Year by Auto Express readers and also winning Luxury Car of the Year. The Range Rover Evoque was named Best Compact SUV for the third year running.
Steve Fowler added: "We're continually amazed by the quality and efficiency of the latest new cars – offering so much more, but costing far less to run. Standards are incredibly high, which makes choosing the right car more difficult than ever. These Awards provide the perfect guide for car buyers in the run-up to the September plate change."
For the full story on all the winners and commended runners-up, see the Awards Special Issue of Auto Express magazine, on sale at all good newsagents now.
Alternatively, you can download our iPad edition.
Auto Express New Car Awards Winners 2013
City Car Skoda CitigoSupermini Ford FiestaCompact family car SEAT LeonFamily Car Mazda 6Five-seat MPV Ford B-MAXSeven-seat MPV SEAT AlhambraEstate Car Skoda Octavia EstateCrossover Mazda CX-5Compact SUV Range Rover EvoqueLarge SUV Hyundai Santa FeHot Hatch Ford Fiesta STConvertible Volkswagen Beetle CabrioletCoupe Porsche CaymanRoadster Porsche BoxsterPick-up Volkswagen AmarokCompact Executive Car BMW 3 SeriesExecutive Car BMW 5 SeriesLuxury Car Range RoverPerformance Car Toyota GT 86Green Award Vauxhall AmperaDesign Award Range RoverDriver Power Award LexusHall of Fame Ian Robertson, BMWSafety Award Volvo V40Van of the Year Ford Transit Custom