Skoda's army of blues and twos vehicles
We get behind the wheel of Skoda's fleet of blues and twos cars designed for the UK's emergency services
Think of a manufacturer whose cars look good in a 'Battenberg' paint livery and decked out in retina-searing flashing lights, and Ford, Vauxhall, Land Rover, Volvo or BMW probably spring to mind. Whether it's an Astra on the beat, an X5 on covert duties, a paramedic's Focus Estate on a life-saving run or a Range Rover heading up a royal convoy, blue-light cars are a major part of our nation's roads. One car brand that is becoming the darling of the emergency services across the country, however, is not one of the traditional players: it's Skoda.
The Czech company has been slowly but surely building an enviable reputation in the blue-light trade in the UK for the past couple of decades. In the early noughties the Mk1 Octavia vRS kicked off the UK police force's love affair with the marque, with constabularies up and down the country falling for the hot model's understated styling and potent performance. Skoda has, however, been providing vehicles that are fit for active duty for much longer than that.
• Police cars: the worlds best and worst
The company points to the Laurin & Klement (the forerunner to Skoda) C1 of 1906 as its first serious venture into the blue-light world. It was based on the Voiturette, but had a more powerful 2.0-litre engine and a longer chassis, while behind the rear seats lay a flat bed with a crude-looking wooden frame attached to it.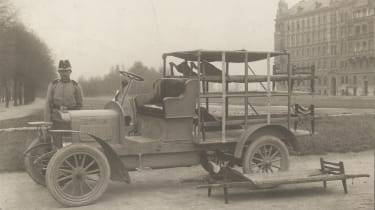 Despite its unsophisticated construction, this would allow four wounded soldiers to be transported quickly from the battlefield to the nearest hospital. Ultimately the C1's legacy lived on throughout the thirties with elegant coachbuilt ambulances built on Rapid, Favorit and Superb car chassis, right through the sixties with the Skoda 1203 ambulance to today's paramedic Karoq and Kodiaq SUVs.
Now, Skoda is eyeing up a greater slice of the blue-light pie. It currently has just under 10 per cent of the UK market, but plans to expand its standing in the sector with a range of models suitable for any blue-light job, whether that's the on-the-beat bobby in a Fabia or the fire brigade needing to tackle off-road terrain in a Kodiaq. In effect, Skoda wants to be the one-stop shop for the emergency services.
Many of the more traditional car brands with a blue-light service also provide a variety of models that are up to the job, but Skoda is trying to do things differently. The company offers vehicles adapted to each emergency service's needs – whether that's integrated cages for police dog units, fire equipment, or suspension upgrades to improve handling and off-road ability – so every vehicle it supplies is bespoke to the customer. And the conversions are backed by the same warranty as the donor vehicle and come as a single invoice, making life easier for finance and budgeting departments.
But what's the big advantage for Skoda? "It's fantastic for our perception with the public," says VW Group UK technical sales manager Steven Cowell. Seeing a Skoda responding in an emergency enforces the idea that it's a great product, he explains, and one that's reliable and tough, but also great value; after all, 999 vehicles come out of the public purse.
Partnership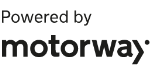 Need to sell your car?
Find your best offer from over 5,000+ dealers. It's that easy.
Ultimately, though, the big benefit for Skoda is that a blue-light car will make the regular man on the street think that if it's good enough for 999 work, it'll be good enough for the shopping run and picking up the kids from school. 
The Octavia vRS Estate has long been a favourite among many constabularies looking for covert police duties, and that's as true of the latest model as it was of the original. With a 242bhp 2.0-litre turbocharged petrol engine under the bonnet, it's quick enough for day-to-day work and the odd pursuit, but it's also a car that mostly fades into the background – especially when finished in Meteor Grey.
A couple of prods on the dashboard-mounted control pad, however, and the Octavia suddenly lights up with high-intensity LEDs beaming from behind the grille and number plate, and from the windscreen frame.
For the ultimate 'Q-car', though, there's a brand new option available – and it's probably the most unlikely Skoda ever produced. On the outside it just looks like a £26,000 Superb Estate SE finished in Petrol Blue Metallic paint. Under the skin, though, there's a 187bhp 2.0-litre diesel engine that would normally be reserved for Kodiaqs, as well as beefed-up suspension and brakes. But these are the least impressive of its detailed changes – because this Superb is bulletproof. 
"It's fully armoured," says Cowell. "I can't tell you the exact specification because that's top secret, but it's ballistics and blast protected, and meets the stringent PAS 300 requirements." What this means is that Skoda can sell you a car that provides protection from handguns, rifles, shotguns and missiles, as well as blasts to the sides and the underneath. 
Inside, occupants sit in a protected cell with an emergency escape hatch behind the rear seats, the car rides on puncture-proof tyres and there are wailer, yelp and phaser sirens and the full suite of blue, white and red lights; these allow the Superb to light up like Blackpool Tower on New Year's Eve.
Skoda and a British engineering team have been developing the car for three years, and each Superb takes around four weeks to build. They're not cheap, at £119,000 apiece – a gargantuan sum for a Superb Estate diesel. But to get similar levels of protection, you'd previously have to speak with Mercedes for one of its Maybach S 600 Guards, or with Jaguar for one its Prime Minister-spec Sentinel XJs.
The Superb looks totally standard on initial inspection, but get up close and you'll notice a thick black edge to all of the windows, while the windscreen appears a bit distorted. "That's the inch-thick glass," explains our instructor, an armoured Superb fan. He's a serving police officer and, to keep his identity secret, his name is simply 'Ian' for the day. "Don't get your hand or leg stuck, either… it'll hurt!" 
Pulling the handle to get in reveals the door's weight is extraordinary; pulling it shut makes the noise of a bank-vault door, trapping the air inside. The view out is a little distorted thanks to that ultra-tough glass, none of the windows opens and if you slide back the small cubbyhole ahead of the gearstick (where the 12V socket would normally be) there's a control pad to operate the blues and twos. Other than that it's standard Superb – so acres of soft-touch plastics, and convenient touches such as standard Apple CarPlay and Android Auto. Flick the ignition on and there's the familiar VW Group diesel rattle but, from here on in, this is like no other Superb. 
Where the Octavia vRS feels like an expertly tweaked touring car, the Superb resembles a police boat destined for life on the River Thames. The extra weight (not quoted, but easily nudging three tonnes) has a catastrophic effect on handling, with the car wallowing in corners at anything above 40mph. The usually direct steering is a bit blunted in its accuracy although, in fairness, the car rides very nicely.
You might have expected Skoda to fit the 276bhp 2.0-litre turbo petrol to give this bulletproof barge some get-up-and-go but, most likely due to fuel economy concerns, it's diesel only. Fair enough, but a circa three-tonne weight and just 187bhp mean it's slow and ponderous. This Superb isn't about outright speed, however.
While it looks more H. Samuel than Hatton Garden, that's what a lot of people who need bulletproof cars are actually after. A Rolls-Royce Phantom or Maybach may let onlookers know that you've 'arrived', but some would rather their wealth be whispered than shouted about. So this reserved nature makes the Superb an outstandingly adept car in the world of ultra-covert close protection.
And with 200 examples already made (150 or so already snapped up by the police), it seems to be building a loyal following, and a bulletproof reputation, too.
Enjoyed this feature? Then click here to read through some of our other great features...