Electric car running costs: tax, insurance, servicing and repairs explained
How much do electric cars cost to run? It's one of the big questions asked by EV buyers and we've got the answers...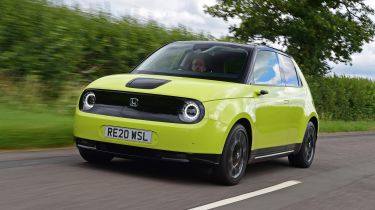 Although electric cars tend to be slightly more costly to buy than their conventional counterparts, they're cheaper to run over the long term. Like petrol or diesel cars, or hybrids for that matter, electric cars need tax, insurance, servicing and repairs but the low emissions and relative mechanical simplicity of electric drivetrains help contribute to overall running costs that compare very favourably to other types of vehicle.
Below, we examine all these areas that make up the total cost of ownership for electric cars. The other major saving comes in terms of charging and we cover the efficiency and charging costs of electric cars in detail here.
Electric cars and vehicle tax
Fully electric cars are currently VED road tax-exempt, which can bring big savings over the years, because the tax on all other vehicles (including hybrids and PHEVs) is based on their level of carbon-dioxide (CO2) emissions.
For example, the Hyundai Kona Electric costs zero in tax, but the diesel version emits 112g/km. It costs £215 to tax initially (included in the on-the-road price) and £150 a year after that.
How much do electric cars cost to service and maintain?
As with fuel, so it is with servicing: electric vehicles generally work out cheaper to service and maintain than the equivalent petrol and diesel models, largely because they have fewer moving parts and fewer items prone to wearing out over time.
Where the real savings come is when you need to replace parts after the warranty runs out. Electric cars don't need oil filters and have no cambelts or other items that can be fairly expensive to replace. If there are fewer parts, what do electric-vehicle services do?
Most regular service plans focus on ensuring the battery and electric drivetrain work as intended. Often, the charging cable is checked for damage, tears and performance (and will be replaced, if necessary), while the battery is also checked for charge level. This is crucial, because its performance can deteriorate over time.
All of the vehicle's high-voltage systems and cables are also checked, with parts replaced if necessary.
Are electric cars any more expensive to insure?
While servicing, fuel and tax costs are usually cheaper for electric cars than for conventional vehicles, electric vehicles are more expensive to insure. This is partly because their repair costs are higher, and because there aren't enough technicians in the UK trained to do the work.
Our research found we could be insured on a Hyundai Kona Electric for £648 a year. However, using the same details (42-year-old engineer, who's married and a house owner, living in Banbury), the insurance on a diesel-engined Kona cost £612.
Can independent garages service electric cars?
Yes, in theory; but an Auto Express investigation found that less than one per cent of the UK's 240,000 technicians are qualified to work on electric and hybrid cars; in 2017, none worked at independent garages.
Now take a look at our pick of the top 10 best electric cars on sale...