The Astra Diet: How latest Vauxhall hatch lost up to 200kg
We look at the strict weight loss regime that's helped Vauxhall make a leaner Astra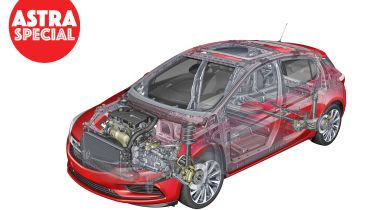 The new Vauxhall Astra underwent a serious weight-saving regime that saw up to 200kg shaved off the total weight compared to its predecessor. But where exactly does that huge weight loss come from?
-77kg Bodywork
The new Astra looks slimmed down compared to its predecessor, and that comes from the smaller bodyshell. The main structure has the biggest weight loss of any part – it's slashed by a huge 77kg. New processes have helped, too, so the unpainted body structure is over 20 per cent lighter, down from 357kg to 280kg. The design is based on the Monza Concept seen at the Frankfurt Motor Show back in 2013.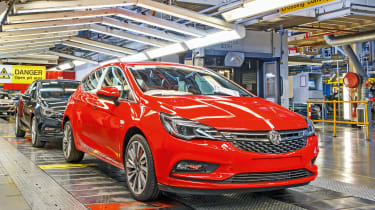 -50kg Chassis
-4.4kg rear axle -11.5kg reduced wheel & tyre diameter -10kg brake system
The chassis has undergone a complete overhaul, with a whole array of components being made lighter. This includes modified front and rear suspension, with softer springs to help improve handling on the road. Plus, high-strength lightweight steels have been used in the more compact subframes.
The smaller wheels and tyres weigh up to 11.5kg less, too. The same is true for the brakes; because the Astra is so much lighter than before, the system has less mass to decelerate, so a more compact design weighing 10kg less was possible. And all while it delivers even better braking performance than its predecessor.
-11kg Electronics
The new Astra is full of tech, like OnStar and matrix-beam headlights. Yet this hasn't stopped designers slashing weight. While fully loaded top-spec cars will weigh more, they're still at least 120kg lighter than before.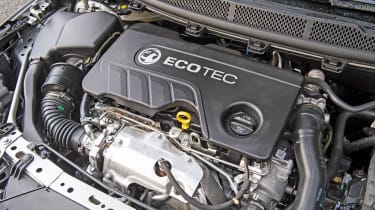 -10kg Engine block
Vauxhall's new 1.4-litre ECOTEC Direct Injection Turbo makes its debut under the bonnet of the new Astra, and weighs much less than other similar engines. The aluminium block alone is 10kg lighter than the cast-iron block of its predecessor. More efficient engines and the lower overall weight mean the Mk7 hatch is capable of emitting only 88g/km of CO2.
-10kg Transmission
The entire transmission set-up, including clutch, flywheel and gearbox, has been redesigned to be as compact as possible. And because the whole car weighs less than before, the ultra-modern transmission has less work to do.
-10kg Seat structures
A development team spent five years designing the new compact seats, providing more space and weight-saving features than ever before while still ensuring comfort. Lighter polyurethane foams have been used in construction, and ultra-high-strength steels are built in under the robust upholstery to strip back weight. All the work means the new Astra's front and rear seats are a total of 10kg lighter than those in the previous version.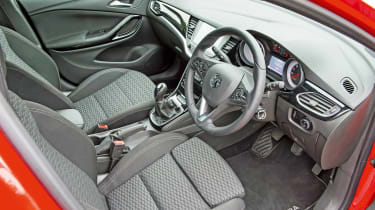 -4.5kg Exhaust system
The smallest saving has been made in the exhaust system, but this is still impressive as it's already a lightweight set-up. The new exhaust weighs up to 25 per cent less than in past models, saving around 4.5kg overall.
Reduced dimensions and overhangs
The new Astra is nearly 5cm shorter than its predecessor, at 4.37 metres long. It's also 1.48 metres tall and 1.81 metres wide, which is 2.5cm lower and 0.5cm narrower than the previous generation.
Optimised aerodynamics
Engineers decided against full underbody panelling to further optimise the chassis and drivetrain aerodynamics. The double benefit was lower weight and reduced production costs.
Vauxhall Astra Special