New supermini-sized VW Group MEB model to launch in 2023
Expanded pure-electric Volkswagen Group MEB range to give brand a rival for the Peugeot e-208 and Vauxhall Corsa-e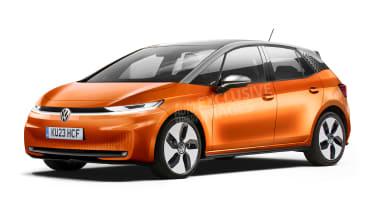 The VW Group is likely to adopt the same clever packaging principles as the newly launched ID.3 when it gets round to launching all-electric superminis, according to the man whose team is responsible for the project.
The first car to be launched on the new MEB platform, the ID.3 has an unusually long wheelbase - so while the hatchback is basically the same length as a VW Golf, its rear legroom is closer to what's on offer in the larger Passat.
• New Volkswagen ID.3 revealed
The VW Group confirmed earlier this year that it has started work on 'MEB entry family', a more cost-focused, bespoke, all-electric architecture that will underpin cars of around four metres in length - so the same size as the latest pure-electric Peugeot e-208 and Vauxhall Corsa-e, which both sit on a platform designed to accommodate batteries or a conventional combustion engine. VW Group chairman Dr Herbert Diess told Auto Express in the spring, "It's sub-Golf size and it's being worked on now. We should expect it around 2023."
SEAT has since been appointed the brand to lead the development of the MEB entry family. And the company's board member for technical development, Axel Andorff, says that it would make sense for the project to at least try to deliver similar packaging gains as the ID.3 - potentially producing small electric superminis with similar cabin space to a Golf or a Ford Focus.
When asked if the target was a similar gain in interior packaging, Andorff told Auto Express, "If you set up a totally new platform, why shouldn't you use the advantages of this platform?"
He added that the project will need to make significant savings over the MEB platform to make superminis viable. "Nobody can do this on your own," he said. "We're relying on the experiences that the team already has from MEB. But we also know that just a little improvement of the MEB, on costs and so on, will not be sufficient for what we need for a small battery-electric vehicle."
The MEB entry project is still in its infancy but Andorff suggested it is already making progress. "It's something very promising," he said. "We want to provide electric mobility for everybody so we also have to take care of what is below that point - not only on the length of car and the size of the car, but also cost, range and so forth."
He confirmed earlier statements from VW Group technical chief Frank Welsch that battery chemistry is one of the potential areas where weight and costs could be saved. "Everything is up for discussion," Andorff said. "If you look at how fast the technology moves on in batteries, the chemistry, we cannot lean back and think that we know what will happen for the next five years. You always have to talk to different suppliers, to our experts, and to really push this topic.
"It's very interesting for us as engineers," he added. "You have to step into an area where maybe you haven't been for many years. We're in a very tight exchange with Frank Blome, who leads the overall battery activities in VW Group, so that's also very helpful."
Andorff also says the VW Group is likely to focus more on MEB entry than direct successors to the New Small Family city cars - the SEAT Mii, VW up! and Skoda Citigo. This is likely to fuel speculation that those cars will continued be offered as EVs with improved battery ranges over the coming years, but will then be dropped when MEB entry cars arrive in around 2023.
"What we have to do is to focus a little bit," Andorff said. "Beside the fact that this Group is huge and we can afford more than others, we have to focus. The approach we have at the moment, evaluating these small BEVs, is our approach to come up with an idea of how a car below MEB could look like."
Click here for all the latest from the 2019 Frankfurt Motor Show...