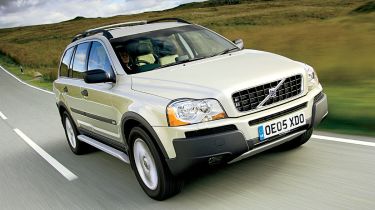 Overall Average Rating - 84.9%Position in the Top 100 cars - 52nd
WINNER OF CATEGORY - Practicality
Despite the XC90 being designed in the mould of a 4x4, Volvo knows that not many are bought for mud-plugging. In fact, the firm claims more estate-based XC70s go off-road than fully fledged four-wheel-drive XC90s. What the larger model is used for is transporting families. Clever folding rear seats give the option of carrying seven and let buyers tailor the cabin to perfectly meet their requirements. You tell us there's nothing more practical on sale.
Ratings
Position in the Top 100 carsReliability: 56thBuild Quality: 50thRunning Costs: 96thPerformance: 97thBraking: 42ndRide Quality: 15thHandling: 82ndPracticality: 1stComfort: 5thEase of Driving: 12th
Your Quotes
"Generally very happy. An excellent family car (even if the anti 4x4 brigade don't think so), but it's a bit dull compared with my previous motors."
Mr Robert Smith - Surrey
"Best car I have ever owned for overall value for money. Comfortable, safe, huge storage, great driving position. Brilliant in snow. The Green lobby make me feel bad about owning one though. The rabid taxation threats and the other charges associated with 4x4s are the only reasons why I am not certain to buy the same car again. A shame."
Mr Greg Tanner - Middlesex
"Extremely practical, but lacks the wow factor in terms of acceleration. Cruises well on motorway. Diesel consumption down on stated mpg."
Mr Keith Plumb - Leics
"Quiet, safe, with ability to carry seven people when required, and good for towing various trailers. Four wheel drive helps when launching / recovering boats on slipways as well as when pulling away quickly when turning at a junction, or on slippery surfaces. Excellent vehicle that does everything I expected."
Mr C. Oakley - Brighton
"Provides armchair comfort, reliability and practicality. The only major problem has been excessive tyre wear and wheel alignment."
Mr M. Malt - Guildford
"The best car for a large family by far. Excellent ride and handling. Twin turbo thirsty on petrol if driven hard."
Mr Jonathan Hill - London
Manufacturer Verdict (Position - 12th)
Safety, comfort and durability –– these are the attributes that keep customers coming back to Volvo. But does the car maker live up to its reputation? You tell us that its cars are tough to beat for practical long-distance cruising, voting Volvo in at the top of the comfort chart. Yet this comes at a cost, and keeping your Swedish model on the road is leaving a considerable hole in many budgets.