Winter car checklist: driving kit and best buys
Get your car ready for winter with our selection of award-winning product
With the shorter, colder days of winter on the horizon, our motoring lives are only going to get harder – especially given that the weather forecasters are predicting the return of the 'Beast from the East'. That means it's more important than ever to plan ahead.
Happily, there's plenty you can do to minimise the risks, starting in your living room by keeping track of the weather and traffic situations. Then, even before you turn a wheel on the road, you should make sure that your car is thoroughly prepared, with the right tyre pressures, the proper antifreeze concentration, the windscreen fully de-iced and a suitable screenwash mix in the reservoir.
• Best all-season tyres on sale
Once on the move, you should be carrying what you need to cope with bad weather, a breakdown or, worse, an accident. Even if you haven't got the latest traffic-equipped sat-nav, listening to local radio stations will let you keep up with the latest traffic problems.
Using our experience of aftermarket products, we've prepared a list of 14 items that will help you cope with on-the-road hassles or, better still, prevent them happening in the first place.
Snow Socks
Snow is becoming more common in the UK, and if winter or all-season tyres are not an option then Autosocks are worth carrying, just in case. They take up precious little space in the boot, folding almost flat and weighing less than 1kg.
AutoSocks
Price: From £49.95
The socks just slip over the driving wheels (front or rear), and elasticated edges keep them in place, with no need to turn off electronic traction and stability devices. Once the snow has gone, removal is as easy, and they can be cleaned simply by shaking them out, ready for reuse.
Battery Charger
All batteries hate the cold, and their winter blues are worsened by the fact that they have to work harder than ever to cope with the extra demands of lights, a heated rear window, fan blower, wipers and so on.
CTEK CT5 Time to Go
Price: Around £90
For that reason, an occasional charge from this CTEK intelligent charger will give a welcome boost. It has Normal, AGM and Recondition charging/maintenance programmes and is fully automatic, so can safely be left connected as long as required. A winner in our 2018 test, the unit has useful countdown LEDs to show when it's ready to go.
Wiper Blades
With the colder months comes more rain, ice and snow, all of which must be cleared from your windscreen while you're driving. If your blades leave more smears than they clear, you need to think about replacing them – something that is recommended once a year anyway.
Bosch Aerotwin
Price: Around £26
These Bosch blades impressed us with their effective, quiet performance, thanks to the high-tech Evodium steel spring strips. These ensure high pressure evenly across the blades, pushing them on to the windscreen to give consistent clearing and prevent juddering.
Broom and Scraper
Driving round with a snow-covered screen is foolish, and leaving snow on your roof could be dangerous for vehicles behind. Cleaning off a heavy fall is made much easier with this broom, which can expand to 61in (155cm) long, so the roof or bonnet is no problem, even on big SUVs.
Telescopic Snow Broom and Ice Scraper
Price: £8
On the flipside of the broom is a flexible rubber scraper, and the other end has a plastic scraper to remove ice from glass. When not in use, the broom collapses to 41in (105cm), ideal for most cars.
Antifreeze Tester
Getting the correct mix of antifreeze in your coolant is vital for the health of your engine, even in the winter. It lowers the freezing point, raises the boiling point and also contains inhibitors to help prevent corrosion.
Draper 35807 Anti-Freeze Tester
Price: £9.98
Checking the antifreeze concentration meets the manufacturer's recommendations is easy with the right tool. This Draper tester was a winner in this year's multi-test, impressing us with its accuracy and easy-to-read scale. And for just less than £10, it's considerably cheaper than sorting out a frozen engine.
Screen Wash
Water on its own isn't enough to give your screen a proper clean; you need a screen wash additive to help battle the film of traffic fumes and bugs. And in the winter there's even more road dirt and mud thrown up by other vehicles to add to the mix.
Prestone Extreme Performance Screen Wash
Price: Around £4 per 2 litres
Prestone's test-winner proved an impressive cleaner against the usual suspects. And, even more importantly in the depths of winter, it remained liquid after two and a half hours in the freezer, beating all the opposition. This result means that, when it's used in the correct concentration, your car's washer jets won't freeze up.
Winter Tyres
There's no doubt the tyres UK drivers use all year are a liability when temperatures drop and snow is on the ground. That's why they're called summer tyres on the continent, where they switch rubber for the seasons. And swapping to winter tyres is the ultimate solution for coping with changing conditions.
Goodyear UltraGrip Performance +
Price: £124.73 (225/45R17)
Our pick of the winter tyres is Goodyear's new-for-2019 UltraGrip Performance+. It won all our four snow tests and proved best across the wet road assessments – the kind of conditions that dominate UK winters.
Power Bank
Having a charged phone to call for help is vital for safety. But no-one's perfect, so you need a power bank in your car. Our test winner is rated at 10,000mAh, enough to fully charge most phones two or three times.
MSC QI Wireless Charging & USB C type Power Bank
Price: £34.95
It also has a raft of charging modes including wireless. Plus it has twin USB sockets rated at 3.1A, along with USB-C and Lightning flying leads, the result being that it could charge up to three devices at the same time.
Buy now from Mobiles Solar Charges
Outdoor car cover
Even if you use your car every day, it doesn't take long to fit a car cover, and the protection it offers will pay dividends. It will shelter the paintwork from the elements, and means you will be ready to go straight away on cold, snowy mornings.
Halfords Advanced All Seasons Car Cover Medium
Price: £60
This three-layer cover won our last test, impressing us with its light weight – just 2.5kg – and the front and rear elasticated sections that made it a snug fit around valances. It comes with three tether straps and plastic buckles, making it easy to secure against high winds.
Boot Storage
Splashing about in snow or heavy rain is made even less pleasant if you're wearing your best shoes. Having your wellies in the boot makes a whole load of sense, but naturally you don't want to mess up your upholstery or luggage.
Boot Storage Bag
Price: £4.99
This bag has been produced for just this situation and is made of a tough material, with double-zip closure and a chunky handle. Suitable for wellies up to size 13, it has an elasticated mesh pocket at the rear for socks and the like. It's available in five colours and measures 50cm x 24cm x 32cm.
Headlamp bulbs
If you find yourself squinting when driving at night it might not be an eye test you need, but some new headlamp bulbs.
Philips RacingVision +150%
Price: Around £21 (pair)
Regular halogen bulbs become less efficient over time; just like brake pads and dampers, they simply wear out. Replacing them can make a serious difference and improve your safety on the road.
Our current H7 test winner has kept its place at the head of a very competitive field. It scored highly in the light tunnel tests, with a bright hot spot close to the dipped-beam cut-off and the hard-to-hit 75-metre measurement.
12V Mini Compressor
It's a common myth that letting your tyres down in winter helps grip; it doesn't, and could be dangerous. Using your own compressor to track pressures beats fuel station gauges, because they're often unreliable.
RING RTC1000 Premium Rapid Digital Tyre Inflator
Price: £39.19
Ring's new RTC1000 was an instant winner. It's easy to use, and we rate its inflation speed, accuracy, backlit display and solid controls. As a bonus, the circular cable winder makes it easy to keep it neat and tidy in the padded bag.
De-icer
While boiling your kettle is great for tea or coffee, it's not for your screen – it could crack! However, getting your screen clear of ice is not only vital for safety, peering through a small hole could also be illegal and lead to a fine.
Autoglym De-icer
Price: Around £4
The simplest way to clear an iced-up screen is by using a spray, and our favourite is this Autoglym de-icer. It's not only effective, but will work in temperatures as low as -50 deg C, and all without any harm to the vehicle's paintwork, rubber, plastics and glass.
Head Torch
A breakdown is more difficult in winter partly because daylight is limited. A head torch will take up little space, and leaves both hands free to sort out any problems.
Coast FL13R Rechargeable Head Torch with COB LED Light
Price: £23.94
This Coast torch has two white modes (85 and 270 lumens) and weighs just 55g, making it very comfortable. Plus you can recharge it in the car, so it's always ready.
Winter driving special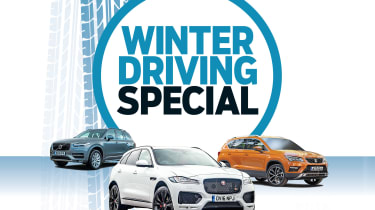 Best winter cars
Get ready for winter on the roads
Top tips for winter driving