Audi A6 Avant vs Mercedes E-Class Estate
Is the new Audi A6 Avant master of all it surveys in the posh estate market? We find out as it goes up against the Mercedes E-Class Estate
As premium SUVs have become ever more popular, the upmarket estate has been forced to change its game and step up what's on offer.
The Germans have led the way here, and if you're a buyer who doesn't want an SUV but still needs plenty of practicality, decent performance, advanced tech and cosseting comfort, there's a wide choice of premium wagons on sale.
The latest to join the established group is the Audi A6 Avant. We have already tested the saloon version of the new executive car and it proved its worth, with enhancements over its predecessor elevating the car to the sharp end of its class. But the question is, can the estate do the same?
• Audi A6 vs Volvo S90 vs BMW 5 Series
Tech, style, quality, space and refinement are all on the menu, so it should be a close-fought battle with its rival here. However, space is an important commodity in any load-carrier, and the Mercedes E-Class Estate the Audi is up against in this test has plenty of that.
A large number of factors will decide the outcome here, but could this be the crucial area where victory is won? Read on to find out which executive estate will drive off with the prize in its large and luxurious load bay. 
Audi A6 Avant
| | |
| --- | --- |
| Model: | Audi A6 Avant 40 TDI S line |
| Price:  | £44,100 |
| Engine: | 2.0-litre 4cyl diesel, 201bhp  |
| 0-60mph: | 7.6 seconds |
| Test economy: | 47.0mpg/10.3mpl  |
| CO2:  | 124g/km |
| Annual road tax: | £450 |
This fifth-generation Audi A6 is now available in Avant guise and follows the saloon. That car made an impression, so can this even more practical model build on its sibling's performance? We're testing the A6 Avant 40 TDI S line model to find out. Prices start from £44,100 for this spec. 
Design & engineering
As with Audi's typically evolutionary approach to its cars' styling, the engineering underneath is an advancement of what went before – although there are some key changes.
Chief among these is the new 40 TDI engine, a 201bhp 2.0-litre four-cylinder turbodiesel that drives the front wheels through a seven-speed dual-clutch automatic. It gets 12V mild-hybrid tech to help improve efficiency; Mercedes doesn't offer mild-hybrid tech on its diesel E-Class Estate, although you can buy a plug-in hybrid. Audi will follow suit with the newer A6 in time.
The Avant sits on the brand's MLB evo platform, which uses a multi-link suspension set-up at the front and rear. There are three suspension packages to choose from. You get steel springs and fixed-rate dampers as standard, with a firmer, sportier tune and a 10mm lower ride height in S line trim.
Our test car was fitted with Audi's £1,150 adaptive dampers, while the £2,050 air suspension set-up sits above this. This top package isn't a necessity, because the regular adaptive dampers work well.
The A6's interior is a big step on. The twin-screen tech from the A8 flagship has made its way down the range, so there's an 8.6-inch HD touchscreen for the climate settings, while an 8.8-inch HD touchscreen for the rest of the multimedia functions sits above this. Our car featured the £1,495 Technology Pack, which upgraded this to a 10.1-inch display, adding a 12.3-inch hi-res digital dash panel in place of the standard clocks. It's a worthwhile upgrade.
Execution and build quality are of the standard we've come to expect from Audi. The materials feel more expensive and solid than in the Mercedes, and there's a good level of kit. You get those two screens with nav, Apple CarPlay and Android Auto, 19-inch alloys along with other S line styling bits, half-leather, half-Alcantara heated sports seats, matrix LED lights, all-round parking sensors with a reversing camera, cruise control and strong safety tech. 
Driving
The 40 TDI is a strong engine and, unlike its predecessor, fairly refined here – more refined than the Mercedes' diesel. The seven-speed dual-clutch gearbox is responsive and smooth, while the Audi's ride on adaptive dampers is the trick that steals the show.
Partnership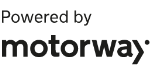 Need to sell your car?
Find your best offer from over 5,000+ dealers. It's that easy.
Even on our car's upgraded 20-inch alloys the damping is smooth and controlled, so unlike older S line Audis on big wheels that used to crash and bump, this Avant feels plush and composed. It's more comfortable than the E-Class on the motorway and thumps less over bumps, while it's also more compliant at low speed.
However, you don't lose body control because although the Audi feels weighty and the steering fairly lifeless, the suspension does a good job of controlling the forces at work so there's a good level of grip. It's not the most agile car, but neither is the Mercedes. If anything, the Audi feels a little pointier.
There's performance to match. It equalled the Mercedes from 0-60mph, taking 7.6 seconds, but despite having fewer ratios in its gearbox it was broadly on par with the E-Class in gear, no doubt helped by a 105kg kerbweight advantage. 
Practicality
Big estate cars like these need to offer cavernous carrying capacity, and this is where the Audi falls down. With the rear seats up there's only 565 litres of luggage space, compared with 640 litres in the Mercedes. While this is enough for most situations, if you're going away on holiday or trying to load awkwardly shaped items like mountain bikes, the E-Class will be easier.
• Best estate cars on the market
Otherwise the interior is roomy, with plenty of space in the rear. The bench seat is low so headroom isn't an issue, and legroom is on par with the Mercedes'. Although both models are comfortable in this respect, the E-Class's less absorbent ride degrades this slightly.
Ownership
Audi finished just ahead of Mercedes in our Driver Power 2018 satisfaction survey, ranking in 18th compared with a result of 20th for its German rival.
Much of the tech is plucked from elsewhere in the range, so although the A6 is a new car, its components are proven. That includes the safety equipment, too.
You get autonomous braking, lane-departure warning, matrix LED lights and eight airbags; that's one more than the Mercedes. Blind spot warning is extra as part of the £1,375 City Assist Pack, and this also brings cross traffic alert. The £1,950 Tour Pack features lane keep assist, adaptive cruise with semi-autonomous driving and traffic sign recognition. With the standard safety kit, the A6 in all forms gets a full-five star Euro NCAP rating. 
Running costs
The 124g/km CO2 Audi is pricier than the Mercedes (135g/km) and sits three Benefit-in-Kind groups lower. If you're a higher-rate taxpayer you'll pay £5,085 per year in company car tax, or £329 less than for the E-Class.
Its efficiency was matched on paper because the A6 returned 47.0mpg, compared with 46.5mpg in the E-Class Estate. This means you'll spend £1,576 and £1,593 per year on fuel respectively, which is obviously only a marginal difference. 
Testers' notes: "Levers in the boot of the A6 Avant mean you can fold the rear seats remotely. The Mercedes benefits from these, too, as well as a button inside on the wheelarch to improve practicality." 
Mercedes E-Class Estate
| | |
| --- | --- |
| Model: | Mercedes E 220 d Estate AMG Line |
| Price:  | £42,870 |
| Engine: | 2.0-litre 4cyl diesel, 191bhp  |
| 0-60mph: | 7.6 seconds |
| Test economy: | 46.5mpg/10.2mpl  |
| CO2:  | 135g/km |
| Annual road tax: | £450 |
The Mercedes E-Class Estate is a practical, premium package, and has price on its side compared with the Audi here. But is it a more attractive proposition? This E 220 d in AMG Line trim will reveal all. Prices start from £42,870.
Design & engineering
The E-Class is based on Mercedes' MRA Modular Rear Architecture so conforms to a similar recipe to the Audi in that it uses a scalable platform as its base. There's double-wishbone suspension at the front and a multi-link at the rear.
Mercedes' Agility Control steel-sprung suspension with adaptive dampers is standard, with modes to choose from to either soften off or firm up the settings depending on the driving conditions, just like the Audi on its optional set-up. Air suspension is available as part of the £3,295 Comfort package.
Under the bonnet the brand's 191bhp 2.0-litre four-cylinder turbodiesel engine trails the Audi's unit on power, but matches it for torque, with 400Nm. It's linked to a nine-speed conventional automatic, compared with the A6's dual-clutch, that drives the rear wheels (although our pictures show a 4MATIC four-wheel-drive model).
Mechanically the two models have some similarities, but there's a different feel inside. The Mercedes' interior quality trails here. While it's still nicely trimmed, the materials don't feel as plush.
The technology is strong. You get a 12.3-inch digital dash as standard, while the second 12.3-inch display that shows the nav and radio functions on our test car is part of the £2,395 Premium pack. This also adds an upgraded COMAND online navigation system, CarPlay and Android Auto.
Of course, like the Audi, you can add even more options to improve the spec and tech inside. Keyless operation is part of the £4,395 Premium Plus pack, which also brings a Burmester stereo and panoramic roof. Keyless operation and a Bang & Olufsen stereo are part of the A6's £1,895 Comfort and Sound Pack.
Driving
While the 2.0-litre four-cylinder unit was new for this generation of the E-Class and improved on refinement compared with the older 2.1-litre Mercedes diesel, it still isn't as hushed as the Audi's motor.
However, there's still more than enough performance for this kind of car. The E-Class accelerated from 0-60mph in 7.6 seconds, matching the Audi, but was slightly slower through the gears, taking 7.3 seconds compared with 7.0 seconds for the A6. Yet with more ratios it was quicker than the Audi in gear. The box isn't as quick to change, even when taking manual control using the paddles, but importantly it is smooth, so you don't make disjointed progress, and this helps comfort.
• Best executive cars available
The E-Class needs it because the suspension isn't as forgiving as the A6's. However, this is relative; apart from crashing over the worst bumps, the Mercedes feels fluid and floats nicely over undulating roads.
The steering isn't as sharp as the Audi's, either, but this suits the heavier Mercedes' attitude, so the car feels together and well matched when it comes to how its key components interact with each other.
Practicality
This is where the E-Class plays its trump card, because with 640 litres of boot space when the seats are up and 1,820 litres with them folded down (the Audi has 1,680 litres in this latter configuration) it easily eclipses the A6 Avant. Big estate cars like these have to offer space, and the Mercedes delivers.
But its practicality extends beyond this, because there's lots of room in the rear even though it has a bigger boot. In the front there's a similar level of room despite the Mercedes' higher dashboard design and higher-mounted screens. With trays and plenty of other cubbies, storage is similar, although the bin between the seat in the E-Class is larger than the A6's.
Ownership
Mercedes trailed Audi in the makers' chart of Driver Power 2018, but the brand's dealers finished in 13th spot compared with a lowly 22nd for the Audi network.
Safety will be an important factor in a family estate such as this, and the E-Class gets more tech as standard, with autonomous emergency braking, a reversing camera and parking sensors, LED lights, blind spot assist and traffic sign recognition if you opt for the COMAND nav system.
Of course, you can upgrade this tech further still with the £595 Lane Tracking package, which adds active lane keep assist. It's cheaper than in the Audi.
The E-Class matches the A6's semi-autonomous driving systems with its £1,695 Driving Assistance Plus package. This adds a system that will help you swerve to avoid an obstacle, adaptive cruise with steering assist to keep you in your lane and even a function that will change lanes for you if you tap the indicator. It's a smoother and more advanced package than the Audi's.
Running costs
If you're a private buyer then depreciation will be a big factor in running costs, but there's very little to separate these cars, according to our experts.
The Audi is expected to retain 47.3 per cent of its value, so will shed £23,223 over three years and 36,000 miles. The Mercedes will hold on to 47.4 per cent of its value, and because it's cheaper will also lose less over the same period, at £22,558.
However, the Audi will be cheaper to insure for our sample driver, with an annual premium of £573 against £653 for the Mercedes. Both attract the VED surcharge so road tax will cost £450 per year. While servicing costs for the Audi are yet to be confirmed, Mercedes' three-year deal comes to £33 per month. 
Testers' notes: "Rear seats in the E-Class fold completely flat with no lip, and width across the rear wheelarches is good, so you'll be able to load big items that might not fit in the A6 Avant's load bay." 
Verdict 
First place: Mercedes E-Class Estate
The E-Class Estate is a classy wagon that's supremely practical. It might be a little more expensive to run, but it's cheaper to buy outright and on PCP finance, plus the significant boot space advantage means it fulfils its brief better than the Audi. It's marginally less comfortable and not quite as hi-tech here, but this small shortfall is more than made up for in other areas. 
Second place: Audi A6 Avant
While the A6 Avant is the better, more comfortable car to drive, there's little to split these two in terms of performance or running costs. The slight advantage the Avant has on the latter is eroded by its load space deficit to the Mercedes. A large premium estate needs to offer versatility, and while the Audi lives up to its upmarket image, it's simply not as practical.
Other options in this category...
BMW 5 Series Estate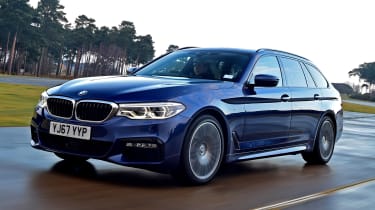 Model: BMW 520d Touring M SportPrice: £43,025Engine: 2.0-litre 4cyl, 187bhp
The BMW 5 Series Touring is the most agile car in its class. It's also very comfortable and offers plenty of tech. However, the boot isn't as big as the Mercedes'. Even in 520d specification, it's the choice for keen drivers here. 
Volvo V90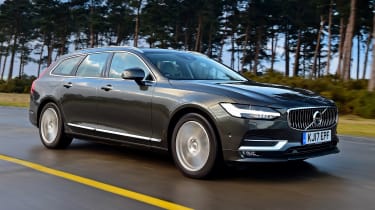 Model: Volvo V90 D4 R-DesignPrice: £41,260Engine: 2.0-litre 4cyl, 187bhp 
By combining strong practicality with a decidedly different feel from its German rivals, the V90 does what every Volvo estate should do. The interior is nicely trimmed, while it's relatively comfortable, too, and mixes this with great technology.
Figures
| | | |
| --- | --- | --- |
|   | Mercedes E 220 d Estate AMG Line | Audi A6 Avant 40 TDI S line |
| On the road price/total as tested | £42,870/£42,870 | £44,100/£53,245 |
| Residual value (after 3yrs/36,000) | £20,312/47.4% | £20,877/47.3% |
| Depreciation | £22,558 | £23,223 |
| Annual tax liability std/higher rate | £2,707/£5,414 | £2,543/£5,085 |
| Annual fuel cost (12k/20k miles) | £1,593/£2,655 | £1,576/£2,627 |
| Ins. group/quote/VED | 31/£653/£450 | TBC/£573/£450 |
| Servicing costs | £33 per month (3yrs) | TBC |
|   |   |   |
| Length/wheelbase | 4,933/2,939mm | 4,939/2,924mm |
| Height/width | 1,475/1,852mm | 1,467/1,886mm |
| Engine | 4cyl in-line/1,950cc | 4cyl in-line/1,968cc |
| Peak power/revs  | 191/3,800 bhp/rpm | 201/3,750 bhp/rpm |
| Peak torque/revs  | 400/1,600 Nm/rpm | 400/1,750 Nm/rpm |
| Transmission  | 9-spd auto/fwd | 7-spd DCT/fwd |
| Fuel tank capacity/spare wheel | 66 litres/run-flat | 63 litres/£190 |
| Boot capacity (seats up/down) | 640/1,820 litres | 565/1,680 litres |
| Kerbweight/payload/towing weight | 1,815/630/2,100kg | 1,710/620/2,000kg |
| Turning circle | 11.6 metres | 12.1 metres |
| Basic warranty (miles)/recovery | 3yrs (unlimited)/3yrs | 3yrs (60,000)/3yrs |
| Driver Power manufacturer/dealer pos. | 20th/13th | 18th/22nd |
| NCAP: Adult/child/ped./assist/stars | 95/90/77/62/5 | 93/85/81/76/5 |
|   |   |   |
| 0-60/30-70mph | 7.6/7.3 secs | 7.6/7.0 secs |
| 30-50mph in 3rd/4th | 3.1/4.3 secs | 2.9/4.4 secs |
| 50-70mph in 5th/6th/7th/8th/9th | 6.0/7.5/10.2s/N/A/N/A | 6.5/14.0 secs/N/A |
| Top speed/rpm at 70mph  | 146mph/1,500rpm | 149mph/1,400rpm |
| Braking 70-0/60-0/30-0mph  | 43.0/33.3/10.6m | 48.3/31.2/8.2m |
| Noise outside/idle/30/70mph | 69/44/60/69dB | 45/70/60/69dB |
| Auto Express econ (mpg/mpl)/range | 46.5/10.2/675 miles | 47.0/10.3/651 miles |
| Govt urban/extra-urban/combined  | 48.7/64.2/57.7mpg | 54.3/64.2/60.1mpg |
| Govt urban/extra-urban/combined  | 10.7/14.1/12.7mpl | 11.9/14.1/13.2mpl |
| Actual/claimed CO2/tax bracket | 163/135g/km/32% | 161/124g/km/29% |
|   |   |   |
| Airbags/Isofix/park sensors/camera | Seven/yes/yes/yes | Eight/yes/yes/yes |
| Auto box/lane keep/blind spot/AEB | Yes/£595/yes/yes | Y/£1,950*/£1,375*/y |
| Clim ctrl/cruise/leather/heated seats | Yes/yes/Artico/yes | Yes/yes/half/yes |
| Metallic/LEDs/keyless/power tailgate | £685/y/£4,395*/y | £685/y/£1,895*/y |
| Nav/digi dash/DAB/connected servs | Yes/yes/yes/£2,395* | Y/£1,495*/y/y |
| Wireless charge/CarPlay/Android Auto | £2,395*/£2,395*/£2,395* | £1,495*/yes/yes |