Audi A7 Ultra review
Efficient Audi A7 Ultra gets power boost and impressive fuel economy gains
The Audi A7 Ultra is a very appealing prospect. The lower emissions and better fuel economy reduce running costs but have no impact on the car's creamy-smooth performance. Add in the tweaked styling and improved gearbox all for a competitive price, and this is easily the pick of the A7 range.
Following on from the A6 saloon and Avant, the Audi A7 Sportback is next in line to receive the Ultra treatment from Audi. But unlike the A6 2.0 TDI Ultra, the more stylish four-door coupe has a more powerful six-cylinder engine under its bonnet.
Tweaks have boosted 3.0-litre V6 diesel's output from 201bhp in the previous two-wheel drive version to 215bhp. The extra power only shaves 0.1 of a second off its 0-62mph time, taking it to 7.3 seconds, and you have to concentrate hard to notice the difference in everyday driving, but it's elsewhere that it really impresses.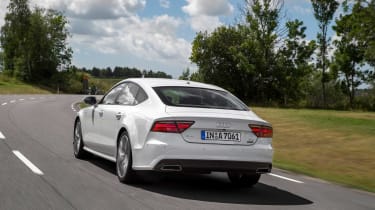 Power might be up, but CO2 emissions have dropped from 135g/km down to 122g/km, and fuel economy is now a claimed 60.1mpg up from the previous 55mpg. It's the relative lack of noise that is truly impressive, though.
The engine is paired to the manufacturers' seven-speed S tronic, replacing the old eight-speed auto. It's a step-up, too, with the changes incredibly smooth and quick, whether going up or down.
What hasn't been quite addressed, however, is that the cars bulk still makes it feel a little unwieldy in the corners. Go in to a bend with pace and it has a tendency to lurch, not enough to make it unpleasant, but enough to make you reign in the speed at the next bend. But that isn't the A7 Sportback's forte - while it can handle the twisty stuff to a certain extent, it's much more suited to sitting back and enjoying an unflustered drive from A to B.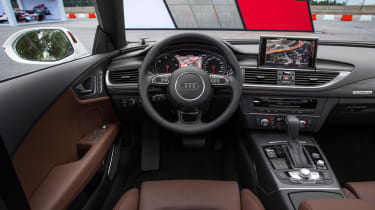 Other changes include a more angular Singleframe grille seen on other new models, updated exhausts, as well as more aggressive, squared-off front and rear bumpers. Then there's the optional Matrix LED headlights, which as well as improving visibility, just look plain cool, especially when the car is indicating.
The new engine is an excellent addition to the A7, and helps improve the classy coupe. It doesn't take it beyond a very good car, however, and there are still some minor afflictions holding it back – but it immediately become the pick of the range.