Manufacturers: 10 - 1
Our top 10 Driver Power manufacturers are the firms with the best cars and the best dealer back-up, too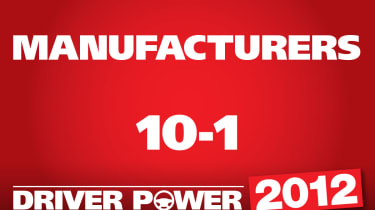 10. Volvo 
Overall rating: 84.43%2011 ranking: 8
Volvo has held on to its place in the manufacturers' top 10... just. There's only 0.04 per cent separating it from Subaru in 11th place – although the scores are all very close, with Porsche a mere 0.01 per cent ahead in ninth. You tell us Volvos are still the most comfortable cars around, and you were impressed with how practical and easy to drive they are, too. But owners aren't quite so taken by the dealer service – so it's clear where Volvo needs to improve if it wants to stay in the premier league next year.
9. Porsche 
Overall rating: 84.44%2011 ranking: 5
Porsche climbed three spots to take fifth place in our league table last year, but it's fallen four places in 2012. In fact, a strong dealer score is the only thing keeping the company in the Driver Power top 10. Even though drivers still rate Porsches as the best of the bunch for performance, handling and braking, the introduction of our new technology category has harmed the sports car maker's overall score. You don't think the gadgets on offer in Porsches are useful, easy to operate, innovative or particularly good value for money.
8. Mercedes 
Overall rating: 84.88%2011 ranking: 10
They'll be cracking open the champagne at Mercedes after the company turned the tables on Audi and BMW. Mercedes fell below its premium brand rivals in our manufacturer chart in 2011, but as they have dropped away – due to relatively poor dealer service ratings – Mercedes has consolidated its position in the top 10, rising by two places. Its cars were awarded high scores for build quality, performance, ride quality and comfort, while owners continue to be impressed by the service they receive from their local showroom.
7. Hyundai 
Overall rating: 85.34%2011 ranking: 4
For the first time in years, Hyundai didn't have a single car in the top five of the Driver Power Top 100, and this has contributed to its three-place fall down the manufacturer chart. Rivals would love to have problems like this, but Hyundai won't be happy. It's not the cars that are letting the company down: you gave its model range strong marks, while there were still an impressive two Hyundais in the top 20. However, your feedback on the dealers has dragged the overall manufacturer score down below those of Toyota and Honda.
6. Honda 
Overall rating: 85.46%2011 ranking: 12
A bittersweet result for Honda in 2012. The company has made up the ground it lost in our manufacturer chart last year, but despite climbing six places, it still trails its arch-rivals, Toyota and Nissan. The highlight for Honda in the Driver Power Top 100 was the second-generation CR-V, which surged an impressive 17 places to 12th. But all Hondas were ranked highly across the board. It's just that the company could have done better still: even though the dealer score has improved, you tell us the service on offer still isn't as good as rivals'.
5. Toyota 
Overall rating: 85.92%2011 ranking: 16
Accelerator fault? What accelerator fault? If any doubts remained about Toyota quality after the media storm surrounding 2010's recall, the company has eased them. It was 2012's second biggest climber, moving up from mid-table to the top five. Only Skoda beat it for build quality and reliability, and Toyota scored well in every other category. But what most impressed you was how far the dealer network was prepared to go to keep you happy – the company has clearly learned a thing or two about service from its luxury subsidiary Lexus, which regularly tops the charts here.
4. Nissan 
Overall rating: 86.16%2011 ranking: 11
Nissan's meteoric rise continues. It has built on the 14-place leap it made in 2011 by moving up a further seven places this year to sit pretty in fourth overall. That's right: two years ago, Nissan was 25th in our manufacturer chart. Owners are as impressed by the cars as they are by the dealers – there seems to be nothing Nissan does badly, as it picked up strong scores in all categories. So while Skoda, Lexus and Jaguar have looked unbeatable at the top of the chart over the past few years, who'd bet against Nissan breaking into the top three in 2013?
3. Jaguar 
Overall rating: 86.39%2011 ranking: 3
Another excellent performance from Jaguar, which has once again set itself apart from many of its premium rivals. As far as you're concerned, no other car on the road can match a Jaguar for ride quality and ease of driving. And you were impressed with the technology on offer, too – the company scored well in our new Driver Power category. But while owners were clearly pleased with their cars, the dealer network is going to have to raise its game if Jaguar is to keep its place on the podium next year.
2. Lexus 
Overall rating: 87.80%2011 ranking: 2
As ever, Lexus is nipping at Skoda's heels, desperate to reclaim top spot. The premium brand has scored well above average in almost every category we asked you to judge it on; it fell short only on running costs and practicality. If it can improve its performance in these areas, Lexus stands a good chance of toppling Skoda next year – because its dealers still set the benchmark by which all other makers are judged. In fact, you tell us the service on offer at your local showroom has improved over the past 12 months.
1. Skoda 
Overall rating: 88.59%2011 ranking: 1
Another year, another great performance from Skoda. The company was already celebrating after taking three of the top five places in the Driver Power 2012 Top 100, so it's no real surprise that it takes the manufacturers' crown again. No other maker impresses you so much with the reliability, build quality and practicality of its cars. You also gave Skoda great marks for running costs, performance, comfort and ease of driving. But while the cars still set the pace, the dealers are feeling the pressure, with Lexus upping its game. Will there be a change at the top in 2013?