Best cars: 10 to 1
The top 10 features four class winners and three new entries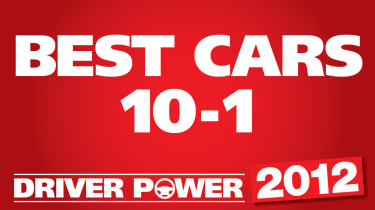 10. Volvo XC60 
Overall rating: 88.41%Years of manufacture: 2008-presentPrevious results: The XC60 hasn't appeared in previous surveys
What a way for the Volvo XC60 to make its Driver Power debut: a fine 10th place. A gold medal in the comfort chart shows just how much drivers enjoy sliding into the SUV's superbly contoured seats. A decent reliability record and fine ratings for ease of driving have also helped it to achieve an excellent overall rating of 88.41 per cent. But there's room for improvement: lacklustre handling takes the shine off the Volvo's record and steep running costs are a concern for owners, too.
9. Nissan X-Trail MkII 
Overall rating: 88.52%Years of manufacture: 2007-presentPrevious results: The X-Trail MkII hasn't appeared in previous surveys
Yet another newcomer enters close to the top of the chart. The MkII X-Trail may be nearing the end of its production run, but encouragingly for Nissan, it's still getting the thumbs-up from 4x4 owners. Drivers can't get enough of the off-roader's spacious cabin: they find its durable design as good today as it was when the car launched. Thanks to constant revisions and equipment upgrades, the X-Trail scores well for technology and is in the top 20 for reliability, too.
8. Volkswagen Golf MkVI 
Overall rating: 88.75%Years of manufacture: 2009-presentPrevious results: 2007/NR 2008/NR 2009/NR 2010/4 2011/10
The VW Golf has made a habit of punching above its weight and has always crossed traditional class boundaries. The MkVI car upholds family honour with a fine scorecard that results in a lofty average rating of 88.75 per cent – good enough for eighth overall. Consistency in all categories rather than stand-out excellence in one area is the key to its success. Great brakes and impressively low running costs are highlights. Practicality is the only part of the Golf's repertoire that you rate merely as average.
7. Toyota Prius MkIII 
Overall rating: 88.81%Years of manufacture: 2009-presentPrevious results: The Prius MkIII hasn't appeared in previous surveys
All hail the king of the hybrids – the Toyota Prius has proven its abilities beyond all doubt. The MkII came a fine 17th overall, but the latest car is even closer to the top. Second place for running costs shows the Prius delivers on the promise of its frugal on-paper figures, while fifth for ease of driving is evidence of how the light steering, auto box and great visibility take the strain out of the everyday city commute. Now all Toyota needs to do is offer more performance and improve the suspension.
6. Nissan Qashqai MkI 
Overall rating: 88.87%Years of manufacture: 2006-presentPrevious results: 2007/NR 2008/NR 2009/56 2010/41 2011/5
Mixing SUV looks with the appeal of a family hatch appeared to be a risk for Nissan. But the Qashqai has proven a runaway success in its six years on sale – and a second year within touching distance of the Driver Power podium shows just how happy buyers have been with their British-built cars. The Qashqai was voted into ninth place for its smooth ride quality, bettered only by a fantastic fourth for overall technology – since a major facelift in 2010, this model has been packed full of equipment.
5. Jaguar XF 
Overall rating: 89.40%Years of manufacture: 2008-presentPrevious results: 2007/NR 2008/NR 2009/1 2010/2 2011/3
Since being crowned number one in Driver Power 2009, the Jaguar XF has been overtaken by some very capable cars in our survey. Still, fifth overall is a fantastic finish in 2012. The XF remains one of the best real-world drivers' cars: it took gold medals for performance and braking, fourth positions for ride and handling and a bronze medal for ease of driving. There's nowhere owners would rather be than behind the wheel. But such talent doesn't come cheap: the Jag is an expensive car to run.
4. Skoda Octavia MkII 
Overall rating: 89.91%Years of manufacture: 2004-presentPrevious results: 2007/1 2008/1 2009/3 2010/3 2011/4
Second-generation Octavia has never been far from the top of the chart – it won Driver Power in 2007 and 2008. This is a brilliant package, blending all the best bits of the VW Group's family cars with a dose of Skoda value. Whether drivers opt for the punchy vRS, the efficient GreenLine or any model in between, the Octavia is great to own. Highest rating is for practicality, where the vast boot and generous legroom are good enough for a silver medal. Want a family car? Don't overlook this talented Skoda.
3. Mercedes E-Class MkIV 
Overall rating: 90.03%Years of manufacture: 2009-presentPrevious results: 2007/NR 2008/NR 2009/NR 2010/NR 2011/7
In 2011, Mercedes' MkIV executive car only just finished ahead of its predecessor, but with another year's miles under its wheels it's endeared itself to UK drivers even more. A fantastic third place puts the E-Class' quality into sharp focus. The three best scoring categories are reliability and build, brakes and ride, with owners praising the Mercedes' seamless engineering and pursuit of perfection. Comfort and ease of driving were also marked highly enough for top-10 finishes. It's also fascinating to see that in the hands of everyday owners, the E-Class' handling has exceeded expectations, bettering the scores awarded to BMW's sportier 5 Series. If there's one thing preventing the Mercedes from taking an even higher position in our 2012 chart, it's the Achilles' heel of many premium models: running costs. Although the E-Class is a brilliant all-round executive express, excellence at this level comes at a price…
2. Skoda Superb MkII 
Overall rating: 92.35%Years of manufacture: 2008-presentPrevious results: 2007/NR 2008/NR 2009/NR 2010/NR 2011/1
After exploding on to the Driver Power scene last year and grabbing the big prize, the Skoda Superb has taken one step down the podium this year. Second place is far from a disaster, however, and this big family holdall is still one of the most appealing cars on sale in the UK. A top five position in half of the categories is a great achievement for the company's largest model; in fact, it doesn't place lower than 16th in any section. The hatchback and estate car's lowest rating comes in the handling chart, although the majority of its rivals would be more than happy with 16th in this category. Practicality is at the centre of the Superb's appeal. The dual-opening boot/tailgate is a big hit in the real world, and the option of a vast estate version means there are few better ways to transport passengers and their luggage in comfort. The only disappointment for the Superb is that it didn't hold on to first for a second year.
1. Skoda Yeti 
Overall rating: 92.47%Years of manufacture: 2010-presentPrevious results: 2007/NR 2008/NR 2009/NR 2010/NR 2011/2
The Skoda Yeti has gone one better than last year to win Driver Power 2012 – and it's a monumental achievement. Knocking its big brother the Superb off the top of the chart just goes to show what a fantastic car this is, offering the best of many classes to a huge variety of buyers. The Yeti's breadth of abilities impressed us so much that we made it the Auto Express Car of the Year in 2010, so it's great to see that it's just as impressive to those who are living with it every day. The Skoda finishes first in no fewer than three categories, and proves that you can have your automotive cake and eat it. A gold medal for reliability means owners can sleep easy, while the crossover has also done the impossible by sweeping sports cars aside to top the handling chart. It finished first in the ease of driving category, too. The Yeti is full of gadgets, yet cheap to run, and puts in a flawless Driver Power performance.