Best cars: 40 to 31
The countdown continues with our compact executive and sports car champions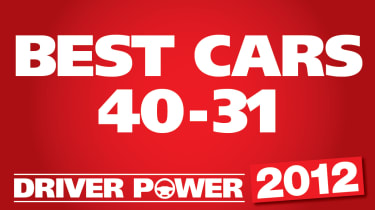 40. BMW 5 Series MkV
Overall rating: 85.58%Years of manufacture: 2003-2010Previous results: 2007/5 2008/7 2009/27 2010/22 2011/43
A three-position jump shows the previous 5 Series is improving with age. As the model swaps from new to used buyers, a fresh crop of motorists is enjoying the fantastic rear-wheel-drive handling, effortless performance and strong brakes that have made it a hit with keen drivers. Yet while the 5 Series is now cheaper to buy, don't expect maintenance, fuel, insurance and tax bills to drop. A dreadful 91st place in the running costs rank is evidence of some sizeable and unexpected bills.
39. Vauxhall Astra MkVI
Overall rating: 85.60%Years of manufacture: 2009-presentPrevious results: 2007/NR 2008/NR 2009/NR 2010/NR 2011/11
One of the biggest-selling cars in the UK has taken a tumble in Driver Power 2012. The Astra made a brilliant debut last year in 11th, but 12 months on the shine appears to have dulled on the hatchback. Despite a wide range of petrol and diesel options, performance has been disappointing for Astra drivers, while many also thought it would take less effort to drive. There's more praise for the brakes, which are good enough for 13th place, while the Astra's smooth ride puts many rivals to shame.
38. Honda Accord MkVII
Overall rating: 85.75%Years of manufacture: 2003-2008Previous results: 2007/NR 2008/NR 2009/20 2010/16 2011/31
Don't write off the previous-generation Accord just yet… Although a slip of seven places is never good news, used buyers should focus on the Driver Power category that matters most on the second-hand market: reliability and build quality. Without a manufacturer warranty to fall back on, it's crucial to invest in a durable used car. The Accord's reliability has improved, leading to a fantastic fourth place finish. Let's hope the current Accord can match this record when it makes its Driver Power debut.
37. Vauxhall Agila MkII
Overall rating: 85.77Years of manufacture: 2008-presentPrevious results: The Agila MkII hasn't appeared in previous surveys
Every car in the Driver Power chart is judged against the expectations of the people who bought them – that's why we can compare Porsches and Protons. So the Agila's debut in the list is a decent result. A fantastic ninth place for running costs is evidence of thrifty motoring, and is backed up by a solid build and reliability position. Even more impressive is a 21st place for handling – a result which is sure to raise eyebrows among the makers of models that failed to make the grade in dynamic categories.
36. BMW X5 MkII
Overall rating: 86.00%Years of manufacture: 2006-presentPrevious results: The X5 MkII hasn't appeared in previous surveys
It's been around for a while, but the latest BMW X5 has never been reported on by enough owners to make it into Driver Power. This year the sample size is robust, with drivers' collective views placing the SUV in 36th place. Take a look at the scorecard, and you'll see hits and misses. Third place for comfort is brilliant and 10th place for a 4x4 in the performance chart is just as impressive. But it comes at a price – 98th position in the running costs rank shows how expensive it can be to keep a luxury SUV on the road.
35. VW Scirocco MkIII
Overall rating: 86.18%Years of manufacture: 2008-presentPrevious results: 2007/NR 2008/NR 2009/NR 2010/NR 2011/17
The Scirocco places a stylish body on the chassis of the class-leading VW Golf family hatch, but it divides opinion. On the one hand, drivers can enjoy a fashionable sports car without big running costs, yet on the other, versatility is no match for the conventional model. The Scirocco illustrates this compromise perfectly – fantastic performance and handling, but one of the worst practicality ratings in the chart. Interestingly, the MkVI Golf on which it's based finishes considerably higher up.
34. Skoda Fabia MkII
Overall rating: 86.19%Years of manufacture: 2007-presentPrevious results: 2007/NR 2008/NR 2009/12 2010/17 2011/23
The Fabia is the one family member letting the side down. While it doesn't fail badly in any one category, owners appear to expect better ride quality, handling and braking from their great-value superminis. Thankfully, the Skoda's running costs remain among the best in the business, helping to prevent a further drop.
33. Ford Mondeo MkIV
Overall rating: 86.19%Years of manufacture: 2007-presentPrevious results: 2007/NR 2008/NR 2009/11 2010/20 2011/25
Yet another big-name model taking a Driver Power tumble this year is the latest Ford Mondeo. The car doesn't threaten the top of the chart in any area; its scorecard tells no horror stories, but reveals indifference among Mondeo owners. Apart from a decent 16th place for practicality – no surprise given the vast legroom and luggage space in the hatchback and estate versions – no other ratings are particularly impressive. Lower servicing and parts prices would help it do better.
32. Vauxhall Meriva MkII
Overall rating: 86.27%Years of manufacture: 2010-presentPrevious results: The Meriva MkII hasn't appeared in previous surveys
The big question everyone's asking about the Vauxhall Meriva is: do the doors really work? The reverse-opening rear doors mean there's no shortage of showroom appeal, but the bad news is that the innovative design doesn't seem to have scored many points. A disappointing 40th place for practicality is poor for a people carrier. The Meriva's main strength seems to be its stopping power, which owners reckon is altogether more impressive than its performance.
31. Renault Megane MkIII
Overall rating: 86.34%Years of manufacture: 2009-presentPrevious results: 2007/NR 2008/NR 2009/NR 2010/5 2011/33
Again, the Renault Megane fails to recapture the excitement of 2010's fifth place, although it's made two steps in the right direction since last year. The interesting news is that it's most pleasing on the road. A fine 17th place in the handling chart puts many sports cars to shame, while the same position for braking and a decent 37th for ride quality show real dynamic strength in depth. When you add low running costs to the mix, the Megane gets a lot right in the eyes of its owners.