Best cars: 70 to 61
Up next there's a few big-movers, with bad news for the SEAT and Honda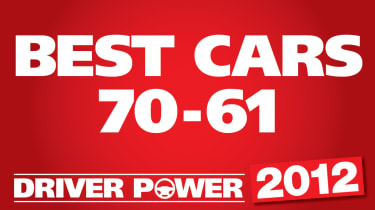 70. Lexus IS MkII 
Overall rating: 83.50%Years of manufacture: 2005-presentPrevious results: 2007/NR 2008/NR 2009/18 2010/24 2011/46
How the mighty have fallen. The original Lexus IS finished first overall in Driver Power 2003, so we expected the second generation to be equally well received by UK drivers. Yet despite its superb level of advanced technology and ease of driving, the latest IS has never lived up to the MkI. This year's drop to 70th place won't please Lexus. Take a look at the scorecard, and it's clear owners have run out of patience with the big bills they face and a severe lack of practicality.
69. Vauxhall Corsa MkIII 
Overall rating: 83.50%Years of manufacture: 2006-presentPrevious results: 2007/NR 2008/NR 2009/55 2010/84 2011/66
It's three places down on last year, but Vauxhall's top-selling supermini is still well ahead of its lowly 2010 position: 84th. There are thousands of Corsas on the road, so this sample includes everything from the VXR hot hatch to economical green versions. But the car trails in one key area: performance. A poor 93rd place here shows most drivers want a far more responsive accelerator pedal. Other ratings are all fairly average, with the high point being 43rd in the running costs ranking.
68. Honda Civic MkVIII 
Overall rating: 83.52%Years of manufacture: 2006-2011Previous results: 2007/4 2008/15 2009/48 2010/43 2011/61
Want to see how opinions can change? Look at the Driver Power history of Honda's recently replaced Civic. Back in its debut year of 2007, it was at the top of its game, finishing a brilliant fourth overall. But it's been a downward spiral in all but one Driver Power survey since. Owners seem to have grown tired of the cabin's comfort, plus the unforgiving ride – only two models are rated worse for smoothing out broken tarmac. Plus, a lowly 65th place in the reliability and build ranking will surprise Honda.
67. Honda Jazz MkI 
Overall rating: 83.71%Years of manufacture: 2001-2009Previous results: 2007/10 2008/8 2009/26 2010/25 2011/28
As if the Civic in 68th place wasn't bad enough, Honda's first-generation Jazz is 67th. Time has caught up with our 2004 Driver Power winner, and the arrival of our new technology category is key to the car's demise. Two of its strongest categories – reliability and build quality – have also been combined, which reduces their contribution to the Honda's overall average. At least the Jazz's amazing practicality is still turning heads... although they may be bobbing to the poor ride.
66. Volkswagen Touran 
Overall rating: 84.16%Years of manufacture: 2003-presentPrevious results: 2007/28 2008/26 2009/NR 2010/53 2011/42
It's been a tough year for a lot of big names, and here's another brand taking a tumble. The Volkswagen Touran has slumped two-thirds of the way down the chart thanks to an uninspiring set of scores from the people who live with the compact MPV every day. Practicality is the key selling point for this class of car, though, and 14th place shows that the Touran has space in the right places for everyday family transport. Unfortunately, a disappointing score for build and reliability underlines its demise.
65. SEAT Leon MkII 
Overall rating: 84.26%Years of manufacture: 2005-presentPrevious results: 2007/40 2008/41 2009/65 2010/18 2011/20
The Leon has gone from Driver Power hero to zero in one year, sliding down the chart by 45 places. It's difficult to make sense of the compact family hatch's fall from grace, but practicality ratings have slumped, indicating a growing dissatisfaction with the interior and boot space. Frustration with the Leon's ride quality is also clearly a serious problem for drivers. An 11th place finish for performance is the SEAT's strongest showing, but there are many issues to address.
64. Ford Fiesta MkVI 
Overall rating: 84.29%Years of manufacture: 2008-presentPrevious results: 2007/NR 2008/NR 2009/NR 2010/35 2011/50
The latest Ford Fiesta needed to make a Driver Power U-turn after slipping 15 places last year. But the supermini has carried on down the chart, ending up in 64th place and struggling to make an impression on ever more capable rivals. The Fiesta's pin-sharp steering and body control haven't gone unnoticed, and running costs are well within the expectations of Ford drivers. However, a question mark over build and reliability, plus low marks for performance and braking, have taken their toll on the Fiesta's average.
63. Toyota Auris 
Overall rating: 84.30%Years of manufacture: 2007-presentPrevious results: 2007/96 2008/96 2009/74 2010/75 2011/70
Finally, some good news. While all around it have fallen from higher positions, the Auris has climbed the chart. A decent top-third finish for reliability and build shows Toyota's solid reputation is intact, but in all other areas there's one word to sum up this car: uninspiring. It's always struggled to get noticed in the compact family sector, and the Auris still fails to enthuse owners enough to award high marks in any one area. Awkward controls and sluggish performance are the biggest complaints.
62. Volvo C30 
Overall rating: 84.32%Years of manufacture: 2007-presentPrevious results: The C30 hasn't appeared in previous surveys
It's the first time the Volvo C30 has appeared in the Driver Power charts, and its scorecard reveals just what living with the stylish three-door has in store. On one hand, owners love the comfortable driving environment, complete with sumptuous seats and an attractive centre console layout. Just don't try to carry more than one passenger or a few bags – only one model is rated lower in the practicality category. More encouraging news for Volvo is a decent 25th place for overall technology.
61. Citroen C4 Picasso 
Overall rating: 84.37%Years of manufacture: 2007-presentPrevious results: 2007/NR 2008/NR 2009/37 2010/30 2011/40
Another French car that's tumbling down the Driver Power chart. A slide of 21 places from 40th last year is disappointing for one of the UK's most popular compact MPVs. The C4 Picasso is bought for its versatility, which explains a strong fourth position in the practicality ranking. But while the Picasso's cabin is superbly designed, owners have told us that the build quality and reliability leave a lot to be desired – 87th place in this all-important category is simply unacceptable.