Best cars: 90 to 81
It's bad news for a few big-sellers, with the Clio, C-MAX, Panda and 1 Series falling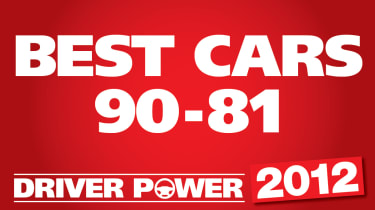 90. Volkswagen Polo MkIV 
Overall rating: 80.96%Years of manufacture: 2002-2009Previous results: 2007/85 2008/58 2009/98 2010/95 2011/91
Is each used VW Polo sold with a pair of rose-tinted glasses? Despite enduring second-hand appeal, the evergreen MkIV version of VW's supermini has once again been given a pasting in the Driver Power chart. The popularity of the entry-level three-cylinder petrol Polo has doubtless contributed to a decent 34th position for running costs and a poor 91st for performance, while a lack of advanced technology and an uncomfortable interior have prevented the car from making it out of the bottom 10.
89. Renault Clio MkIII 
Overall rating: 81.18%Years of manufacture: 2005-presentPrevious results: 2007/49 2008/46 2009/71 2010/54 2011/67
Few small cars have proven as popular, but it looks as if time's running out for the latest Clio. An overall rating of 89th is the Renault's worst yet, and is down to a lack of sparkle in any area. Common complaints include the uncomfortable cabin, awkward driving position and a lack of the latest technology. The only thing preventing the car from sliding further down the chart is a mid-table performance ranking. The new Clio, which is set to debut at September's Paris Motor Show, can't come soon enough.
88. Ford C-MAX MkI 
Overall rating: 81.18%Years of manufacture: 2003-2010Previous results: 2007/42 2008/51 2009/85 2010/66 2011/69
Oh dear – two years of improvement have been undone with a big drop for the original Ford C-MAX. It's left floundering by the lack of cutting-edge tech and some surprisingly low ratings for ease of driving. Reliability and build quality have left a lot to be desired, so it's no surprise to hear that many MkI C-MAX owners are finding themselves on the receiving end of some unexpectedly large bills… Let's hope the second-generation C-MAX fares better when it makes its Driver Power debut.
87. Fiat Panda MkII 
Overall rating: 81.18%Years of manufacture: 2003-2011Previous results: 2007/41 2008/48 2009/NR 2010/60 2011/72
It's a bumpy ride for the Fiat Panda in Driver Power. The car started off in the top half of the chart in 2007 and 2008, but has tumbled down the ratings over time. Still, you tell us the little five-door is one of the cheapest cars to keep on the road in the UK, managing a fine 12th position in the running costs ranking. The trouble comes in the dynamic categories, where the Panda is held back by its performance, braking and ride quality. Add poor comfort to the mix, and the car finishes in 87th position overall.
86. Volvo XC90 
Overall results: 81.24%Years of manufacture: 2002-presentPrevious results: The XC90 hasn't appeared in previous surveys
If you like your Volvos big, desirable and all-wheel drive, you'll pay for the privilege. That's the message from XC90 drivers, who have voted the car into last place in the running costs ranking. Those big bills could be partly due to the car's questionable reliability record, with half of the XC90 owners taking part in our survey reporting some sort of fault over the last three years. The unresponsive handling has also come in for criticism this year; the one saving grace is a fine ninth place in the practicality category.
85. Vauxhall Vectra MkII 
Overall rating: 81.29%Years of manufacture: 2002-2009Previous results: 2007/65 2008/69 2009/96 2010/87 2011/86
Second-hand versions of the MkII Vauxhall Vectra can be picked up for a song, so we can see why drivers might be tempted. However, the message from owners responding to Driver Power 2012 isn't all positive. A worrying 92nd position in the build and reliability chart points to some mechanical weaknesses. Plus, poor brakes, an uncomfortable cabin, awkward controls and a lack of innovative technological touches lead to only one verdict on the Vauxhall: mediocre.
84. Citroen C4 MkI 
Overall rating: 81.29%Years of manufacture: 2004-2010Previous results: 2007/54 2008/60 2009/79 2010/71 2011/92
Some good news for Citroen – the previous-generation C4 has made a decent step in the right direction in Driver Power 2012. Now it's viewed as a second-hand model, it seems the expectations of C4 owners are more in line with its abilities than when it was competing with new rivals. The diesel engines are proving a hit with thrifty drivers, as the car achieved a top half finish for running costs, while the futuristic cabin and digital dash have contributed to a mid-table technology rating.
83. Citroen Xsara Picasso 
Overall rating: 82.08%Years of manufacture: 2000-2010Previous results: 2007/64 2008/80 2009/NR 2010/83 2011/73
The Citroen Xsara Picasso had an amazing 10-year production span, and is a long-standing favourite for anyone needing to transport their family on a budget. It's appeared in Driver Power 10 times, but repeats its lowest-ever position this year. Uninspiring handling and worrying brakes are your biggest gripes, while you tell us performance is sluggish, too. Used buyers should be wary of the Picasso's 79th place for build and reliability, but it fares better for running costs and practicality.
82. BMW 1 Series MkI 
Overall rating: 82.09%Years of manufacture: 2005-2011Previous results: 2007/76 2008/40 2009/39 2010/55 2011/58
Having been a regular around the middle of the Driver Power chart for the past four years, the previous generation of BMW's smallest car has slid down the rankings. So what's gone wrong? A lack of standard equipment has led to a low position in the new technology category, while limited interior space, stiff suspension and a gearbox that takes precision to shift smoothly have all led to low marks from frustrated drivers. Disappointing.
81. Fiat 500 
Overall rating: 82.21%Years of manufacture: 2008-presentPrevious results: 2007/NR 2008/NR 2009/86 2010/48 2011/79
Fiat will have been hoping last year's lowly rating was a temporary blip for the 500, but it looks as though the mud is sticking to the popular city car. Let's start with the good news: there aren't many cheaper cars to run. Yet while your bank balance won't suffer if you have a 500, you'll need to put up with a very stiff ride and the practicality limitations that come with owning a city car. It's also disappointing to see the Fiat manage only 71st in the build quality and reliability chart.