Best cars: 100 to 91
Our countdown of the top 100 kicks off here, with the Land Rover Defender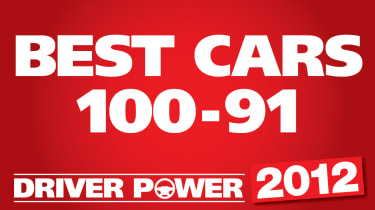 100. Land Rover Defender 
Overall rating: 73.38%Years of manufacture: 1990-presentPrevious results: The Defender hasn't appeared in previous surveys
An unhappy debut in Driver Power. Few will dispute the Defender's enduring appeal as a rough and tumble off-roader that's ready for anything, but judged by the standards of 2012, it comes up short in every category. Last place overall for handling, braking, comfort, ease of driving and technology is not surprising and shows the legendary Landie's appeal is wearing thin. While practicality is impressive, poor reliability and build quality seal the 4x4's fate at the bottom of the chart.
99. Peugeot 307 
Overall rating: 75.34%Years of manufacture: 2001-2008Previous results: 2007/91 2008/88 2009/NR 2010/98 2011/95
A long Driver Power history charts the demise of the Peugeot 307 compact family car. There's little for owners of the hatchback to smile about, with their ratings pushing it even closer to the bottom of the chart. For a model that sold in huge numbers in the UK, it's surprising to see mediocre scores for everything from sluggish performance to a lack of memorable technology in the cabin. Only two models are rated lower for reliability and quality and it's hard to see how the 307 will improve.
98. Peugeot 206 
Overall rating: 75.49%Years of manufacture: 1998-2008Previous results: 2007/97 2008/100 2009/NR 2010/NR 2011/NR
After the 307 in 99th place, here's more bad news for Peugeot – this time the old 206 is coming back to haunt it. The supermini finished last overall in 2008, and has been absent from the top 100 for the past three years. It's now returned in a lowly 98th, with poor ratings across the board. While 76th for running costs is nothing to celebrate, it marks the high point in the 206's scorecard. In all our other categories – including the new technology chart – the car finishes towards the bottom.
97. Renault Megane MkII 
Overall rating: 77.90%Years of manufacture: 2002-2009Previous results: 2007/84 2008/83 2009/NR 2010/91 2011/90
A drop of seven places compared to last year is down to one thing – the Megane's poor reliability and build quality score. No model received a lower rating in this category, with almost two-thirds of drivers reporting a fault in the last three years. Of those, 38 per cent were electrical, while a worrying 15 per cent of owners experienced an engine issue and 11 per cent had to get their suspension fixed. With poor ratings in other areas, the Renault is heading in only one direction – down.
96. Ford Fiesta MkV 
Overall rating: 78.15%Years of manufacture: 2002-2008Previous results: 2007/78 2008/75 2009/89 2010/96 2011/84
A brief jump up the chart last year was a short- lived reprieve for the previous-generation Fiesta, which is back in the bottom five per cent once again. Despite the supermini's reputation for sharp handling, owners tell us it doesn't deliver – 95th for performance, 96th for braking and 90th for ride tell a depressing tale. A distinct lack of innovative technology has done more damage to the car's ranking. With thousands of MkV Fiestas on the road, there are a lot of disgruntled owners.
95. Smart ForTwo MkII 
Overall rating: 79.09%Years of manufacture: 2007-presentPrevious results: The ForTwo MkII hasn't appeared in previous surveys
It's the first time the MkII Smart ForTwo has featured in the Driver Power chart, but it's not managing to live up to its predecessor. While the original Smart last charted in 2006 in a respectable 68th position, the latest city car is proving too compromised to reap glowing ratings. Last place overall for ride quality shows the ForTwo's weakest area, with its tiny wheelbase and firm set-up failing to iron out bumpy surfaces. At the other end of the scale, it's achieved a great fourth for running costs.
94. Renault Scenic MkII 
Overall rating: 79.73%Years of manufacture: 2003-2009Previous results: 2007/69 2008/84 2009/91 2010/80 2011/87
The MkII Renault Scenic and Grand Scenic MPVs record their lowest-ever Driver Power rating this year, and are clearly struggling to find favour with drivers frustrated by patchy build, poor reliability and dismal performance. Too much body roll and an inability to entertain have also resulted in a lowly 98th in the handling chart. Still, the Scenic upholds its reputation for being able to pack lots of people and luggage into a relatively compact wheelbase – you voted it into 19th place in the practicality chart.
93. Vauxhall Astra MkV 
Overall rating: 80.04%Years of manufacture: 2004-2009Previous results: 2007/63 2008/70 2009/92 2010/82 2011/88
There isn't always strength in numbers – as here's another UK best-seller languishing in the bottom 10. The MkV Vauxhall Astra made a mid-table debut in Driver Power in 2005, but hasn't been able to match that position since. Nearly half of all MkV Astra drivers reported a breakdown of some kind in the last three years, so a lowly 91st in the build and reliability category was inevitable. The highest point on a disappointing scorecard is 69th position for acceleration and straight-line speed.
92. Nissan Micra MkIII 
Overall rating: 80.08%Years of manufacture: 2003-2010Previous results: 2007/71 2008/66 2009/NR 2010/NR 2011/51
The MkIII Micra shows how quickly time can catch up with a car once it's moved from main dealer showroom to second-hand forecourt. Nissan's recently replaced supermini never seemed to capture the imagination of buyers like its nineties predecessor, and it's now suffered a big fall from 51st to 92nd. Flat seats and limited headroom in the rear have led to the Micra's worst rating of 98th place in the comfort rank, while a worrying 84th for build quality and reliability is little better.
91. SEAT Ibiza MkIV 
Overall rating: 80.83%Years of manufacture: 2008-presentPrevious results: 2007/NR 2008/NR 2009/NR 2010/NR 2011/64
The introduction of a technology category for 2012 has thrown up some interesting results, causing many models to take an unexpected tumble down the chart. That could explain why the current SEAT Ibiza has dropped 27 places and into the bottom 10. A ranking of 80th in the new category has clearly played a part in this, but 95th for build and reliability will give bosses genuine cause for concern. Only decent running costs have saved the SEAT from a more embarrassing fate.