BMW M4 CS - Best track day cars
The M4 CS carries a hefty premium over the standard 4 Series.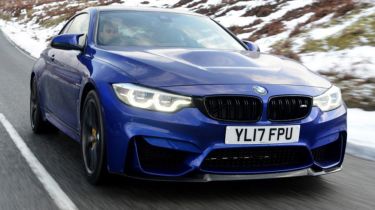 Price: £87,150
The M4 CS carries a hefty premium over the standard 4 Series, but that is no surprise when you consider it comes with a raft of equipment that elevates the cars performance well ahead of the standard model, and also higher than that of the regular M4. The CS will get from 0-62mph in 3.9 seconds and keep going to an electronically limited top speed of 174mph.
The 3.0-litre turbocharged straight six produces 454bhp and 600Nm of torque, which is 10bhp and 50Nm more than the M4 Competition Pack respectively. Another feature which has been dialled up is the exhaust note. The CS has a more aggressive, and appealing sound than before.
Changing gear is done through BMW M's seven-speed double-clutch transmission, and the lumps and bumps of your local track are handled via a suspension system which is derived from the M4 Competition Pack. To make sure you don't become too acquainted with a tyre wall, it comes with a set of semi-slick Michelin Pilot Sport Cup 2 tyres to keep you on the straight and narrow.
One point to note though, there will only be 3000 M4 CS' made, and rarity is not something everyone wants on a tightly packed starting grid...
Best track day cars 2018
8. Toyota GT 86
9. Ariel Atom
10. BMW M4 CS