Could you live with an electric car? The pros and cons of owning an EV today
According to the experts, the UK's EV revolution is just around the corner. But can an electric car fit into your life today?
We catch up with four drivers who've switched to electric power, and see what difference it's made in the real world. They ranged from an east London business owner who drives a Nissan e-nv200, to a gardening enthusiast from Exeter who transports her cuttings in a Kia Niro plug-in hybrid.
Ben Farr - VW Golf GTE
Ben lives in Leeds but travels around 250 miles a week to work in Derby, so a plug-in hybrid is the perfect solution.
A plug-in was ideal for Ben Farr for many reasons. Ben, who works as a quality surveyor in the construction industry, needed a new company car but didn't want to pay much in company car tax. "My work offered a few choices, and I went for the Golf GTE," he told us.
The car's nine per cent Benefit-in-Kind rate means Ben pays about £35 in company car tax – less than half what he'd have paid for the diesel Golf he was considering.
While Ben is from Leeds, he spends Monday to Friday in Derby for his work. This means he commutes around 250 miles a week. "On longer distances the plug-in makes less sense, but it's still pretty efficient," he said. "I get about 55mpg from the 1.4-litre petrol engine alone."
However, it's in Derby where the plug-in platform really works. Ben's daily commute to the construction site is around four miles, and he explained it's all done on electric power, adding: "My GTE gets around 22 miles of EV range, so I can easily go back and forth in EV mode."
He charges the car at home and work, so the only time he uses the petrol engine is on the motorway run back to Leeds. "Every week it costs me around 4-5p per mile; in my old BMW 116d it used to cost around 10p," Ben said.
His job involves a lot of travelling – about 20,000 miles a year – but the GTE is an ideal fit. He told us: "In cities you can go into zero-emissions mode, and it's decent on motorways, too." Leeds and Derby are big on EVs, giving him many perks over regular drivers. "Leeds has an ultra-low emissions vehicle parking permit, so I pay far less or nothing at all for parking in many bays," he said.
Having owned his Volkswagen since last April, he still has a few years before his lease comes to an end, but Ben is already eyeing his GTE's plug-in replacement.
"The BMW 330e looks very tempting," he told us.
Maggie Savory - Kia Niro
Based in Black Horse, Exeter, Maggie bought her Kia Niro 2 hybrid new last year, and covers 4,000 miles annually.
Jumping into hybrid ownership was far from an impulse decision for Maggie Savory. She told us she spent around 18 months searching for the right car to replace her eight-year-old 1.4-litre Skoda Fabia, but when she saw the Niro her mind was made up. "My local dealer Marsh Kia in Exeter was going to have the car from 1 September, so I went and put my name down on the waiting list," she said.  
The low running costs and CO2 emissions of the hybrid appealed to the former environmental worker for Natural England. "I had owned my diesel Fabia for eight years, and at the time I bought it diesel seemed like the best choice," she explained. "Now it's electric."
The 427-litre boot in the Niro also stood out for Maggie, who is a keen gardener and transports green rubbish to her local dump a few times a week.
Since taking delivery, Maggie has done around 4,000 miles in the car, and says her mileage will definitely go up. Even so, there shouldn't be a rise in costs, because the Niro is proving far more economical than her old Skoda.
"I get around 63mpg, and have seen about a 20 per cent reduction in fuel costs," she said. That's not the only saving she's making; because she bought her car before April's new Vehicle Excise Duty rates came in, she pays zero road tax, too.
A highlight for Maggie has been how easy the Niro is to drive. "It's a very relaxing environment to be in," she told us, "and I now try to maximise the car's eco-performance on each journey." This is made more simple by the Niro's dashboard, which features a green 'tree' that grows the better you drive. She added: "At the end of the trip it lets you know how well you've driven – sort of like a telematics box for the environment."
The only thing Maggie is missing from her previous car are the boot hooks and straps – these gave her old Fabia an edge over the Kia on practicality – but otherwise she doesn't ever see herself returning to diesel or petrol power. "I wouldn't go for a full EV just yet, because they're still a bit pricey, but could see myself switching to a PHEV in the future," she said.
Chris Pickard - Toyota Prius PHEV
Chris lives in Torworth, near Retford in Notts, and covers 11,000 miles a year. He bought his 2013 Prius Plug-in used.
Chris Pickard is different from our other readers, because he bought his electrified car second-hand. Reliability was crucial to him, and buying used obviously brings more risk, but his 2013 Toyota Prius Plug-in has been trouble-free.
"I bought it 18 months ago with 21,000 miles, and have done 16,500 miles since," Chris told us. Apart from regular servicing, Chris has never had to visit the dealer. Toyota's five-year warranty has also brought real peace of mind.
This plug-in Prius is Chris's first PHEV, but it isn't his first hybrid, or indeed his first Prius. The retired PR manager told us he's owned two conventional hybrid versions of the car in the past. "When the PHEV came out, the quoted 15.5-mile electric range didn't seem that impressive, but it made all the difference for me," he explained.
Although Chris only gets around 13 miles of EV range from the battery, he told us it's had a huge effect on his fuel consumption. "My economy is up from 65mpg in my normal Prius to 110mpg in the plug-in version, thanks to the extra miles I get using only electric power," he said.
Chris often drives from his home near Retford, Notts, to Sheffield and likes the fact that he can switch the car to hybrid mode when driving there, and to full EV mode in the city. But he's taken his Prius Plug-in further afield this year. In February he drove to Spain for a holiday, covering more than 2,400 miles. "The whole trip was very easy," he said, adding that the Prius's 48-litre fuel tank was big enough to cover the long motorway jaunts.
While Chris has been a hybrid owner for years, he sees himself going fully electric in the future, if the range is there. "With a fully electric car it's all about range," he said. "I do long day trips, so I need hundreds of miles."
Max Bergius - Nissan e-NV200
Businessman Max lives in Tower Hamlets, east London, and uses his Nissan e-NV200 for smoked fish deliveries.
MAX Bergius started his own fish-smoking house in Hackney, east London, a year ago, and as his business took off, he needed a van to start supplying the Michelin star restaurants among his clientele. "I started looking around for vans, and came across the e-NV200," he said. "Nissan loaned it to me for four days to get a feel for it."
This was all it took for Max to become a full EV convert. "Around London, the e-NV200 is a no-brainer," he told us. "I don't understand why more people don't drive one."
Max usually covers around 120 miles a week, making deliveries to various customers. "Many of these restaurants are very conscious of who they do business with," he said. "Being a start-up, image is a big thing, and driving an electric car certainly helps." To keep his fish in good condition in transit, Max had to engineer his own cooling system; conventional refrigerators run on an alternator, which his car doesn't have. "Instead, I use temperature-controlled coolboxes with a data-logger to record the temperature," he told us. But he expects this to be only temporary as the number of EV vans on the road grows.
Max doesn't feel like he's a typical London 'white van driver', though. "Driving the e-NV200 is nothing like driving a typical van," he said. "It's very 'zen-like'." Another aspect that keeps Max happy is how cost-effective the NV200 has been. "With parking permits, fuel costs and the Congestion Charge, I calculated that in a year I save more than £4,500 compared with a regular diesel van," he explained.
But charging is an issue. Max has no off-street parking at home, so has to rely on the few charging points near work. He's even signed up to a new council scheme that aims to convert street lights. "The money for charging infrastructure is there, so I want to see more investment made," he said.
While improving the infrastructure is a necessity for Max, so is electric vehicle funding, as he claims that he wouldn't have been able to buy the car without support from the Government and local councils.
The Government's Plug-in Car Grant knocked £4,500 off, but Max got another £2,000 towards the car from the Zero Emissions Network (ZEN), a tri-council fund set up by Islington, Hackney and Tower Hamlets councils that helps businesses reduce emissions and save money by buying an electric vehicle. He wouldn't go back, though, telling us: "In London, I wouldn't consider anything other than electric any more; that's how impressed I've been with the tech."
Have you considered owning an EV or do you own one already let us know in the comments?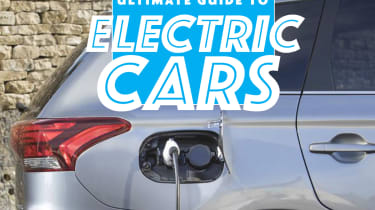 Get the latest electric car news, reviews and analysis on DrivingElectric.com