The BIG car news highlights of 2018
We explore the best car news stories that rocked the automotive world in 2018
October
Covers finally come off BMW's long-awaited new 3 Series in the autumn, plus we name our top used buys
BMW 3 Series is go
Few models define their sector as much as the BMW 3 Series. After Auto Express's pre-production drive of the seventh generation of the car (codenamed G20) in August, the wraps finally came off the production model at October's Paris Motor Show.
Larger than its predecessor but still slightly shorter than the Audi A4, the latest 3 Series sits on BMW's CLAR architecture – a modular set of components that already underpins the likes of the 5 Series. The new, more modern platform has allowed the maker to trim some weight from the 3 Series while using the increase in size to deliver improved packaging and a little more boot space. Hydraulic bump stops, fitted to every car, aim to deliver the model's trademark agility with no real compromise on comfort.
The engine line-up remains focused on diesel power – still the mainstay of the executive saloon market – with a 320d offered in rear-drive and four-wheel-drive xDrive configurations, and a six-cylinder 330d on the way, too. There's a plug-in hybrid 330e in the range as well.
The 3 Series' exterior styling is evolutionary, but there are bigger changes in the cabin. Here, the car gets a big hike in interior quality, plus the latest version of BMW's iDrive infotainment system.
Wraps off T-Cross
Volkswagen has been relatively slow to join the small-SUV party, leaving the market open to the likes of the Nissan Juke, SEAT Arona and Citroen C3 Aircross. But that changed at the Paris Motor Show, with the official unveiling of the T-Cross.
In theory, this is an SUV version of the Polo, but in reality, the jump is bigger than that. Although the car shares plenty of the supermini's parts, including a platform, it's over 5cm longer and the driver sits more than 10cm higher. That's because VW has really tried to make the T-Cross a small SUV instead of a crossover – in looks if not off-road ability; all versions are front-wheel drive.
The engine line-up is stock VW Group fare, with a 1.0-litre three-cylinder petrol in a couple of states of tune and, as things stand and thanks to market trends, no prospect of the 1.6-litre diesel making it to UK showrooms. Mild-hybrid power is likely to be introduced at some point in the car's life, however.
Used Car Awards
The latest news and new car reviews are our focus at Auto Express, but we love a second-hand bargain – and thanks to our annual Used Car Awards issue, buyers were spoiled for choice. We picked 18 individual category winners, along with an overall champ.
There was something here for everyone, from city cars to compact executives, and hot hatchbacks to hybrids. We even included how much you should pay on finance, with deals from our sister site, BuyaCar.co.uk.
There could only be one winner, though, and this year it was the Jaguar XE. The fine-handling compact exec has shed a lot of value in the short time it's been on sale, so you can pick up a tidy example with not many miles for as little as £12,000.
Launch of DrivingElectric.com
Electric cars are appearing on the shortlists of more and more buyers, so the publisher of Auto Express, Dennis, decided to give motorists more in-depth knowledge on what to look for with a new, dedicated website, called DrivingElectric.com.
The site contains EV news and reviews, and plenty of content designed to take the mystery out of buying, owning and running an electrified vehicle.
Concern over NCAP parts marking
Safety experts said they'd been made "very suspicious" after finding airbag modules and Isofix child-seat mounts marked "For crash test only" on submitted cars.
Euro NCAP explained it was "mindful that makers might fit non-standard equipment for our tests". The Society of Motor Manufacturers and Traders said marked parts were necessary because cars are tested early in the production process.
Defender spied
Reinventing the Defender has occupied some of the top minds in the auto business for the best part of a decade. But now the successor to the legendary 4x4 is on the path to production in 2020 – and prototypes are starting to drive out of the gates at Jaguar Land Rover's test facility on a regular basis.
We got our first glimpse of the all-new Defender in October, with JLR's engineering chief Nick Rogers clearly visible at the wheel. Indeed, Land Rover was pretty brazen about the car's first appearance in near-production form; confident that our spies would snap the 4x4, the firm initiated a social media storm by incorporating a hashtag into the usual disguise pattern. It even commented on the shots, confirming: "The Defender programme is progressing well and has reached an exciting stage of its development."
The car's profile was clearly visible, confirming that it's not about to lose its boxy looks, despite a switch to a more modern aluminium chassis. All examples will be 4WD, and mild-hybrid tech looks set to feature in the range alongside more traditional diesel power.
Shock at electric vehicle grant shake-up
A surprise announcement saw grants for plug-in hybrids axed completely, and subsidies for pure-electric cars reduced from £4,500 to £3,500. The changes added £2,500 on to the cost of a new plug-in hybrid and £1,000 to that of a new EV.
The Department for Transport highlighted that the grant had supported the purchase of 100,000 PHEVs and 60,000 EVs since 2011, but motoring organisations criticised the move, with the Society of Motor Manufacturers and Traders branding it "astounding". The news triggered a rush to market, with the remaining grants being snapped up early. As a result, the new rates came in three weeks earlier than planned.
McLaren unveils £1.75m successor to F1
A long-awaited successor to McLaren's F1 hypercar was revealed in October. The 1,036bhp V8 hybrid Speedtail has three seats and cutting-edge tech such as 'flexible' carbon-fibre rear ailerons, pop-out cameras and induction charging.
It does 250mph-plus and 0-186mph in 12.8 seconds – four seconds less than McLaren's track-focused P1 supercar. Price is £1.75m plus taxes, and all 106 have already been sold.
October in numbers
• 27 per cent - Not wearing seatbelts: New figures revealed that of the 1,793 people killed on the UK's roads in 2017, a shocking 27 per cent were not wearing a seatbelt.

• 78 per cent - Say roads are in poor condition: Of 2,000 people surveyed by the RAC, 78 per cent said the UK's roads were in a poor condition, with 42 per cent citing potholes as their primary concern.

• £700million - Fine for Audi: Audi received a huge penalty from German authorities as it admitted "deviations from regulatory requirements" over V6 and V8 diesel engine emissions.
November
Mk2 Range Rover Evoque is big news, while Porsche 911 and Mazda 3 star at LA show
Latest Evoque looks set to build on success of original
Headlining a strong month of new cars was the second instalment in a huge British success story. The all-new Range Rover Evoque was revealed at a special event in London, and Land Rover wasted no time by getting the newcomer on sale straight away.
Since its arrival in 2011, the Evoque has established itself as Land Rover's most popular product. Even seven years into its life, the first-generation model accounted for nearly a quarter of all Land Rovers leaving showrooms, according to the brand's most recent sales figures.
The latest-generation model keeps things simple on the outside, with no three-door or convertible variant in the offing and an evolved design that blends the old car's unmistakable shape with the brand's latest design cues. It's a similar story inside, with the biggest news being a new dual-screen infotainment set-up.
Under the skin, the model has undergone a total transformation. The heavy, ageing D8 platform has finally been moved on, and the Mk2 Evoque is the first JLR model to move to a brand-new platform called Premium Transverse Architecture (PTA). Every automatic Evoque is equipped with 48-volt mild-hybrid assistance, while a plug-in hybrid version using a three-cylinder petrol engine is currently in development.
911 heralds era of electrification at Porsche
Porsche's 70th anniversary year has been a busy one. We've seen a new Cayenne, a facelifted Macan and plenty of news on the electrification front, too. The all-electric Taycan is just around the corner, and a crossover based on the Mission E Cross Turismo seen at March's Geneva show has been confirmed for production.
Yet the brand left its biggest story right until the end of the year, with the launch of the 992-generation 911 at the LA Motor Show. This will be the first 911 to get an electrified powertrain.
For now, the firm has only revealed the mid-range Carrera S in detail. It retains its 3.0-litre, flat-six turbo, although power is up by 30bhp to 444bhp. There's a new eight-speed PDK box, too.
As for looks, the evolutionary design is more imposing than before, with every 911 set to use the wider Carrera 4 body style.
Striking new Mazda 3 shows shape of engine efficiency to come
Also on show in LA in November was the striking new Mazda 3. The fourth-generation version of the manufacturer's Ford Focus rival sticks admirably close in appearance to the Kai concept seen at the 2017 Toyko Motor Show.
The Mazda 3 also comes with a brand-new interior design, featuring digitalised dials and an 8.8-inch 'floating' infotainment unit.
Meanwhile, under the bonnet, the newcomer continues to use Mazda's 1.5 and 2.0-litre SkyActiv-G petrol engines, while a 1.8 SkyActiv-D diesel will also be offered. More importantly, though, this will be the car to introduce the brand's new Spark-Plug Controlled Compression Ignition engine, known as SkyActiv-X. Using this technology, the company is aiming to deliver petrol levels of power and responsiveness with diesel-like fuel economy.
DfT announces dash cams taskforce
A police unit dedicated to analysing dash and helmet camera footage was announced as part of the Department for Transport's new two-year plan to "combat road rage, encourage greater mutual respect between road users and protect the most vulnerable".
Set up with a £100,000 investment, the unit is likely to echo the format of Wales' Operation Snap – a pilot police scheme that lets drivers upload video online.
Bentley Continental GT drops its top
November also saw the latest Bentley Continental GT go topless. The new GTC is a classic drop-top grand tourer, with a traditional fabric hood that can be dropped beneath the rear deck in 19 seconds while the car is travelling at speeds of up to 30mph.
For now, only the W12-powered model has been revealed, its 6.0-litre unit developing 626bhp and 900Nm of torque, with power sent to an all-wheel-drive system. Priced from £175,100, it costs around £25,000 over the coupé.
BMW raises roof with its 8 Series
We'd seen the revived 8 Series in June, and only had to wait until November for the brand's latest flagship coupé to lift its lid. The new 8 Series Convertible landed ahead of the LA Motor Show, and it goes on sale in Britain in April 2019.
The most powerful model offered, the M850i, comes with a 523bhp 4.4-litre V8 and four-wheel drive, capable of launching the drop-top Bavarian bruiser from 0-62mph in 3.9 seconds. As for the folding fabric roof, it can be lowered in 15 seconds and while the car is travelling at up to 31mph.
Most drivers break 20mph limit
Government figures revealed 86 cent of car drivers break 20mph limits, rising to 94 per cent in the small hours of the morning.
A Department for Transport analysis of thousands of vehicles in nine 20mph zones showed that in 2017, while just nine per cent of car drivers broke 60mph limits, those in 20mph zones were nearly 10 times more likely to flout the law. Average speeds were recorded as being 26mph in the zones.
November in numbers
• 238,871 - Diesel MoT failures: Tough new MoT rules saw 238,871 diesel cars failing on emissions – a fourfold increase since the test was updated in May.

• 2.3million - Clocked cars: One in 16 cars displays a false mileage reading, with the Local Government Association calling for the sale of 'mileage correction devices' to be banned.

• £4.1billion - Cost of 'loyalty pricing': Brits shell out an extra £4.1billion each year due to insurance, telecom and financial companies increasing prices automatically when consumers renew policies and products.
Review of the Year 2018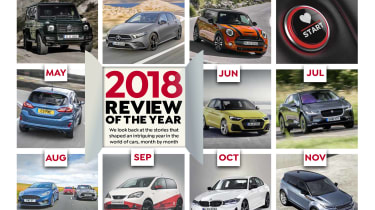 • Review of the Year 2018: index• The BIG car new highlights of 2018 • The big car quiz of the year 2018• Head-to-head: the best car group tests of 2018• A year in pictures: our best car photos of 2018• Why our cars are stars: best long-term tests of 2018• Inside the world of cars: best motoring features of 2018• Best car videos 2018: watch our video highlights• Motorsport review 2018: from Formula 1 to Formula E• Amazing moments: our years in cars 2018