The BIG car news highlights of 2018
We explore the best car news stories that rocked the automotive world in 2018
April
As we move into spring, the covers are pulled from Ford's latest big-selling family car while road tax increases for most
Ford reveals sharper, higher-tech Focus
Our spies had already given us a good idea of what the new Focus was going to look like when they caught the family car undisguised a few months before the official reveal. But we had to wait until April for Ford to take the wraps off and provide us with the full technical details and specs.
The Mk4 Focus sits on the new C2 platform, although some models still have independent rear suspension – just like the original – depending on their engine; others feature a twist-beam set-up. Ford also made the new Focus 20 per cent stiffer than its predecessor, showing just how serious the brand is about reclaiming the best-handling hatchback title.
As with the latest Fiesta, the Focus comes with Ford's new trim levels, including top-spec Vignale, a rugged Active with extra body cladding and 30mm taller ride height, and a sporty ST-Line. Buyers get plenty of choice under the bonnet as well, with a selection of diesel and petrol units, kicking off with the 1.0-litre EcoBoost three-cylinder turbo petrol. The Focus features a similar interior to the new Fiesta, and comes with Ford's latest SYNC 3 infotainment system. There's even Level 2 autonomy, thanks to adaptive cruise control and lane-assist.
Bigger RAV4's smarter hybrid tech
We revealed first official images and specs of Toyota's new RAV4 in April. The Mk5 SUV starred at the New York Motor Show, and is due to arrive in UK dealers early in 2019.
Longer and taller than before, it will come with petrol or hybrid power. The latter offers a new electric motor drive, which the firm says uses battery power more effectively and links with a second electric motor to drive the rear wheels on battery power only.
New road tax rules come into force
April brought a Vehicle Excise Duty (VED) shake-up, with new diesel cars pushed up one tax band for their first year of VED. This saw the first-year tax bill of the 149g/km Vauxhall Mokka X 1.6 CDTi auto (above), for example, rise by £315. But both petrol and diesel cars were subject to increases.
The only way to avoid VED now is to buy a zero-emission vehicle. Even 1g/km of CO2 brings a first-year charge and an annual rate.
Lexus targets 5 Series with striking ES
Lexus used April's Beijing Motor Show to reveal its new executive saloon, the ES. The big change is that the latest BMW 5 Series rival, on sale now, is front-wheel drive, instead of rear-wheel drive. There's only one drivetrain, a 2.5-litre four-cylinder petrol hybrid paired with a CVT box. On the new WLTP cycle, the ES returns 60.1mpg.
Buyers have a choice of three trims: ES, Sport and Takumi. The latter offers the most technology, with a 360-degree camera and an updated 12.3-inch infotainment screen as standard.
Maybach vision of luxury future
Mercedes-Maybach's Ultimate Luxury Vision concept caught our eye at Beijing.
Specifically built for the Chinese market, the pure-electric SUV is Maybach's vision of "ultimate luxury" in the Far East. It has an 80kWh battery pack and four electric motors generating 740bhp. Maybach says it hits 155mph and has a 310-mile range.
The rose gold and white leather interior pays homage to Chinese culture, and has its own tea set that's electrically heated to 85 deg C for the perfect cuppa. Sadly, there are no plans to put the car into production.
Electric BMW iX3 plugs in
BMW chose to reveal its iX3 concept car at the Beijing Motor Show for a very good reason. This is because the production version of the electric concept car will be built in China, at the company's Shenyang plant.
The pure-electric concept came with large wheels and aggressive lines, although our spy photographers have since caught the production model testing, and it bears a much closer resemblance to a conventional X3. BMW says the battery will be "over" 70kWh, giving the car a 249-mile range on a single charge during WLTP testing. The firm also claims the car will support 150kW fast charging, meaning an 80 per cent recharge will take less than 30 minutes.
April in numbers
• 15 per cent - Blinded by lights: Proportion of motorists who reported having a near miss after being dazzled by oncoming traffic, according to research by the RAC.

 

• £198 - Average fine for car theft: Car thieves receive average fines of just £198, with 80 per cent of convicted crooks getting fines rather than jail, stats showed.

 

• 8.1 years - Average age of cars: The Department for Transport revealed that the average age of a car in the UK was 8.1 years, up from 7.8 years in 2015 and 6.8 years in 2003.

 
May
Rolls-Royce serves up its first SUV this month, while the Brabham name returns with a £1 million supercar
Rolls-Royce reveals its Cullinan
It had taken Rolls-Royce years to bow down to the pressure of the SUV market. But in May it finally revealed its first ever SUV, the Cullinan, which would sit below the Phantom in the range.
Sharing that model's 6.75-litre twin-turbo V12, the Cullinan produces 563bhp and a huge 850Nm of torque (more than the Phantom). The SUV comes with four-wheel steering and four-wheel drive, and Rolls-Royce promised it was as capable off the road as it was on it – although how many owners will end up taking it across deserts and hills remains to be seen.
The Cullinan is also the first Rolls-Royce ever to feature a split tailgate, which could be turned into a "viewing suite" with two seats that fold out of the cassette in the luggage area and sit over the rear bumper. A raft of other technology helps to make it worthy of the Rolls-Royce name; a stereo camera in the windscreen monitors the surface and adjusts the suspension accordingly, while the navigation system also prepares the gearbox for the road ahead with its three-dimensional mapping.
Inside, buyers are treated to the latest creature comforts and luxury, with swathes of plush leather and fine wood.
BMW reveals ultimate M2 Coupé
Recognising the strengths of Audi's TT RS, BMW released the Competition Pack for its M2 Coupé in May.
Boffins at the company started by binning the standard car's 3.0-litre straight-six in favour of the M3's unit, which delivers 404bhp and 550Nm – increases of 39bhp and 50Nm. Other features included a new exhaust system, upgraded brakes and a revised chassis.
Shock figures on road worker abuse
Highways England revealed that workers on the UK's motorways and major A-roads were subject to 300 dangerous incidents every week.
The organisation said staff working on its 4,300-mile strategic road network faced verbal and physical abuse on a daily basis, while motorists were also making incursions into roadwork areas with alarming frequency.
Bosses at Highways England explained that motorists who deliberately drove into cordoned-off areas were putting workers' lives at risk "all to save a few minutes on their journey".
700bhp from new Brabham BT62
The legendary Brabham name made a return in 2018 on the BT62 track-only supercar. It was limited to only 70 units, to mark 70 years of Brabham in motorsport.
The rear-wheel-drive McLaren Senna rival has a 5.4-litre V8 producing 700bhp and 667Nm of torque. It weighs only 972kg thanks to extensive use of carbon fibre and lightweight parts. The £1million price tag included a driver training programme.
Sportage freshens up
Kia's Sportage SUV was given a facelift in May, with the crossover becoming the brand's first model to feature 48-volt mild-hybrid technology. Design changes were subtle; the latest model received a revised 'tiger nose' grille plus new bumpers, foglight housings and air intakes. Inside, there was now an eight-inch infotainment screen, and all cars boasted tech such as 360-degree cameras as standard.
For the new Sportage, Kia also dropped the 3 trim level, with buyers having to jump straight from a 2 to a 4.
May in numbers
• 8,000 - Crooked car washes: The Car Wash Advisory Service estimated that up to 8,000 of the UK's 20,000 hand car washes are involved in criminal activity.

 

• 5.65million - Parking tickets - Figures showed a total of 5.65million parking tickets were handed out in 2017; Government has pledged to clamp down on private firms.

 

• £1million - Monthly pothole damage: The AA revealed that damage caused by potholes is causing British drivers and insurers a total of £1million worth of damage every month.

 
June
From the Audi A1 to the Aston Martin Superleggera, new car unveils come in all shapes and sizes at the start of the summer. We round up the highlights
Audi reveals smarter, higher-tech A1
Audi officially showed us what the new A1 would look like in June. The second-generation model has a lot to live up to, because the original version had clocked up more than 830,000 sales since 2011.
The newcomer remains the company's smallest car, but while it's longer than before, it's actually slightly lower and no wider. Because it shares the same platform as the SEAT Ibiza, it'll be built at the Spanish brand's Martorell factory near Barcelona. Audi opted to offer the new A1 as a five-door Sportback only, and with no diesel engines in the line-up.
It said the car's design draws from some of the brand's more iconic models, with the three air inlets on top of the wide grille a nod to the Sport Quattro from the eighties. The new A1 is loaded with tech and kit to help it stand out against rivals in the premium supermini class. Range-toppers get 10.1-inch infotainment lifted from the flagship A8, as well as a fully digital instrument panel. Further new tech includes adaptive cruise control and a reversing camera.
BMW unveils new X5 and 8 Series
June issues of Auto Express were loaded with BMW content. Leading the way were the first official pictures and specs on the new, fourth-generation X5. Now longer and wider than before, the SUV comes with a choice of one petrol engine and two diesels. Inside, BMW has replaced the button-heavy layout with the latest iDrive infotainment system, complete with a 12.3-inch display and another 12.3-inch digital dash. A plug-in hybrid will arrive later.
Soon after we brought you the first official images of the new 8 Series Coupé. Returning after a 20-year hiatus, the Coupé is one of three body styles that make up the 8 Series range. A rival to the S-Class Coupé and Aston Martin DB11, the 8 Series Coupé can be had with a 3.0-litre six-cylinder diesel (in the 840d) or a 4.4-litre twin-turbo V8 (M850i).
Aston unleashes DBS Superleggera
Aston Martin boss Andy Palmer described the new DBS Superleggera as a "brute in a suit" when the wraps came off in June.
The Superleggera is a "more focused" version of the DB11; the name translates as 'lightweight'. It's based on the new DB11, but is 70kg lighter than the regular car, with shorter gear ratios to boost performance.
The Superleggera's 5.4-litre V12 engine delivers 716bhp and 900Nm of torque, and takes the car from 0-62mph in just 3.4 seconds and on to a 211mph top speed. The aerodynamics have been improved, too, with a new F1-style diffuser to help create more downforce.
Mild-hybrid for restyled C-Class
The Mercedes C-Class has long been a popular compact exec, and 2018's mild updates only raised its appeal. The styling tweaks were subtle, so it was the 48-volt mild-hybrid set-up – boosting economy via electric assistance – that really intrigued.
A new diesel was added, and the C-Class promised refinement to match the best buys in this market. Infotainment, a former weak point, was updated, too.
But Mercedes faces big diesel recall
Meanwhile, UK authorities asked Mercedes to recall a number of Euro 6 diesels suspected of being fitted with emissions-tampering defeat devices.
This affected 1.6 (OM 622) and 2.2-litre (OM 651) Vitos, as well as the C-Class and GLC (above) with four-cylinder diesels. Mercedes' parent firm Daimler had already been ordered to recall 238,000 vehicles in Germany by the country's transport ministry.
Wraps off new Jimny
Suzuki took its time with the new Jimny. The fourth-generation model replaced a car that's been on sale since 1998, and in June we were given the first look at the new off-roader. Over the years, the Jimny has garnered a cult-like status for its small dimensions and tough, no-nonsense off-road capabilities. The new car is set to continue this, because it's built specifically for tough terrain.
Sitting on a ladder frame, it has a boxy profile and large windows to maximise visibility, and there's even a rear-mounted spare wheel. The new 1.5-litre naturally aspirated four-cylinder engine has 101bhp and 130Nm of torque, and is said to be easy to maintain.
S60 eyes up 3 Series and C-Class
Although Volvo had launched the V60 estate in February, we had to wait until June to see the saloon. The S60 faces a tough task when it arrives in 2019, taking on the all-new BMW 3 Series, revised Mercedes C-Class plus current Audi A4 and Jaguar XE.
Interestingly, Volvo has pitched the S60 as a "true driver's car", with its range of four 2.0-litre four-cylinder petrol units, two of which are supercharged. The plug-in hybrid T8 version tops out at 395bhp.
June in numbers
• 14 years - Of Camry absence: This month, Toyota confirmed that its Avensis replacement would be called the Camry – a name that last graced UK showrooms in 2004.

 

• £4.9billion - Supply chain value: SMMT warned a hard Brexit would put thousands of jobs at risk in the automotive supply chain – a sector worth £4.9billion.

 

• 89,000 - Vehicles stolen in 2017: Vehicle theft went up year on year from 56,000 to 89,000, with police cuts and thieves cracking keyless technology blamed for the increase.

 
Review of the Year 2018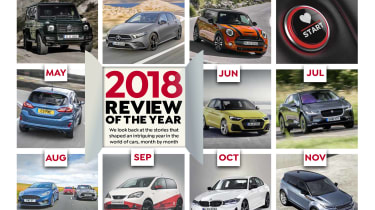 • Review of the Year 2018: index• The BIG car new highlights of 2018 • The big car quiz of the year 2018• Head-to-head: the best car group tests of 2018• A year in pictures: our best car photos of 2018• Why our cars are stars: best long-term tests of 2018• Inside the world of cars: best motoring features of 2018• Best car videos 2018: watch our video highlights• Motorsport review 2018: from Formula 1 to Formula E• Amazing moments: our years in cars 2018