Inside the world of cars: our best motoring features of 2018
It's been a fantastic year of Auto Express features and we've picked out some of our favourites…
Life in the Auto Express office isn't just about testing new cars as the team are also often traveling across the globe to bring you the best motoring features, covering everything from classic cars to meeting stars.
Our features throughout 2018 have also revealed the best new and used cars on sale as part of our Driver Power survey, plus we've also been behind the scenes with the police and got to grips with a LEGO Bugatti Chiron.
There's no doubt it's been a fantastic year for features, so we've rounded up some of our favourites of 2018 below. Scroll down to see what we've picked out…
Designing our own Rolls-Royce
We designed a bespoke Phantom at Rolls-Royce's Goodwood HQ. After sessions in the 'Rolls Study' and 'Royce Atelier', we chose two shades of blue from the 44,000 paint options available, plus a blue/black cabin.
Rolls' bespoke design manager said it was "very tasteful", and we loved our few weeks of exquisite motoring.
Used car misselling
In an exclusive, we uncovered how dealers were potentially misleading buyers by not declaring if used cars were ex-fleet, ex-business or ex-hire vehicles. We explained how the Advertising Standards Authority (ASA) had ruled if dealers knew a car was ex-fleet, "that was material information likely to influence a transactional decision".
Customers who'd bought such cars could even be entitled to compensation of up to 100 per cent, depending on the difference the info would have made to the sale price.
Teens learn to restore classics
We visited Bicester Heritage in Oxfordshire, where young people were being taught to maintain and restore classic cars.
A charity called StarterMotor was set up to plug the age gap in the classic car sector by working with educational institutions. The Classic Vehicle Restoration apprentice course based at Bicester Heritage is run by Banbury and Bicester College.
Course leader Matt Salt said he teaches more than 30 students from the area, who work on cars that have been donated for them to keep after they've been restored.
We ride with the police's 'supercabs'
We headed out on patrol with Surrey Police using HGVs to gain a high vantage point from which to look down on distracted drivers. Operation Tramline involved officers in unmarked "supercabs" keeping an eye out for motorists using their phones at the wheel.
Offences were filmed on camcorder, before officers in unmarked vehicles behind intercepted the offenders and pulled them over.
Started in 2014, the scheme was devised by Highways England, which provided the lorries, catching 4,000 distracted drivers in two years. It was such a success that a further two HGVs were added, so three supercabs now circulate the 28 police forces signed up to the operation. Exempt from the 56mph HGV limit, they can do 70mph.
As well as using phones, motorists have been caught eating cereal, applying make-up and rolling cigarettes behind the wheel.
Guide to buying for business
At the start of the new tax year, we compiled a comprehensive guide to choosing your next company car, with best picks by class of vehicle in five budget categories.
Our numbers guide gave buyers all the facts to make a decision, and explained how the system works. With Benefit-in-Kind tax set to rise steeply for next year, we pointed out that there's never been a better time for business users to add an EV to their fleet.
Best new cars in Driver Power
We called and you answered: thousands of Auto Express readers gave us their opinions on their new cars, and helped us to compile the Driver Power 2018 satisfaction survey.
Our comprehensive poll asked owners of vehicles aged 12 months old or less to rate their cars across 31 subject areas in nine categories.
As always, Driver Power proved a tough challenge for car makers, but a number of clear winners and losers emerged. The Peugeot 3008 was crowned overall Driver Power champion and Britain's best new car to own, with a rating of 93.88 per cent and strong scores across the board; particular praise was reserved for its exterior looks and build, and safety features.
The Kia Niro came second with 93.07 per cent, dominating the infotainment category, while third place went to the Alfa Romeo Giulia with 93.06 per cent. At the other end of the survey, meanwhile, the Dacia Sandero found itself in last place with 85.95 per cent, only just behind the Citroen C4 Cactus in 74th with a score of 86.01 per cent.
There were a number of individual category winners as well. The Toyota Aygo was named the best city car in Driver Power, the Nissan Micra was best supermini, the Nissan Leaf was best electric car and the BMW 5 Series was best executive car.
Happy 120th birthday Renault
We joined Renault in its 120th anniversary celebrations, heading to the manufacturer's factory at Flins, north-west of Paris.
There we were treated to a sight normally reserved for staff: a treasure trove of 120 Renaults from the brand's 750-strong Classic collection. Invited to choose three cars from the assortment, we naturally gravitated towards the company's post-war offerings.
First up was the 4CV, which proved a hit during the 15 years it was on sale from 1946. The Renault 4 we drove next felt more modern and was a lot more comfortable, while the Renault 5 we tackled afterwards offered superb ride comfort – although it also exhibited comical body lean when being pushed.
Ultimate car recycling plant
Not all cars that get scrapped are old bangers, as we discovered when we visited a business that strips parts from damaged high-performance icons and sells them all over the world.
Douglas Valley Breakers in Wigan, Greater Manchester, buys hundreds of mangled supercars from auctions, then categorises their damage and salvages the reusable components.
Lawless Britain investigation
Our four-week Lawless Britain series offered an in-depth look at the problems caused by police cuts in the UK, and asked how forces across the country were dealing with reduced officer numbers.
Week one investigated the effect cuts have had on road safety and driving standards, revealing a 23 per cent increase in vehicle theft, a 44.3 per cent rise in speeding offences and a 21 per cent drop in the number of drink-drive breath tests issued by officers.
The second week saw three ex-police officers provide their views on how cuts had affected policing – and they agreed that technology wasn't a sufficient replacement for lost personnel.
Week three asked whether police cuts were straining resources on keyless theft, following a 56 per cent increase in the number of vehicles stolen.
Our fourth and final instalment in the series looked at how technology was shaping roads policing, with in-car breathalysers, dash cams and hi-tech cameras all playing a significant part.
Land Rover's anniversary hillclimb
Land Rover also had reason to celebrate at this year's Goodwood Festival of Speed, as the famous British brand reached its 70th anniversary in 2018. To mark the occasion, it hit the legendary hillclimb with a parade of 70 iconic and modern-day models from throughout its history.
The first Land Rover was in fact based on a Willys Jeep, which was engineered to adopt a Rover engine and gearbox. But the model that really brought the brand to life – and the first car to roll out of the factory in 1948 – was the Series 1. As well as examples of this, the parade included Land Rovers that had been converted into working vehicles such as ambulances and fire and rescue vehicles. Rounding off the parade were the one millionth Discovery and the very last Defender to roll off the line.
Secrets of Bugatti blockbuster
Designers from LEGO and Bugatti revealed just how much work went into the Technic model of the Chiron hypercar. The toy had 3,599 parts and a 600-page instruction manual, as well as a hefty £330 price tag.
The scale model's rear end proved the most difficult for the designers to recreate, with Bugatti seeing 20 different versions before settling on the right one.
Stunt-driving superstars
Stunt drivers are among the unsung heroes of the film industry, and we recognised their importance by attending Ford's Go Faster experience in Manchester. There, stunt-driving legend Paul Swift taught us how to perform J-turns and burn-outs, as well as a bit of drifting, in a Focus RS and Mustang GT.
An immersive theatrical experience saw our driving skills closely monitored by actors playing the roles of directors and producers.
You vote for Britain's best dealers
Our Driver Power dealer survey gave us your verdict on the UK's retail networks, allowing us to compile a people's list of the top 28. Lexus maintained top spot with 90.23 per cent. Next up were Honda and Toyota, with 89.43 and 88.83 per cent. At the other end of the scale, Land Rover came last with 82.85 per cent.
We also asked you to rate the best car insurers and breakdown firms. There were familiar names at the top of the respective tables, in the shape of NFU Mutual and GEM Motoring Assist.
50 years of the Jaguar XJ
This year marked the 50th anniversary of the XJ, and we got behind the wheel of five generations of the legendary luxury Jaguar.
We tested the 1968 XJ6 Series 1 once owned by Jaguar founder Sir William Lyons, the Queen Mother's 1973 XJ12 S1 Vanden Plas, a 1978 XJ12 Series 2 Coupé, a 1994 XJ40 XJ6 Sovereign and a 2018 XJR575.
Every model was special in its own way, and the XJ's engaging yet luxurious character could easily be tracked over the decades. But it was the V12 XJC coupé that stole our heart on the day.
Britain's best used cars named
Auto Express readers voted in their thousands for the Driver Power top 75 best used cars, revealing what life is really like with popular second-hand models.
The third-generation Lexus IS took first place with a score of 92.24 per cent, leading the field for engine and gearbox, interior and comfort, ride and handling, plus reliability and build quality.
Second and third places went to the Jaguar XF Mk1 and Skoda Octavia Mk3, with respective scores of 91.17 and 90.48 per cent. At the other end of the table was the Nissan Micra Mk4 on 81.44 per cent; it was criticised for poor build quality.
I-Pace a smash hit for Murray
We headed to Wimbledon to meet Grand Slam tennis champion Andy Murray, who gave us his thoughts on the 2018 Auto Express Car of the Year – the Jaguar I-Pace. Murray reported that the EV SUV was great to drive, praising its hushed refinement on the road and impressive range.
He told us he still owns his first car, a VW Polo, while his Ferrari F430 drew more attention than the modest Scot wanted.
London-to-Brighton run tests veteran cars' mettle
In a truly British day out, we hopped into the driver's seat of a 1904 Vauxhall 6HP to take part in the 60-mile Veteran Car Run from London to Brighton.
The event was open to all 'four-wheeled cars, tri-cars and motortricycles' manufactured before 1 January 1905. It was an annual recreation of the original Emancipation Run between the two cities in 1896, celebrating the Locomotives on the Highway Act – a new law which meant 'light automobiles' could travel at up to 14mph on the highway.
We set off from Hyde Park bright and early alongside around 400 other veteran cars, carefully managing the 6HP via its complex controls. We passed plenty of enthusiastic onlookers on our journey, and encountered a spot of mechanical difficulty before finally arriving in Brighton that afternoon. The Vauxhall performed impressively for its age, and the whole event was an encouraging reminder of just how much fun driving can be.
Review of the Year 2018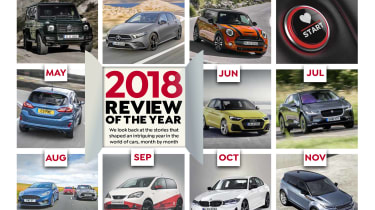 • Review of the Year 2018: index• The BIG car new highlights of 2018• The big car quiz of the year 2018• Head-to-head: the best car group tests of 2018• A year in pictures: our best car photos of 2018• Why our cars are stars: best long-term tests of 2018• Inside the world of cars: best motoring features of 2018 • Best car videos 2018: watch our video highlights• Motorsport review 2018: from Formula 1 to Formula E• Amazing moments: our years in cars 2018