The BIG car news highlights of 2018
We explore the best car news stories that rocked the automotive world in 2018
July
Hot summer temperatures can mean only one thing: Auto Express's New Car Awards. And for the first time, a pure-electric car comes away with the ultimate prize
Jaguar I-Pace crowned Car of the Year
It had already been a bumper year for new models, so by the time July came around there was plenty of fresh metal jostling for position at the annual Auto Express New Car Awards. Selecting the best machines to buy in 26 different categories, we named everything from our favourite city car to the best performance model, plus our top commercial vehicle choices in the pick-up and van classes.
Only one model could take the overall crown, however, and Auto Express confirmed the Jaguar I-Pace's position at the cutting edge of the industry by giving it our Car of the Year 2018 title. This futuristic SUV proved EVs are a valid proposition today, pushing the class forward with stunning performance and genuinely usable range.
Four-wheel drive and 395bhp mean the I-Pace can complete the 0-62mph sprint in 4.5 seconds, while a claimed 292 miles from a single charge all but eradicates range anxiety on a daily basis.
The I-Pace's hi-tech mechanical make-up is matched by excellent interior quality, as well as plenty of practicality. But what sealed the Jaguar's place at the top is how it combines this considerable talent in all these areas so successfully. It's a worthy winner of our coveted Car of the Year award – and the first EV to claim the accolade.
Audi pulls covers off new Q3
Audi's biggest-selling SUV got a complete overhaul in July to help it fend off fresh competition from the likes of the Volvo XC40. The second-generation Q3 is bigger, more practical and fitted with more tech than before, and a dramatic exterior redesign brings it in line with some of the brand's flagship models such as the all-electric e-tron.
Big changes have also been made under the skin as the SUV has moved to the VW Group's ubiquitous MQB platform. That means a raft of new engines and the possibility of a plug-in hybrid model later down the line.
Practicality is a focal point, too, with a new sliding rear bench and boot capacity increased to 530 litres; that's over 100 litres more than before.
Diesels axed in fresh-faced Macan
When Porsche revealed its updated Macan SUV in China in July, the most significant thing was the absence of diesel power.
The line-up now comprises only petrol engines, kicking off with an updated and less powerful 242bhp 2.0-litre four-cylinder, while a 2.9 twin-turbo V6 tops the range in the Macan Turbo. Minor visual tweaks include new LED tail-lights similar to those on the Panamera and latest 911.
Parking permit postcode lottery
Our sister title Carbuyer revealed how the cost of parking permits varies between councils. The highest charge we found was at the City of London-run Barbican Estate, where a one-year permit cost £1,258.
Some councils charged up to £115 extra for diesels; others had 'admin' fees of £30 if residents changed their car mid-year. AA president Edmund King said permits should be affordable for low-income families.
BP seals deal for Chargemaster
Oil giant BP announced its intention to buy Chargemaster, the UK's biggest EV-charging supplier. BP said it would roll out a network of ultra-fast chargers at its 1,200 garages, including 150kW rapid units capable of delivering 100 miles of range in 10 minutes.
The oil firm then reportedly paid £130m for Chargemaster, and estimated that by 2040 there would be 12 million EVs on UK roads – up from around 135,000 in 2017. Chargemaster chief executive David Martell described the acquisition as "a true milestone towards low-carbon motoring".
July in numbers
• 61.4mph - Average speed: The average speed of someone exceeding a 40mph limit was found to be 61.4mph, with 148,719 drivers caught flouting the law in these zones in two years.

 

• 80 per cent - New cars bought on finance: Industry expert Graham Hill gave us his tips on PCP deals, and among them came the revelation that over 80 per cent of new cars are now bought on finance.

 

• 4,091 - Pothole breakdowns: There were 4,091 breakdowns caused by potholes between April and June 2018 – the highest second quarter in three years.

 
August
BMW reveals the new Z4 sports car as Ford celebrates its Hollywood heritage with special edition Mustang
Lid lifted on Z4 in California
Our pre-production drive of the 3 Series wasn't the only BMW news from August. We got a new sports car to savour in the form of the latest Z4, revealed at that month's Pebble Beach Concours d'Elegance in California.
It's the sixth-generation BMW Z car, and the third to wear the Z4 badge, although the new model has been developed with Toyota. Its underpinnings also form the basis of the Japanese brand's soon-to-be-reborn Supra.
Both companies promise that their new offerings will be substantially different, however, and this will even extend to the body styles; the Z4 is strictly a convertible, while the Supra will be a coupé.
Taking on the Porsche Boxster, Audi TT Roadster and more focused lightweight coupés such as the Alpine A110, the new BMW is said to be up to 50kg lighter than before.
From launch a Z4 M40i will be offered, using a 340bhp 3.0 straight-six turbo. This covers 0-62mph in 4.6 seconds, and starts at £49,050. A 2.0-litre four-cylinder version will arrive a little after the car goes on sale next March, bringing the starting price down to £36,990 for the Z4 sDrive20i.
Mercedes and Audi look to past and future
Although the new BMW Z4 was the big news at the Pebble Beach Concours, rivals Mercedes and Audi naturally couldn't let the Munich brand hog the limelight. Both firms presented futuristic concepts at the prestigious event.
The PB18 e-tron previewed how a pure-electric Audi supercar could look – but gave away little else. In fact, some of the design cues established on the show car are more likely to arrive on the next-generation R8 first, as a Tesla Roadster rival.
Mercedes also revealed an all-electric show model – but instead of looking to the future, the 740bhp EQ Silver Arrow was a firm nod to the past, evoking the 1938 Rekordwagen land speed record car and reimagining it in futuristic, electric form.
These two concepts weren't the only examples of Mercedes and Audi closely shadowing each other over the past year. They both pulled the wraps off their electric SUVs the following month.
GT X Experimental SUV previews future Vauxhall design
This year has been one of consolidation for Vauxhall since joining the PSA Group late in 2017. Most news from the brand and parent company Opel has concentrated on what's coming next rather than right now.
Eight new or refreshed cars are planned before 2020 is out, and every Vauxhall will be offered with an electrified version by 2024. Pure-electric cars are part of that scheme, including a Corsa EV in 2020 following the arrival of the next-generation version of the supermini next year.
In August, Vauxhall gave us a taste of its plans with the GT X Experimental concept. This futuristic compact SUV previewed the brand's forthcoming design language – one that should be applied to the next Corsa, Mokka and Astra from next year onwards.
Special 'Stang celebrates Bullitt's 50
The Ford Mustang has been linked with another US great, Steve McQueen, ever since car and actor starred in the famous chase scene in the 1968 movie Bullitt. A special-edition Mustang was launched to mark 50 years since the film's release.
Setting it apart were Dark Highland Green paint, 19-inch alloys and some engine tweaks, fully justifying the £5,000 price hike beyond the standard Mustang GT.
Zero-star test sees axe fall on Punto
Fiat finally pulled the plug on the Punto in the UK in August, after 12 years on sale. The Fiesta rival's final undoing was probably its zero-star Euro NCAP safety rating.
Having scored five stars when originally tested in 2005, the supermini was given NCAP's first-ever zero-star score when reassessed under current criteria. Safety experts said: "Euro NCAP has moved on, and Fiat hasn't with the Punto."
Charging cable price shock
We exclusively revealed that plug-in hybrid owners have forked out over £450 for fast-charging cables bought as optional extras at dealerships.
We found that you could pay Peugeot £453 for an iOn fast-charge cable and Mitsubishi asked £310 for an Outlander PHEV lead, while Porsche would charge £300, Land Rover £230 and Volvo £50. Our research indicated that shopping from an online supplier could bring these costs down by a big margin. By buying from a third-party company, PHEV and EV owners could save up to £325 on a fast-charging cable.
Police riders on prowl
Undercover police horses and officers were sent out to patrol Scottish roads, on the lookout for motorists who drove inconsiderately around civilian horses and riders. British Horse Society figures showed 50 riders were injured and two killed in Scotland since 2010, while 43 horses were injured and 10 died.
Those incidents typically occurred when drivers collided with a horse or didn't leave enough room when overtaking, causing the animal to bolt. Police Scotland's 'Lose the Blinkers' campaign highlighted that offending drivers could be given three penalty points and a £100 fine.
August in numbers
• £2.75million - For Bond's Aston: Aston Martin announced it would build 25 Goldfinger-inspired DB5 coupes, with revolving number plates, Silver Birch paint and an eye-watering £2.75million price tag.

 

• 20mph - Maximum speed: The capital's mayor, Sadiq Kahn, said all roads managed by Transport for London should adopt 20mph limits by 2020.

 

• £3.4billion - Overspend on repairs: Research from breakdown firm Green Flag indicated drivers are overspending £3.4billion a year on garage repairs – an average of £90 annually per car.

 
September
We celebrate 30 years of Auto Express in style, as pure-electric SUVs forge ahead
We mark 30th anniversary with exclusive Mii
We marked our 30th anniversary in September by giving readers the chance to win the keys to an exclusive special-edition SEAT Mii by Auto Express for six months.
Having consulted with Mii owners, we designed a car that would truly appeal to our readers. Our feedback suggested that the model should have dark wheels and dynamic, aggressive body graphics – and, naturally, be finished in our signature red-and-white colour scheme.
The Auto Express Mii was truly a collaborative effort. As well as bringing in SEAT and our readers, we worked with design and marketing company Cygnus, and tapped into the talents of our own art director, Darren Wilson.
Meanwhile, the vinyl wrap was applied by specialists at Creative FX. The finished Mii featured an eye-catching red-on-white exterior, inspired by the camouflage wraps that car manufacturers use to disguise their prototype vehicles when on test. This was set off by gloss-black alloy wheels. Inside, the dashboard was also wrapped in our distinctive design, and Auto Express branding was applied to the front seat headrests.
The finished product clearly appealed to our readers, because nearly 1,000 people entered the competition to win the keys to our Mii.
Audi e-tron arrives
September was the month of the electrifying SUV, with two German brands revealing their latest Tesla Model X challengers. Audi's e-tron broke cover and, as the maker's first full EV, it looks set to become one of the company's most significant models of the next few years.
Longer but lower than a conventional Q5, the Audi sports familiar details such as optional rear-view cameras in the place of conventional door mirrors. Two electric motors produce 402bhp in 'overboost' mode, enough for a sub-six-second 0-62mph time. Meanwhile, a 248-mile range and 150kW charging – enough to get back up to 80 per cent in less than half an hour – should make running an EV a more viable option than ever.
Mercedes EQC plugs in as well
Not to be outdone by rival Audi, Mercedes revealed its own electric SUV in September. The all-new EQC rides on a modified GLC platform, although the forthcoming range of zero-emissions Mercs will use bespoke, pure-electric, scalable underpinnings.
For now, however, the EQC has the Audi e-tron and Jaguar I-Pace in its sights. We expect there to be a choice of power outputs and battery capacities eventually, although when the car appears late in 2019 it will use a 402bhp electric motor combined with a 80kWh battery pack. This should see it cover the 0-62mph dash in 5.1 seconds and offer the potential for a 280-mile range.
Prices have yet to be confirmed, but the EQC is likely to cost somewhere in the high-£60,000 region when it goes on sale.
Refrigerated trucks' polluting KO
We revealed how tens of thousands of diesel refrigeration generators were running on the UK's roads every day, producing emissions equivalent to 1.8 million cars.
These are being subsidised by £100m a year, because they're allowed to run on low-tax 'red' diesel. And while EU rules will improve these emissions from 2019, the generators will still emit up to 14 times more NOx pollutants than a diesel HGV.
Aston's Project 003
Aston Martin's relentless progress continued at a pace in September, which brought the announcement of an all-new mid-engined supercar. The Project 003 is due in 2021, and will offer performance to match the Senna from fellow British sports car manufacturer McLaren.
Our exclusive image gave a glimpse of how the 003 could look, with a shape heavily influenced by aerodynamics. This was hardly a surprise, considering that Red Bull Racing has a large hand in the car's development.
And as with the aerodynamics, the engine is likely to be inspired by Formula One. Speaking to Auto Express this year, Aston Martin boss Andy Palmer told us that the new model will feature a turbocharged V6 engine with hybrid assistance. An output rumoured to be upwards of 1,000bhp should be enough for a sub-three-second 0-62mph time and a top speed well in excess of 200mph.
The newcomer even has a name; a recent trademark filing suggests that Valhalla will be used for the 500-strong production run.
Peugeot readies its showstopper
French brands would be out in force at the Paris Motor Show in early October, and a couple of weeks before the event, Peugeot gave us a preview of its star: the e-Legend.
It stood out with its looks. The beautiful style was inspired by the classic 504 Coupé, and the cabin – mixing blue velvet and wood – also paid tribute to Peugeots of old. The EV powertrain brought the e-Legend right up to date, though; its 456bhp and 800Nm of torque enabled a sub-four-second 0-62mph time and 373-mile range. We'll be keeping our fingers crossed it makes production.
September in numbers
• 20 per cent - Reduced reaction times: We reported how, according to researchers from the University of Bath, driving when hungover could slow reaction times by around a fifth.

 

• £106million - For EV tech: Government announced a £106million fund for electric vehicle and battery investment, matched by £500million investment from industry.

 

• 1.9 seconds - Tesla Roadster 0-60mph time: Boss Elon Musk claimed Tesla's new Roadster sports car will take just 1.9 seconds to cover the 0-60mph sprint, thanks to 10,000Nm of "wheel torque".

 
Review of the Year 2018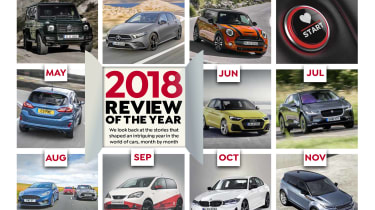 • Review of the Year 2018: index• The BIG car new highlights of 2018 • The big car quiz of the year 2018• Head-to-head: the best car group tests of 2018• A year in pictures: our best car photos of 2018• Why our cars are stars: best long-term tests of 2018• Inside the world of cars: best motoring features of 2018• Best car videos 2018: watch our video highlights• Motorsport review 2018: from Formula 1 to Formula E• Amazing moments: our years in cars 2018