A year in pictures: our best car photos of 2018
We look back at the visual highlights of an action-packed 12 months at Auto Express
Its often said that a picture can paint a thousand words and for every review, feature and news story we bring you, we try to bring you the very best quality images to give you all the detail and information you require.
Our Auto Express staff photographers have been as busy as ever this year going out of their way to try and capture the best possible images for both online and for the magazine.  Whether it's photographing the new Audi e-tron in the scorching desert or the freezing temperatures of an ice road in Canada, nothing stops our photographers from capturing that all-important shot just for you.
We have tried to narrow down some of our favourite images from the past 12 months, but with so many great images to chose from we are sure we have missed one or two off the list.
Snow business: Our photographers shoot in all conditions, so a bit of snow didn't stop our MG ZS group test going ahead in Issue 1,515
Winners: Issue 1,531 was our annual New Car Awards special, and all our class champs came together for this great shot
Rising Star: In Issue 1,548 reviews and features editor Rich Ingram swapped steering wheel for spatula and joined Bake Off champ Candice Brown to make a small-scale Fabia cake, in homage to Skoda's famous TV ad
Continental Cruise: We joined Bentley boss Adrian Hallmark (right) in Issue 1,552 to get an early taste of the brand's new Continental GT Convertible
Smoking Habit:  Our man Hugo Griffiths went back to school in Issue 1,534, as he learned how to become a stunt driver. Tuition came from industry professional Paul Swift, with help from an overpowered Ford Mustang
Caring for Classics: Car restoration company Bicester Heritage revealed its classic car training scheme for students back in Issue 1,514
Hot Honda Home Run: We took a group of rapid Hondas on the trip of a lifetime across Japan in Issue 1,505. Civic Type R and NSX models participated, and Mount Fuji was our final destination
Supercar Graveyard: In Issue 1,550 we were surrounded by supercars; sadly they were waiting to be stripped for parts at Douglas Valley Breakers
Pool Party: Range Rover's new Evoque launch event in Issue 1,552 included off-roading under East London railway arches
Lamppost shock: Sobering image in Issue 1,535 showed impact with a traditional lamppost, amidst calls for safer devices
Best Buys: After weeks of testing, products editor Kim Adams brought together the winners of our Product Awards in Issue 1,528
World beaters: For Issue 1,509, we listed some record roads, including the longest road bridge, located in Bangkok, Thailand
New meets old: New Peugeot 508 Fastback aims to inject some Gallic style into the family car class, and to celebrate its arrival in Issue 1,538, we put it head to head with the classic 504
Bit on the slide: We went to Romania in Issue 1,540 for our first taste of Mazda's new MX-5
On patrol: In Issue 1,547, we rode along with Essex Police to investigate drug-driving
Wing and a prayer: The McLaren Senna stars in our Review of the Year issue (1,554) as part of our 30th anniversary test
Cool shot: We got under the ice in frozen Canada in Issue 1,513 to snap the VW Tiguan
Early years: Proving that you're never too young to learn, tuition firm Young Driver helps kids get behind the wheel, as we found out in Issue 1,550
Review of the Year 2018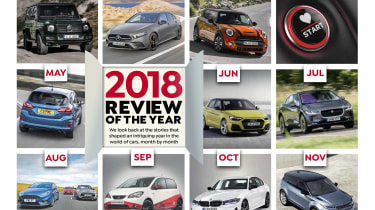 • Review of the Year 2018: index• The BIG car new highlights of 2018• The big car quiz of the year 2018• Head-to-head: the best car group tests of 2018• A year in pictures: our best car photos of 2018• Why our cars are stars: best long-term tests of 2018• Inside the world of cars: best motoring features of 2018• Best car videos 2018: watch our video highlights• Motorsport review 2018: from Formula 1 to Formula E• Amazing moments: our years in cars 2018