Headline grabbers: best car news stories of 2019
From hatchbacks to hypercars, all manner of cars grabbed headlines in 2019, but these were some of the biggest and best news stories
Jan-Feb • Mar-Apr • May-Jun • Jul-Aug • Sep-Oct-Nov
May
Vauxhall Corsa-e revealed to spearhead firm's electric push
As one of Britain's best-selling cars, a new Corsa is big news – even more so for the fresh one revealed back in May. It was the first Vauxhall to arrive with a clear influence from now-owner Peugeot-Citroen (PSA) in its engineering. Due to a switch to the CMP platform, this Corsa shares its underpinnings with the latest Peugeot 208. Also, just as with that car, an all-electric version tops the new-look range.
This Corsa-e will launch the company's strategic push towards the electrified and all-electric market. In addition to the pure-EV Corsa, Vauxhall-Opel plans to offer an electrified variant of every model in its range by 2024, with four set to launch by 2020.
The new Corsa was originally planned to arrive on a new platform developed by Opel in Russelsheim, but it was swapped on to the PSA-derived CMP set-up extremely late in the model's development, with the design of the car altered to suit the fundamental changes under the skin.
The E-CMP version of the new platform sees a 50kWh battery pack now located under the Corsa's floor. The electric motor driving the front wheels is rated at 134bhp, while a maximum range of 211 miles is claimed. An 80 per cent top-up of the battery takes 30 minutes using a 100kW rapid charger, while an 11kW charger for home use is included as standard. The Corsa-e is priced from £26,490, and with orders now open it'll be on UK roads in April 2020.
Showcasing the new Corsa as an electric model in April, and waiting until far later in the year to reveal the new petrol and diesel versions that'll be on roads before it, was an interesting introduction to this latest-generation supermini. These regular cars will arrive from January, with new PSA-derived three and four-cylinder options.
Mercedes shows off new safety concept
Mercedes unveiled its vision of an accident-free future – an autonomous concept with a host of hi-tech safety features. The GLE-based ESF can coexist with both autonomous cars and those with human drivers. Features include a hazard-warning robot that deploys from the car's rear after an accident, a laser projector for displaying messages on the back window and a safer airbag design.
Points and fine for ignoring red X signs
May brought the news that red X signs indicating a closed lane on a smart motorway would be enforced by cameras, with offenders receiving a Fixed Penalty Notice, three points and a fine of up to £100. Previously, drivers could be penalised for breaching X rules only if a police officer witnessed them doing so. Highways England issued more than 180,000 warning letters to drivers ignoring red X signs between January 2017 and May 2018.
Mid-life 'lift for Audi A4, inside and out
An extensive facelift for the evergreen A4 was one of May's biggest stories – and while most mid-life refreshes amount to some new headlights and trim pieces, the updates to this fifth-generation Audi were as far reaching as things go. A total visual transformation gave a sportier look, complemented by a cabin overhaul that centred around new infotainment. There were fresh engines, too, with all but the 2.0 and 3.0-litre diesels featuring mild-hybrid technology. Meanwhile, the hot S4 moved somewhat surprisingly towards diesel power – a total recipe change.
BMW 1 Series follows front-wheel-drive route for first time ever
It was all change for the latest BMW 1 Series when the new model was revealed back in May. A switch in platform to the UKL underpinnings that support the MINI Hatch meant that the manufacturer's junior model went front-wheel drive for the first time – removing any chance of a six-cylinder range-topping M140i in the process.
The latest 1 Series is the most dramatic transformation bestowed upon BMW's family hatchback since the model's introduction in 2004. Alongside the switch to front-drive, the newcomer is also a far more practical proposition than before. Boot capacity has grown by 20 litres to 380 litres, and interior space has increased, too.
However, BMW's engineers have still placed plenty of emphasis on ensuring that the car is fun to drive. While there's no six-cylinder model, when we eventually got behind the wheel in July we found the new 302bhp four-cylinder M135i to be up there as one of the best-handling hot hatchbacks on sale right now. 
Dyson set to join EV market with seven-seater
Back in May, Dyson was looking to blow away the electric car competition – and patents awarded to the manufacturer gave us an idea of what to expect. The published statistics revealed that the brand's debut model would take the form of a seven-seat crossover. As with its other home appliances, Dyson promised many unique innovations that would set the vehicle apart from other EV rivals. The patent drawings showed the car in profile, with a high floor in which to store the battery was offset by a low, sleek roofline. The wheels, pushed out to each corner, measured a vast 24 inches. But trouble lay ahead.
June
M Next concept points to new BMW i8
June saw BMW lift the wraps off its wild M Next concept, whose sharp creases and wedge-like shape took inspiration from the iconic M1 supercar of the late seventies. But it also looked to the future, and it's expected to form the basis for the i8 sports car's replacement. The plug-in hybrid system is slated to produce 592bhp.
Ford closes Bridgend engine plant
Ford confirmed that its engine plant in Bridgend, South Wales, would shut by late 2020. Although 400 workers had already taken voluntary redundancy, the news was a blow to the 1,300 staff who had stayed on. Ford's European president, Stuart Rowley, told us at the time that the company remained "committed to the UK", but said the plant was "economically unsustainable".
Government trials noise detectors
In a bid to crack down on noise pollution, the Government announced plans for ANPR (automatic number plate recognition) cameras to be fitted with noise detectors. This would let the authorities issue fines to owners of vehicles with exhausts that breach noise limits. A seven-month trial, during which no fines are being issued, began in June; if successful, the tech will be fitted in earnest.
Ford Puma pounces into spotlight two decades on – and now it's a crossover
Back in June, Ford announced that it would revive one of its most exciting nameplates from the late nineties: the Puma. But in a sign of how buyers' tastes have changed, we learned that the original car's Fiesta-based coupé feel had been replaced by one which, although still derived from the Fiesta, took the shape of a small SUV.
So rather than shrinking into a small, agile sports car, the new Puma is 46mm longer, 54mm higher and 71mm wider than the car on which it's based. When it arrives in 2020, it will compete with the Renault Captur and Nissan Juke. Items like the curved headlights make a nod to the original Puma, as does the coupé-like roof, but otherwise the shape is pure five-seat crossover.
Inside, the dash is lifted from the Fiesta and topped off with Ford's SYNC3 infotainment and new hi-tech digital dials. Further back, a 456-litre boot – accessed by a hands-free auto tailgate – looks set to be among the best in the class, while removable, washable seat covers add to both the car's sensible side and its scope for personalisation.
At launch, Ford bosses were adamant that, true to the original, the new car would be top the class for driving fun. Under the bonnet will sit the tried-and-tested EcoBoost petrol engines ranging from 94bhp to 153bhp, several of which will benefit from mild-hybrid tech. At a later date, a hot ST version is likely to follow, too.
Later on in the year, Ford announced prices for the upcoming model. It confirmed that the Puma range would kick off with the Titanium trim, complete with wireless charging and massaging seats for £20,845. At launch, the £22,295 Titanium First Edition would also feature adaptive cruise control, a reversing camera, plus heating for both the front seats and the steering wheel.
Another launch model, the ST-Line X First Edition, is set to cost £25,195 when order books open. Standard kit will include 18-inch alloy wheels, LED headlights, sports suspension and a 10-speaker Bang & Olufsen sound system. 
211mph Ferrari Stradale unveiled
One thousand horsepower: the figure Ferrari declared for the SF90 Stradale when it lifted the wraps off its latest hypercar in June. While 986bhp doesn't quite have the same ring to it as the metric output, it is no less eye-opening; power comes from a mix of a 4.0-litre V8 turbo (making 769bhp on its own) and three electric motors. The result? A 211mph top speed and 0-62mph in 2.5 seconds. But believe it or not, this is a car with eco-credentials, too. The SF90 uses a plug-in hybrid system that allows it to travel up to 15.5 miles on electric power alone.
Winners named in Auto Express Product Awards 2019
Once again, we brought you an invaluable round-up of the best motoring-related products on the market, with the Auto Express Product Awards 2019. Continental won our coveted Product of the Year prize for making a clean sweep in all of our seasonal tyre tests. We also handed out awards for washing and valeting products, drills, screenwashes, satellite-navigation units, headlight bulbs, dash cams, cordless vacuum cleaners and screwdrivers – plus pretty much anything else you could ever need for your car or garage.
Mercedes GLB can seat up to seven
Mercedes revealed the latest addition to its SUV family with the all-new GLB. The car's boxy styling had more than a hint of a mini G-Class about it, setting it apart from rivals such as the Audi Q3 and BMW X1 not only in terms of design, but also for practicality. That's because, uniquely in this class, the A-Class-based GLB boasts space for seven people.
Jan-Feb • Mar-Apr • May-Jun • Jul-Aug • Sep-Oct-Nov
Review of the Year 2019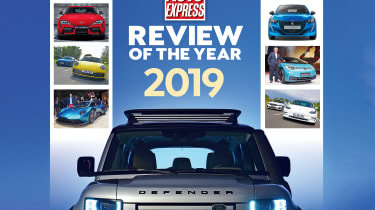 • Best car news stories of 2019• Best car reviews of 2019• Best car group tests of 2019• Best long-term tests of 2019• Best motoring features of 2019• Best car videos of 2019• Best motorsport stories of 2019• Our highlights of 2019
Click onto page 4 to continue reading the big news stories of 2019...