Headline grabbers: best car news stories of 2019
From hatchbacks to hypercars, all manner of cars grabbed headlines in 2019, but these were some of the biggest and best news stories
Jan-Feb • Mar-Apr • May-Jun • Jul-Aug • Sep-Oct-Nov
September 
Volkswagen leads the Frankfurt stars with pioneering electric hatch
There is no bigger European motor show than Frankfurt. But September's running of the biennial event did feel rather more 'focused', with fewer concepts and some notable absentees, such as Ford, Citroen, Peugeot, Nissan and Toyota. The public also stayed away; official attendance was down by almost a third on 2017.
The overwhelming trend among the manufacturers who did attend was electrification, as they clamoured to show that they're responding to the desires of rule-makers and, increasingly, the needs of customers. Volkswagen has invested billions in playing catch-up on EVs, and the production-ready ID.3 made its debut. Indeed, it took over almost all of the VW stand on press day, while sister brands Audi, Skoda and SEAT had a quieter show – ensuring a clear run at the headlines for the all-new electric hatchback.
It didn't need much help: while the ID.3 looks relatively conventional, it retains the cutting-edge infotainment and EV-only packaging advantages of the original concept. That means the ID.3 is the size of a VW Golf, with roughly similar boot space and much-improved rear legroom, plus an augmented-reality nav system that 'projects' directions on the windscreen so the arrows appear to be actually pointing down the street in question. Three battery sizes will be offered, with ranges from 242 to 342 miles.
Elsewhere, Cupra drew headlines with its dramatic-looking Tavascan – an electric SUV that's all but certain to make production, Vauxhall showed the Corsa-e for the first time, and BMW polarised opinion with its controversial Concept 4, an early preview of the next 4 Series. In contrast, Hyundai's well-received Concept 45 showed how retro influence could be an emerging theme of new car design, following the likes of the Fiat 500 and Honda e.
Perhaps the biggest star of Frankfurt wasn't electric at all, however; indeed, the reborn Land Rover Defender looked about as far away from an eco-hatch as you could get, with an evolution of the original's rugged looks, a supremely functional cabin and, we're promised, even more off-road capability. However, the chunky SUV – which made its debut in three and five-door form, along with a commercial version – will get plug-in electrification down the line.
Danger of smart motorway breakdowns
In September, the AA discovered a 2016 Highways England report that revealed breaking down in a live lane on an all-lane running (ALR) section of a smart motorway during off-peak hours is 216 per cent more dangerous than on a conventional motorway with a hard shoulder. However, the motorway network operator said its data showed smart motorways were safer overall.
All-new Nissan Juke arrives
The Nissan Juke pretty much invented the 'small SUV' class – so the second generation of the funky crossover was one of 2019's biggest launches, period.
The old car's looks were designed to provoke a reaction, on the grounds that it's better to do that than to be bland. And sure enough, the Mk2 Juke is a clear evolution that takes advantage of developments in LED lights and metal pressing that have occurred since the original car appeared. It's still unmistakably a Juke, though – distinctive in a class that has become incredibly crowded over the past decade.
Under it all is the Renault-Nissan Alliance's latest small-car platform, as seen on the newly launched Clio. Its higher-tech construction has allowed Nissan to make the new Juke not only slightly larger but also a little lighter – potentially helping fuel efficiency. Inside, the cabin gets a much-needed boost in quality and technology. The car is being launched with a single 1.0-litre petrol engine option, but a hybrid version is likely to follow in 2020.
Automotive world says goodbye to Ferdinand Piech
The global auto industry mourned one of its real giants in September, when Ferdinand Piech, grandson of Ferdinand Porsche and the man behind the relentless expansion of the Volkswagen Group, passed away at the age of 82. Piech spent much of his life working for key German car manufacturers – first Porsche, then Audi, where he was instrumental in the creation and success of the four-wheel-drive Quattro. He also played a key role in the financial turnaround of Volkswagen in the early nineties.
MPs propose pavement parking ban
A Transport Select Committee report argued that all UK motorists should be banned from parking on pavements so that pedestrians – particularly the visually impaired, wheelchair users or those with children in pushchairs – are not put in danger by having to step into the road, and vulnerable people don't feel trapped in their homes. The move would echo rules that already exist in London.
October
Touchscreens and hybrid tech dominate in latest Volkswagen Golf
New car launches don't get much bigger than a fresh generation of VW Golf – and the eighth incarnation of the iconic family hatchback was unveiled in its home town of Wolfsburg, a few weeks after the Frankfurt Motor Show.
The look of a new Golf is traditionally an evolution of what's gone before, and this one is no exception; chief designer Klaus Bischoff and his team haven't messed around too much with the winning formula. There are subtle changes, though, particularly around the front end, where the team have made greater use of LED tech to give the car much slimmer headlights. The profile remains pure Golf, however – not least because the car is on basically the same platform as before: the VW Group's ubiquitous MQB.
That doesn't mean that the Golf hasn't received a major tech upgrade. The car gets a 48-volt mild-hybrid system on its 1.5-litre turbo petrol motors, and the 109bhp version of the 1.0-litre three-cylinder petrol. The system harnesses energy when braking and then delivers up to 16bhp and 25Nm to boost performance and fuel-efficiency.
There will also be a couple of diesel engines in the range, and the GTE plug-in hybrid produces 242bhp, which makes it as potent as the outgoing Golf GTI Performance Pack. A successor to that hot hatch is on the horizon too, of course, and it should pack well over 270bhp. But there won't be a successor to the pure-electric e-Golf; VW believes the recently launched ID.3 should satisfy customer demand for an EV family hatch.
Perhaps the most significant changes to the Golf come in the cabin. VW is taking a major gamble on functionality by removing many physical switches, replacing them with touch-sensitive surfaces. There's even a 'swipe strip' in the middle of the dashboard that combines controls for the ventilation and, bizarrely, the infotainment volume and more.
The goal has been to declutter the car's fascia and open up the Golf's cabin – and there's no doubt that this has been achieved. The adoption of the 10.25-inch 'Virtual Cockpit' digital instrument panel across the range is a first for the class, too. But it'll be fascinating to see how traditionalists – and older customers – react to this level of tech and the new interfaces. In many ways, this may be the most radical Golf in many a year.
Toyota Yaris gets efficiency boost
October's unveiling of the new generation of the popular Toyota Yaris was a significant development because the supermini promises to challenge the likes of the Ford Fiesta and Renault Clio on efficiency. The new Yaris sits on the latest version of the TNGA platform, which allows the car to get a fresh hybrid powertrain mixing 1.5-litre petrol power with a lithium-ion battery.
Dyson pulls the plug on first car
British domestic appliance giant Dyson spent much of 2019 releasing key details about the firm's vision for its first electric car, a large SUV originally due by 2021 – but then it announced that it wouldn't be making it after all. Boss Sir James Dyson said he could "no longer see a way to make it commercially viable". The challenges of setting up a manufacturing process and a retail network ultimately proved too great. Some of Dyson's ideas could be licensed elsewhere – but they'll end up on cars that don't carry the Dyson badge.
Fatal motorway crashes rise by a fifth
News that the number of fatal accidents on Britain's motorways rose by 19.4 per cent in 2018 was met with dismay by road safety groups, with 92 collisions resulting in the deaths of 107 people – up from 77 accidents that led to 99 people losing their lives in 2017. Figures from the Department for Transport also showed that the number of motorway accidents in which motorists sustained 'serious' injuries increased by 10 per cent over the same period.
Nissan's e-SUV
Nissan gave us a thinly veiled glimpse of its next fully electric model at this year's Tokyo Motor Show with the Ariya concept. It will go into production in 2021, acting as a rival for a range of other upcoming electric SUVs, such as the VW ID.4 and Audi Q4 e-tron. Nissan's SUV is based on a new platform dedicated for electric vehicles and is powered by two electric motors to give four-wheel drive. Nissan executives have said the concept is "very close to reality".
Next Honda Jazz gets hybrid power
Arguably the biggest star of the Tokyo Motor Show was the new Honda Jazz. The fourth generation of the popular, practical supermini retains some of the key features that have made it a hit over the years, including the 'cinema-style' rear seats with foldable bases. The e:HEV powertrain is a twin-motor hybrid system related to that used in the larger CR-V. Expect it to be mixed with 1.0 or 1.5-litre petrol power – although Honda has yet to issue any detailed specs, beyond confirming that the new Jazz will be offered in a range of different themes, including a psuedo-SUV version.
November
Aston joins the SUV fray
With premium performance SUVs proving to be such lucrative cars, it was only a matter of time before Aston Martin got in on the act. And when its new DBX was revealed last month, it didn't disappoint.
This was a car which, unlike many of its more bluff, imposing rivals, managed to cut a sleek figure while delivering SUV-like space and practicality. There's room inside the beautifully trimmed interior for five, while the car's 632-litre boot is truly vast by any measure.
The bodystyle is unlike any Aston Martin's before it but the quoted performance figures are very familiar. Power comes from a retuned version of the Mercedes-AMG 4.0-litre twin-turbo V8, which sends its 542bhp and 700Nm via a nine-speed automatic transmission to all four wheels. The result? 0-62mph in 4.5 seconds and 181mph flat out.
You'll need deep pockets to buy a DBX, though. Prices for Aston's new SUV will start from £158,000, and the first deliveries are being made next spring.
Skoda Octavia sharpens up its act
The Skoda Octavia has always been seen as something of a trusty workhorse, but the latest iteration of the family hatchback and Estate surprised us. The posher, fourth-generation model has sleeker styling (particularly inside, where the cabin gained two huge digital displays and a funky two-spoke steering wheel), increased cabin space, and new hybrid engines. These include mild 48-volt set-ups and a plug-in system that combines a 1.4-litre turbocharged petrol with an electric motor for up to 34 miles of zero-emission driving.
Ford Mustang reinvented as EV SUV
Taking an iconic American name and applying it to an SUV is a risky move, but that's what Ford did when it unveiled the Mustang Mach-e, a pure-electric SUV, at the Los Angeles Auto Show this month. The most potent Mach-e GT will deliver a 0-60mph time of less than five seconds, made possible by a twin-electric motor set-up with 458bhp and 830Nm of torque. Batteries will provide up to 99kWh of capacity – enough for a deeply impressive 370 miles. Prices for lesser models – with 255bhp and a range of around 280 miles – start from £40,270.
Bristol proposes total ban on diesels
Bristol became the first city in the UK to propose an outright ban for private diesel cars in its city centre, regardless of how modern or clean they are. The plans, subject to approval by Westminster, would ban private cars from a large area of the city centre from 7am to 3pm. A secondary clean air zone covering a larger area of the city will cost taxi and van drivers £9 per day. 
Ferrari reveals Aston Martin DB11 rival
The all-new Ferrari Roma was the fifth new model to emerge from Maranello in 2019. The front-engined GT plugs a gap in the Italian firm's range as a rival for the Porsche 911 Turbo and Aston Martin DB11. The Roma is powered by a version of Ferrari's twin-turbo 3.9-litre V8 and develops 612bhp – enough to cover the 0-62mph sprint in 3.4 seconds and get past 200mph.
PSA-FCA merger announced
We're set to see the world's fourth-largest car maker by volume after news came in November that a merger between PSA and FCA had met with approval from both companies' boards. PSA (owner of Peugeot, Citroen and Vauxhall) and Fiat Chrysler Automobiles announced plans for a 50:50 merger, with the resultant company expected to produce 8.7 million vehicles a year.
Hyundai gives first hint of new Tucson
Hyundai's biggest-selling car around the world is the Tucson and, at November's Los Angeles Motor Show, the Korean firm pulled the wraps off the Vision T concept that previews the next-generation model. The new Tucson is due to be revealed in the next 18 months and will adopt a plug-in hybrid powertrain as well as Hyundai's new corporate family face as seen on the Vision T.
Jan-Feb • Mar-Apr • May-Jun • Jul-Aug • Sep-Oct-Nov
Which was your favourite news story of 2019? Let us know your thoughts on the comments section below…
Review of the Year 2019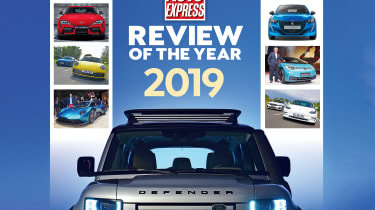 • Best car news stories of 2019• Best car reviews of 2019• Best car group tests of 2019• Best long-term tests of 2019• Best motoring features of 2019• Best car videos of 2019• Best motorsport stories of 2019• Our highlights of 2019